Spotify has been a prolific generator of patents in recent years.
Some of these have been quite ambitious – such as, for example, its A&R technology for predicting breaking artists. And some have, at times, been a bit creepy – such as its patent to identify music tastes by tracking the personality traits of its users.
Now we can add another to Spotify's growing roster of patents: A system to create digital mixtapes that enables users to integrate their own audio with a selected list of songs.
A patent issued to Spotify on Tuesday (September 26) by the US Patent Office describes "a system for generating and distributing a digital mixtape."
The patent application's abstract states: "The system can receive a user command to generate a digital mixtape including a user-defined compilation of music. The user command identifies a recipient of the digital mixtape and identifies one or more media content items to be included in the music compilation for the recipient. The digital mixtape can also include audio recordings from the user to be added to the digital mixtape."
---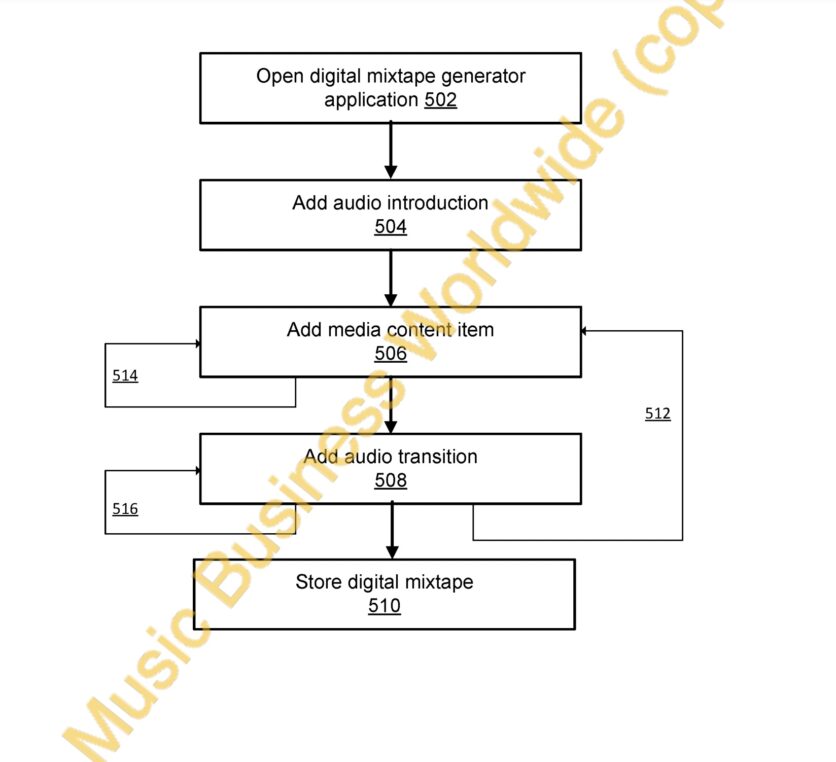 ---
This digital mixtape system will create "a user-defined compilation of media content, at least in part from a catalog of media content, and share it with friends over a data communication network. Voice messages or other audio can be added to the compilation to further customize the compilation for the recipient."
One variation of this technology involves a "mixtape application" that is installed on the mixtape creator's device, and potentially also on the device of the person who the mixtape is sent to, suggesting that the digital mixtape feature could exist as a standalone app, separate from the Spotify app.
However, another version of the product includes only a "media playback engine," indicating that someone who is sent a mixtape won't have to download the full mixtape app to listen to it.
The full document, obtained by MBW, can be read here.
Regardless of whether it's a standalone app or not, the technology is clearly meant to integrate with Spotify's music library (or at least some music library).
---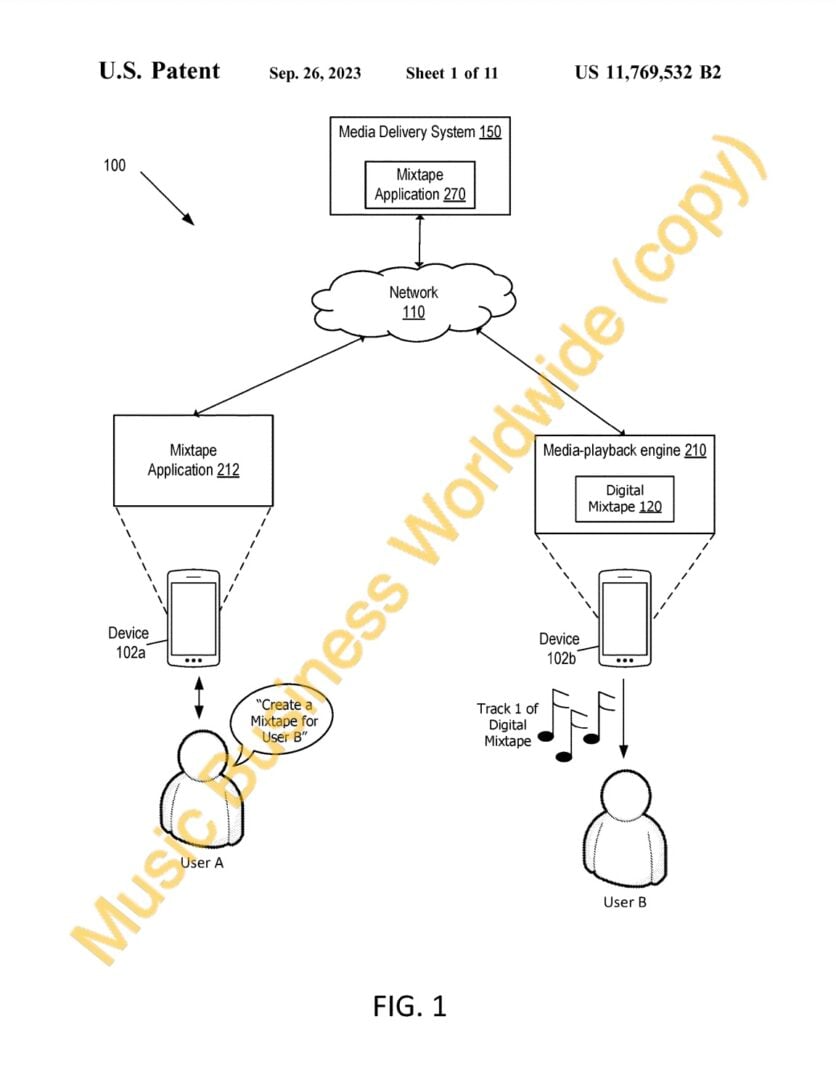 ---
In one variation of the product, the audio files are stored remotely, and the mixtape player simply makes requests to a database for the files that are included in the mixtape. Another version of the technology stores the files locally on users' devices.
Spotify originally applied for the patent in 2019, the US Patent Office document shows.
Mixtapes became popular in the 1980s, when cassette recorders became affordable, making it possible for people to copy their existing music cassettes onto blank cassette tapes. Mixtapes became a way for people – particularly youth – to "play DJ" and share their favorite music with friends.
In the 1990s and 2000s, mixtapes shifted onto CDs, once home computers – complete with CD burners – became common.
"In more recent times, many people no longer own personal collections of music from which a mixtape can be generated, and media playback systems do not readily permit re-recording of that content," the Spotify patent application states.
"Instead, many people now obtain their music from online music streaming services. While online music streaming services allow users to access a large catalog of music, the ability to compile customized collections of music, and share music with others, is limited."
Spotify's technology would not be the first to enable music fans to create their own online mixtapes. Numerous services exist – many of them free, or offering a free version – that are able to create mixtapes, such as DragonTape, Everyone's Mixtape and Kaseta.
And some of these services have run afoul of copyright law. One example of this is mixtape site Spinrilla, which shut down earlier this year after being ordered to pay $50 million to all three of the major recording companies (Sony Music, Universal Music Group and Warner Music Group) in a copyright infringement lawsuit.
Presumably, Spotify – with its numerous licensing agreements with rights holders – will be able to avoid these issues. However, the patent doesn't address licensing or copyright issues.
"While online music streaming services allow users to access a large catalog of music, the ability to compile customized collections of music, and share music with others, is limited."

Spotify patent application
What makes Spotify's patent stand out from other mixtape services is its ability to integrate user-generated audio with songs.
"The creating user is also able to at least partially overlap the user-generated audio recording with a media content item," the patent states.
"For example, the creating user may record a transition that is to be played over the introduction of a song. The overlapped content can be combined, such as by mixing."
The patent lists eight inventors, with the lead inventor being Henriette Cramer, Spotify's head of Algorithmic Impact and a Director in the company's Trust and Safety Team. Cramer is credited with 10 patents and more than 60 published research articles.
Among Spotify's granted patents in recent years are a technology to determine listeners' moods and suggest music accordingly; a "media content playback [device] based on an identified geolocation of a target venue"; and technology to monitor songwriter plagiarism.Music Business Worldwide