What goes up must come down.
That's a truism which seems to have evaded the most valuable company on the US stock exchange – Apple (current market cap $1.05tn).
Spotify and its investors, however, are starting to feel it.
When the green machine landed on the New York Stock Exchange on April 3, it finished that day with a market cap value of $26.5bn, or $149.01 per share.
From there, it was up, up and away: three months later, in mid-July, Spotify's valuation had topped $33bn, with a share price of over $188.
Then, Spotify hit its peak: on July 26, SPOT closed on the NYSE at $196.28 per share, with a market cap in excess of $35bn.
The company was tantalizingly close to topping $200 per share – and Wall Street was licking its lips.
The likes of Sony (which sold a tranche of Spotify shares in April for around $750m) and Warner, which sold all of its shares for around $500m before the end of June, looked in danger of kicking themselves.
That eventuality never came to be. A $200 share price was never reached.
Since that late July peak, Spotify's share price has tumbled dramatically – falling by circa 25%, amid a sore time for tech stocks in general.
Three months on from its summer high, Spotify's valuation is now below where it stood at the bell on April 3.
At the close of the NYSE today (October 24) Spotify's share price was at $146.32. Its market cap: $26.1bn.
---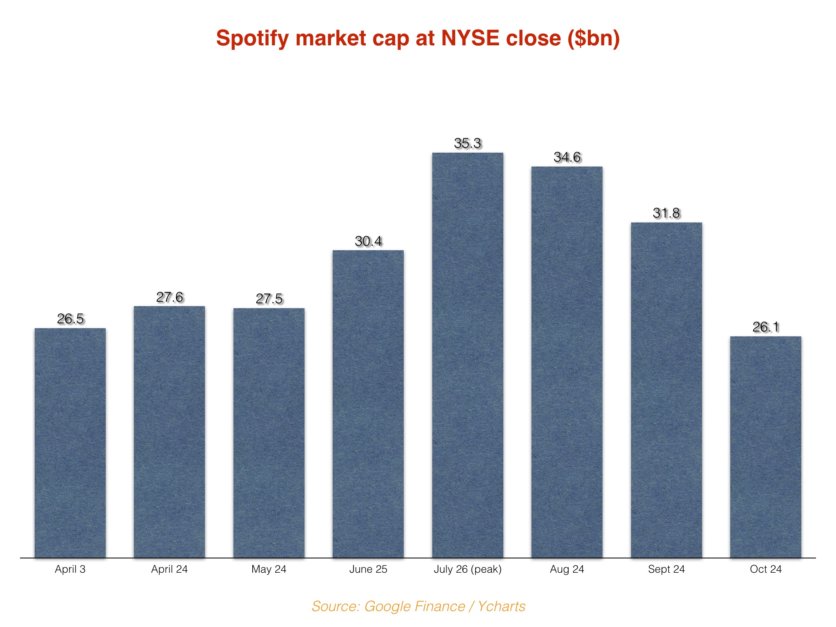 ---
In other words, from its $35bn-plus market cap in late July, Spotify has seen just over $9bn wiped off its public valuation.
Nine billion dollars: that sort of money would buy you two-and-a-half Pandoras.
Sony and Warner, you may un-kick yourselves.
---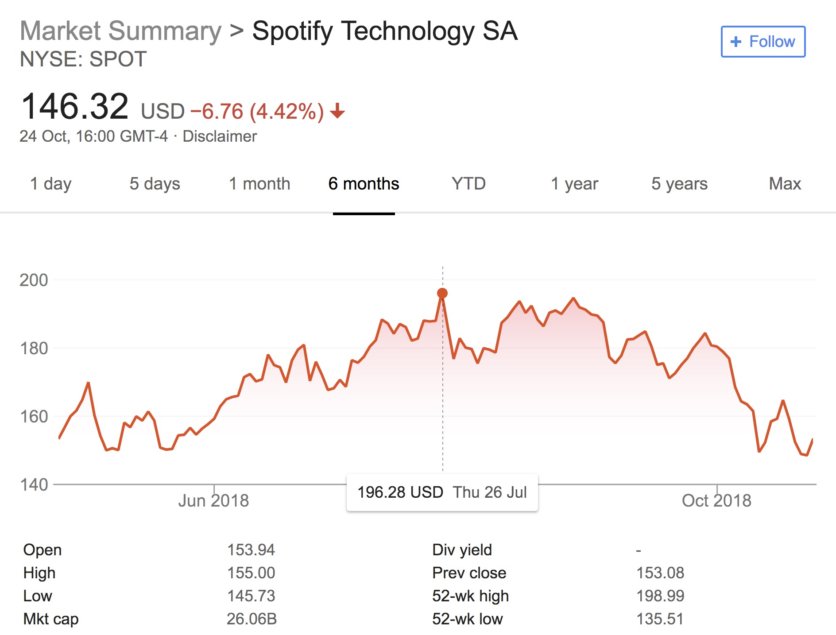 ---
Not everyone on Wall Street sees this decline in value as cause for concern.
Morgan Stanley's Benjamin Swinburne has today (Oct 24) maintained an Overweight rating on Spotify, with a $225 price target.
The analyst wrote that territories like Mexico, Brazil and India were relatively untapped markets for Spotify – so long as it can obtain the local licensing rights.
He pointed out that the three major labels, who may choose not to license Spotify in certain territories, had less market power in certain regions than they do in the US.
Swinburne also suggested that Spotify could improve its margin during re-negotiations due to begin with the major record companies next year.
We're not 100% sure those same major record companies share in his optimism.
In the first half of 2018, Spotify banked €2.412bn ($2.92bn) in revenues, putting it in contention for a €5bn year for the first time.
However, largely thanks to finance costs, Spotify's pre-tax loss stood at €572m in the same period.Music Business Worldwide