Spotify has announced that its lifetime payments to the music business have now topped $5bn.
The news came as the streaming platform confirmed its invite-only launch in Japan.
What's particularly interesting about the new milestone is that it was only 15 months ago – in June 2015 – that Spotify announced it had paid the music business $3bn in total.
Across the intervening 15 month period, then, Spotify has shelled out a monthly average of $133.3m to rights-holders, or around $4.4m every single day.
Using that monthly average, we can estimate that Spotify has paid rights-holders comfortably in excess of $1.2bn in the nine calendar months of 2016 so far alone.
These are most definitely conservative estimates, as 2016 has seen Spotify accelerate its subscriber base like never before.
In fact, over the same 15 month period (June 2015 – Sept 2016), the platform's paying subscriber count has doubled – from 20m to 40m.
And of those 40m, over 10m have been added this calendar year alone.
Spotify announced last summer that it had paid the music business $300m in the first three month of 2015.
Even by the conservative $133.3m-per-month estimate above, its average monthly payout has grown by more than a third within a year.
The question for rights-holders now: will it keep it up?
Spotify is out of contract with all three major music companies, and is believed to be trying to negotiate down the 55% revenue share it currently hands over to recorded music copyright owners.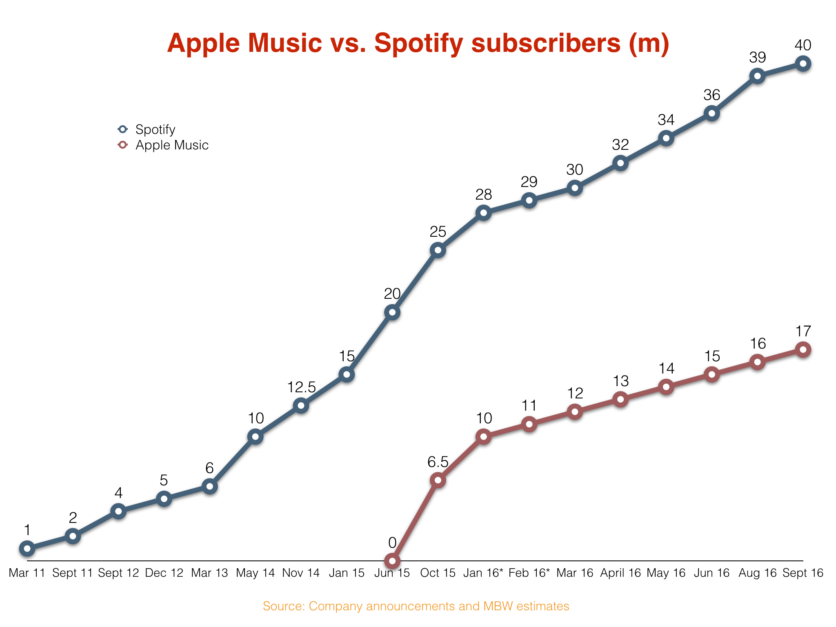 Music Business Worldwide