Tencent Holdings is China's largest company – with an imperious market cap valuation of more than $250bn.
It also happens to be the world's third-biggest music subscription business – one which poses a serious threat to the global ambitions of Spotify and Apple Music.
Last year, Tencent spent big to acquire a majority stake in $2.7bn-valued China Music Corp, taking control of two key music platforms – Kuwo and KuGou.

Added together with its own QQ Music, which boasts 200m monthly active users, Tencent now services over 15m paying music subscribers – with an estimated digital music market-share in China of over 77%.
And get this: unlike Spotify, Deezer, TIDAL, Pandora and pretty much any other standalone music streaming service in existence, QQ Music is consistently profitable (just like its parent company).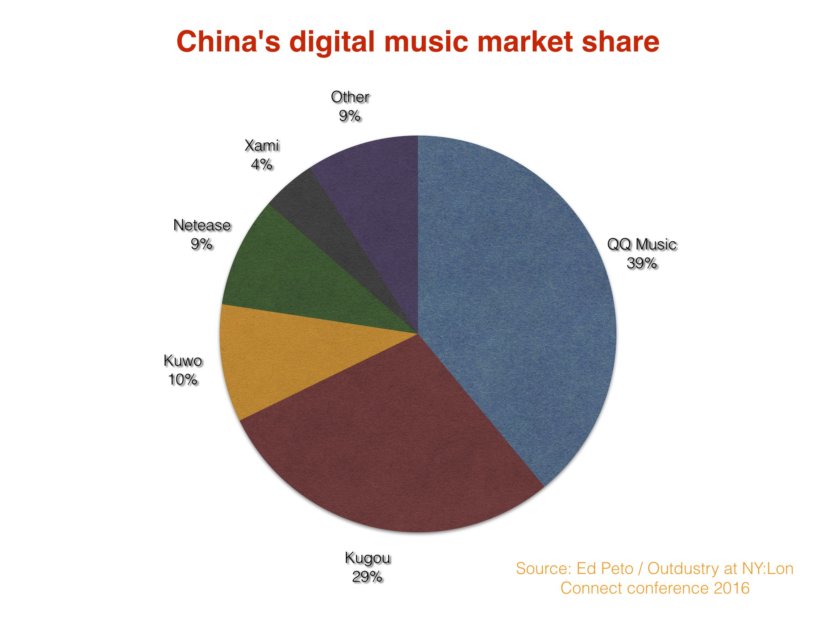 ---

Tencent is in an especially strong position, because bright people are expecting very big things from its home nation.
Universal's SVP Jonathan Dworkin predicted this week said that China could become the largest recorded music market in the world over the next decade – surpassing the USA, Japan, the UK and Germany.
Right now, with a population of 1.36bn (over 4x that of the USA), China is the globe's 10th largest music market – yet it's one with a worryingly small spend per head.

According to the IFPI, China generated $169.7m for recorded music rights-holders in 2015, up 63.8% on 2014, but per capita (person) spend on recorded music was just $0.10.
---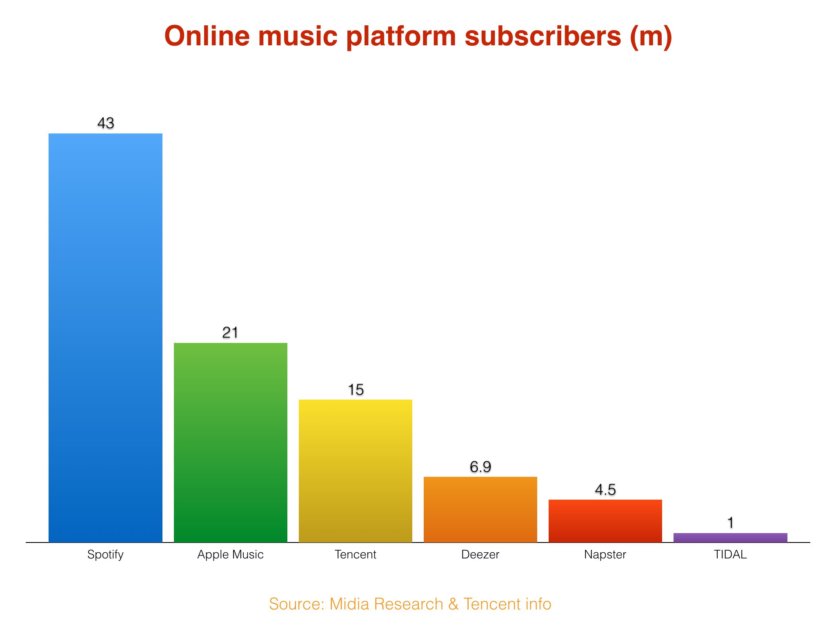 Tencent is certainly attempting to turn the Chinese market into a gold-mine for rights-holders.
The company's Vice President, Andy Ng, tells MBW that when he joined the business in 2011, China's digital music market was defined by sprawling, unchecked piracy.
"Inspired by what happened with the games and video industries, I told the Tencent board I believed there was massive room for growth in the China music market," says Ng.

"We estimated that over 700m people were using apps to listen to music in China. Meanwhile, the conversion rate of free users to paid subscribers for services like Spotify was around 30%.
"If 30% of those 700m users in China were willing to pay for a subscription service, we knew it would bring a lot of money into the music industry."
"When I joined tencent, i told the board there was massive room for growth in the china music market."

andy ng, tencent
He's not kidding.
Ng is describing the possibility of 210m new paying subscribers being drafted into music.
That's around double the amount of people currently paying for Spotify, Apple Music, Deezer et. al  around the globe.
---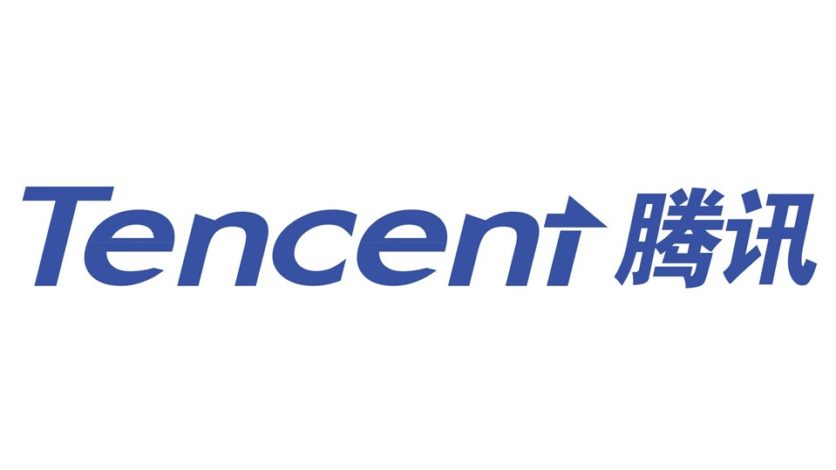 Ng's plan to fight back against free pirated content in China – once easily available on QQ Music rivals such as NetEase, Alibaba and Baidu – was three-pronged.
First, Tencent secured exclusive online distribution deals with Sony, Warner and a number of independent labels such as JVR and Linfair, as well as Believe Digital.
Then, while heavily investing in anti-piracy legal firepower, Tencent leveraged these deals to convince artists to publicly encourage their fans away from copyright-infringing sites.

The third and final piece of Ng's masterplan was a notion that would make Daniel Ek bristle: the blatant windowing of high-profile albums, with key new releases only available to customers who agreed to paid a few extra yuan for a download.
"[Offering windowed digital albums for a one-off fee] it's very easy for us to reach over 5m sales, on average."

andy ng, tencent
The first test of this strategy came with a digital album by Chinese star Jay Chou, and was a tentative success – with over 170,000 sales in its first month.
A few more trials followed – before a windowed album by Korean band Big Bang sold over 6m copies.
Says Ng: "A lot of well-known Chinese artists then asked us to co-operate for their releases, and now it's very easy for us to reach over 5m sales with one single album, on average.
"At the same time, we are pushing users to join the monthly subscription service, and that's how we got to 15m subscribers today."
---

Tencent's streaming services offer three paid-for tiers, priced at 8, 12 and 15 yuan ($1.16/$1.74/$2.18) a month. 
Of its 15m subscriber base – 10m of which are on QQ Music – Ng says 70% of users pay the lowest tier, with 20-25% paying the highest price.
To push them into committing, premium subscribers are offered extras like concert tickets and games credits.
"On average, we are charging the Chinese users about 10 yuan a month, which equates to a total of 115m yuan ($16.7m), and that's just the beginning."

andy ng, tencent

Ng explains: "On average, we are charging the Chinese users about 10 yuan a month, which equates to a total of 115m yuan ($16.7m).  And that's just the beginning.
"As the market becomes much healthier we do believe that our subscription base will continue to increase."
---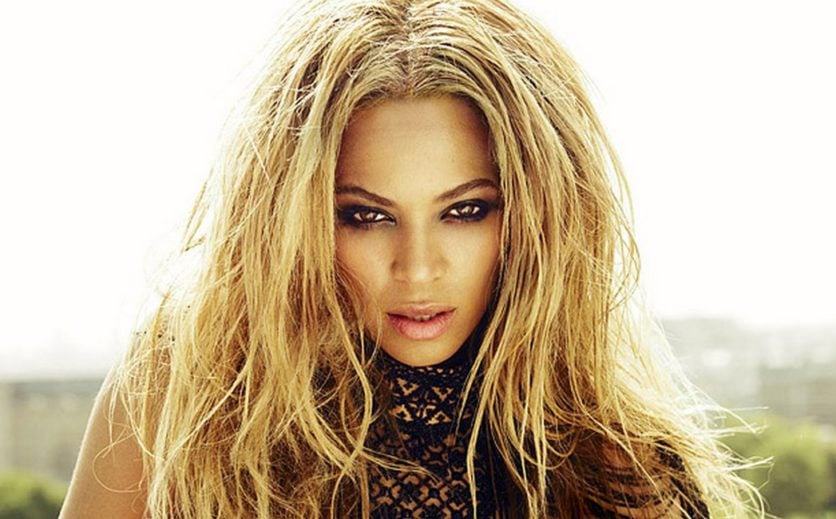 Tencent's power in the Chinese market is currently untouchable.
As the exclusive digital distributor for Warner and Sony's catalogues in the region, the firm actually sets the terms rival services must pay to license this content.
That's the equivalent of Spotify licensing Sony's catalogue to Apple, or vice-versa.
Ng argues that Tencent is happy to license this music to competitors of QQ Music at a fair rate – but only if these platforms operate a paid-for service and follow basic anti-piracy rules.
Universal continues to hold out from signing an exclusive deal with Tencent (although it does have a non-exclusive deal across QQ and various other services).
---
Outside of streaming, Tencent isn't shy about splashing out to acquire copyrights.
It controls a 12% stake in Activision Blizzard – the biggest 'premium' video games company on earth and the maker of Call Of Duty.
And in 2011, Tencent paid approximately $400m to buy California studio Riot Games, creator of online title League Of Legends.
Tencent, which carries a $255bn valuation on the Hong Kong Stock Exchange, also operates chat app WeChat, social networking site Qzone, online game portal QQ Game Platform, news websites QQ.com and Tencent News, and offers video content via Tencent Video.
In an exclusive Q&A ahead of a keynote address at Midem in June, we found out what Andy Ng makes of a wealth of music business issues.
Read on for his verdict on Apple Music launching in China, how QQ Music turns a profit (and Spotify doesn't), why he'd encourage Universal to sign on the dotted line  – and whether Tencent has any plans to acquire music copyrights in the near future…
---
It's interesting that QQ Music is profitable, while other bigger streaming services like Spotify aren't. How are you able to operate a streaming service that makes a healthy net income?
The China market was somewhere nobody expected growth so when we were negotiating terms with the labels we were able to secure deals that left room for making a profit.
Also, from a management perspective, Tencent has tight control over the cost of human resources.
Just to give you an example, even if you're a General Manager in Tencent, if you're not flying long distances, you still have to sit in economy class. And the hotel that you stay in won't be five stars!  
---
What do you offer record labels in return for exclusive licenses?
We are giving them a very significant lump sum minimum guarantee with revenue share, and we help them fight piracy by creating a different business model. 
We also have some non-exclusive agreements with other music labels.  
---
The labels own equity in Spotify. they don't own a stake in QQ Music?
Not at all. 
We make marketing and promotion commitments to their artists, that could be helping them play concerts all over the world or in the Greater China region.
We offer marketing support as well as financial support.
---
Universal remains without an exclusive deal in china. would you encourage them to sign one with tencent? if so, why?
Universal Music has signed up with many different music portals on a non-exclusive basis, including Tencent, and others like Alibaba, NetEase and Baidu that are still offering free Universal content.
In order to make the industry healthier and grow revenue from streaming in the China market, I believe that Universal should consider giving us a chance.
As the sole distributor for Sony Music, Warner Music and a lot of different independent labels, we have successfully migrated all of their content to the paid model pool.
"I believe that Universal should consider giving us a chance."
I've always told the music labels who formed an exclusive partnership with us that one day, when we have made the China market over 90-95% legitimate, [they can] decide whether they still want to continue the exclusive sole distribution partnership. 
Once the market is mature enough and there's not so much piracy going on, the labels might want to negotiate with all the music portals for non-exclusive agreements and I'm okay with that. As long as the market has changed, everybody can make a profit, and the labels might one day decide to end our strategic partnership.
---
Why has Universal been the last to hold out?
Maybe Universal is concerned that if they give a company a sole distribution deal it might harm their brand if it doesn't work out well. They may lose control.
According to Universal, they have never really done this kind of a strategic partnership before so they might have concerns.
Warner and Sony Music have given us the exclusive rights for two years – giving us a chance to fix the market and see how it goes. Recently we have renewed our exclusive deals with them because they were very pleased with what we have done for the past few years.
---
Apple Music has launched in china. spotify is yet to arrive. Are either of them a threat to you?
Any legitimate service makes the industry healthier. However, if you're asking whether these two competitors will become a threat to Tencent in the China market, I would probably say no, not that much. 
We have a lot of local content, which I believe Apple Music and Spotify do not have at the moment. In China, there are a lot of songs that aren't signed with any labels – tonnes of them. 
That local content is very important; it's difficult if you don't have a connection to get those artists or musicians to allow you to distribute that music.
"local content is very important in china; it's difficult if you don't have a connection to get those artists or musicians to allow you to distribute that music."
In addition, I believe the user preference when it comes to the interface and experience of the app is very different with Chinese people versus English people.
If Spotify and Apple Music are following the global user interface and experience of their apps, I believe they will find it very difficult to increase their user-base in the China market.
Before I joined Tencent, I was working for Nokia's global music brand called Comes with Music in China. The app was developed in Finland and the Chinese users didn't find the music service easy to use so we were not successful in the China market. 
---
can tencent launch successful digital music companies anywhere outside of asia?
Two years ago we tailor-made Joox and expanded to Hong Kong, Thailand, Malaysia, Indonesia and we are now expanding to the India market.
I think it's doing well but we are not making good money because the market is too mature in a lot of the places it launched. 
In Hong Kong, for example, the population is 6m.
"We're focusing on the Asia market over the next few years."
Within that there are about 100k citizens who are using music services, and there are 6 – 7 other competitors already there. The market is too small and the industry is too mature for a big breakthrough.
Plus, if every music portal charges 40 Hong Kong dollars a month and a price war breaks out, if you want to charge a higher price users aren't going to subscribe.
We're focusing on the Asia market over the next few years. Then we will decide whether other countries have better potential for a music service like Joox.
---
You distribute music copyright but directly own games content. Is Tencent interested in acquisition of music copyright?
We've debated this internally many times over the last few years. It's case-by-case, but in general, we have decided that Tencent is not interested in acquiring music labels outright. Some investors and senior management think it would make sense but I've been kicking back because I think it would bring a very big conflict between us and music labels.
Labels compete with each other and if one day Tencent bought one of the majors, the others would think we are a competitor. So if we are a competitor, would they shut down the licensing partnership, or would they continue to license their artist's content to our portal?
"We don't have the expertise needed to run a music label business… However,  we wouldn't mind exploring an investment, like owning a small portion of a music label's shares – 10/20/30%."
To me, it's just too big of a risk. We also don't have the expertise needed to run a music label business. We don't have knowledge about A&R, management and physical CDs. I feel pretty strongly about avoiding owning a majority stake in a music label.
However,  we wouldn't mind exploring an investment, like owning a small portion of a music label's shares – 10/20/30%.
We'd consider investing in a really important music label that could create different strategic partnerships with, not only for our music service, but also using the IP of artists in the games or filming business.
---
Do you expect the likes of Google, Amazon and Alibaba to buy copyrights in the future?
I think they have a different thought process [to Tencent].
Alibaba has been doing it already, not only for music, but also with films and video services.
I do believe [those companies] will explore that business.
Music Business Worldwide