Doomsday analysts keep on concluding that entertainment subscriptions are in for a rough ride in 2022 due to macroeconomic pressures. Spotify keeps on defying them.
In Q3 2022 (the three months to end of September), Spotify added another 7 million net Premium subscribers to its user base, taking its total global paying subs audience to 195 million.
That figure was revealed today (October 25) via the announcement of Spotify's official Q3 results.
SPOT's 195 million subs base is a full 15 million subscribers ahead of where Spotify was at the close of 2021 (180m).
The 7 million growth in Q3 subs was ahead of Spotify's own guidance of +6 million.
Also ahead of SPOT's expectations: the platform's total Monthly Active Users (MAUs), which combine paying users and ad-supported users.
Spotify's MAUs at the close of Q3 hit 456 million – up 23 million on the prior quarter, and comfortably ahead of the 450 million the company suggested in its own previous guidance.
Spotify noted to shareholders today that its MAU growth in Q3 was partly due to "better than expected intake in India as a result of a multimedia marketing campaign driving activations and reactivations".
The firm's subscriber growth, meanwhile, was partly chalked up to "outperformance across all regions led by Latin America" as well as "better than expected Q3 promotional campaign results across all regions".
There was slightly less good news for record labels on the ARPU front: Premium monthly global ARPU at Spotify grew 7% YoY to €4.63 – but that was down 1% at constant currency.
---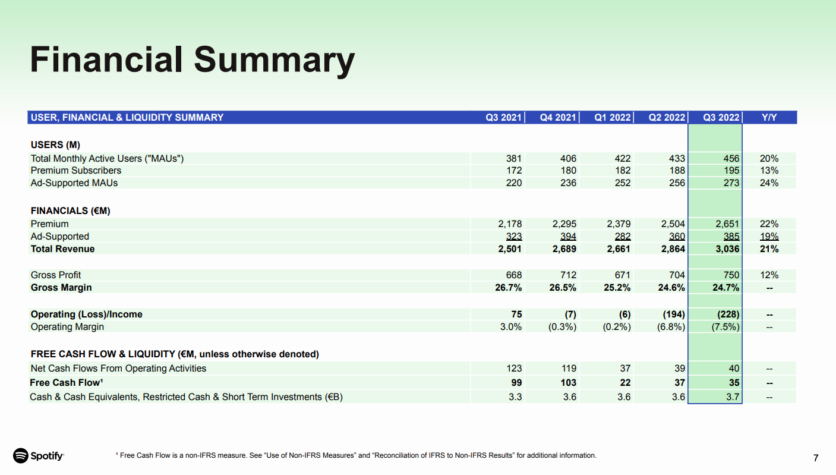 ---
In terms of finances, Spotify generated EUR €3.036 billion (USD $3.06bn) in quarterly revenues in Q3, up +12% YoY at constant currency.
Subscriber/Premium revenues weighed in at €2.651 billion ($2.70bn) in Q3, up +13% YoY at constant currency.
Ad-supported revenues stood at €385 million ($388m) in Q3, but grew significantly slower than subs revenue.
Ad revenues were up by just +3% YoY at constant currency in the quarter – an increase that Spotify said was "led by podcasting".
---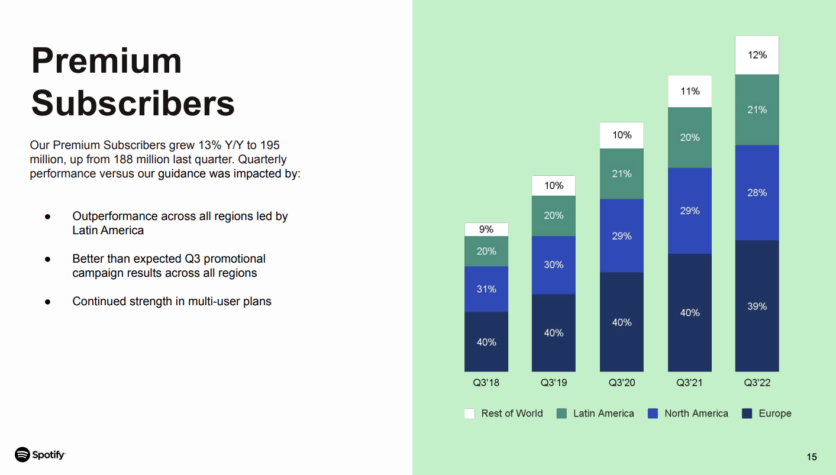 ---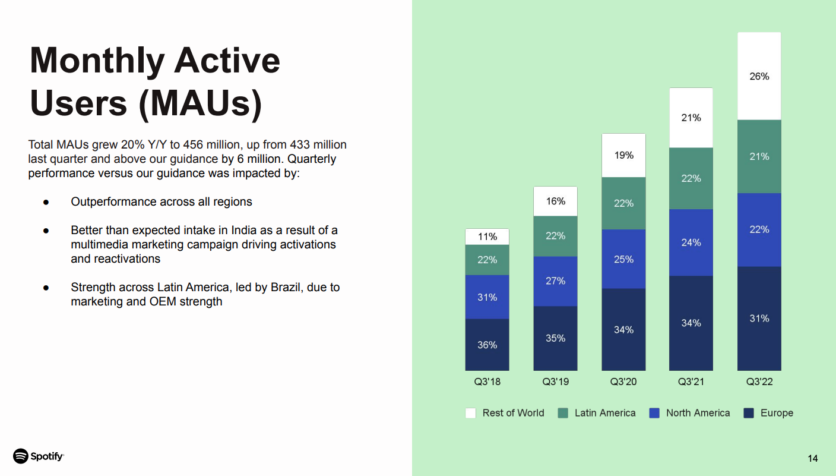 ---
Spotify posted a gross profit of €750 million ($755m) in Q3, reflecting a gross margin of 24.7%.
The firm recorded a €228 million ($230m) operating loss in the quarter, thanks to Operating Expense growth of 51% YoY at constant currency.
Spotify said this expense growth reflected "higher personnel costs primarily due to headcount growth (global ad sales team expansion, platform investment and acquisitions) and higher advertising costs for growth initiatives (Emerging Markets, Gen Z)".
Spotify also provided some forecasts for Q4 2022 (the three months to end of December) today.
The company says that it now expects total paying/Premium subscribers to reach 202 million by the end of the year, reflecting the addition of 7 million more net subs in Q4.
Spotify also expects to reach 479 million MAUs by the end of 2022, reflecting the addition of a further 23 million net MAUs in Q4 (see below).
---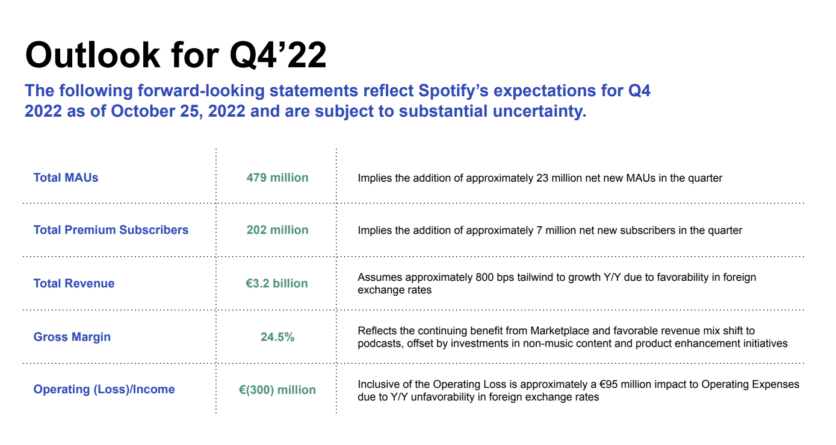 ---
All EUR-USD currency conversions in this story have been made at the average quarterly rate stated by the European Central Bank.Music Business Worldwide