US performance rights org SoundExchange paid artists and labels $908.2m across the 12 months of 2019, it has confirmed.
That figure was down 4.7% on the same number from 2018, when the org delivered $952.8m to members in a record payout year.
However, this dip was due to a one-off boost in 2018, which came when SoundExchange secured a $150m settlement agreed with Sirius XM, which was passed to members that year.
With this one-time $150m settlement removed from the historical comparison, SoundExchange would have seen annual payouts rise 13.1%, or $105.4m, from $802.8m (2018) to $908.2m (2019).
According to MBW's estimates, SoundExchange's lifetime payouts to members have now reached approximately $7bn.
---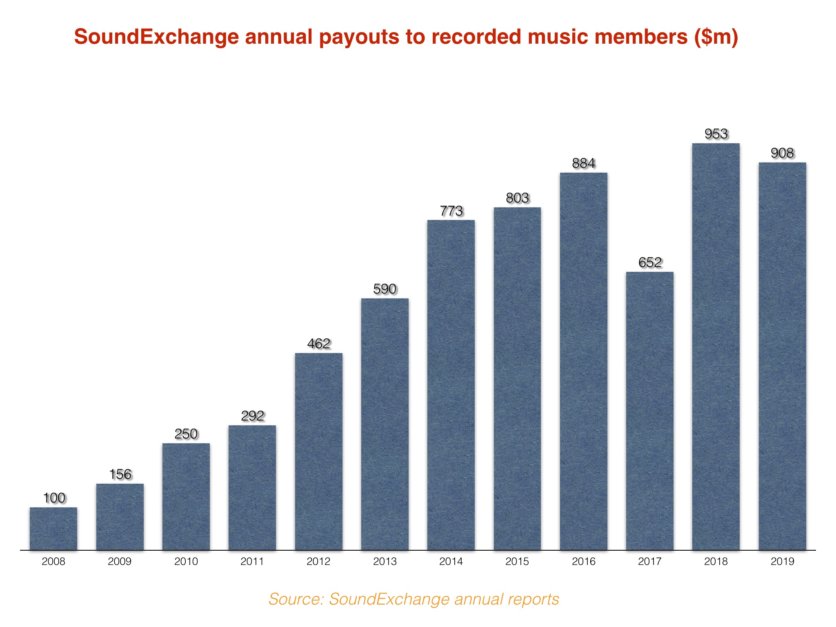 ---
Another interesting stat from SoundExchange: in Q4 2019, the number of payees getting checks from the org stood at 37,035 – up 8.7% on the 34,048 payees receiving money from SoundExchange in Q4 2018.
Those 37,035 payees in the last quarter of 2019 shared $218.8m, while the 34,048 payees from the prior year quarter shared a slightly larger amount, at $345m.
That means the average per-head quarterly distribution from SoundExchange weighed in at $10,133 in Q4 2018, and fell to $5,908 in Q4 2019 – a trend which may support the theory that the riches of the record industry are becoming spread amongst a wider pool of artists as audience listenership is broadened by streaming services.
---
SoundExchange, led by CEO Michael Huppe (pictured), collects royalties from the likes of Sirius XM for its artist and label members, as well as from other non-interactive internet radio, satellite radio and cable television services.
The organization stopped collecting from Pandora's radio tier for the major labels in 2017, but continues to administer collections for artists from the service.
---
SoundExchange has also revealed a list of the biggest money-makers on those US formats it collects from in 2019, which is topped by The Jonas Brothers.
The Top 10 of that chart is as follows:
SUCKER – JONAS BROTHERS

DANCING WITH A STRANGER – NORMANI & SAM SMITH

WOW. – POST MALONE

HAPPIER – BASTILLE & MARSHMELLO

EASTSIDE – HALSEY, KHALID & BENNY BLANCO

I DON'T CARE – ED SHEERAN & JUSTIN BIEBER

HEY LOOK MA, I MADE IT – PANIC! AT THE DISCO

7 RINGS – ARIANA GRANDE

HIGH HOPES – PANIC! AT THE DISCO

SWEET BUT PSYCHO – AVA MAX
Music Business Worldwide