SoundExchange has now exceeded $5bn in lifetime royalty distributions to its members since being founded in 2003.
The US organization, which collects performance royalties from online radio platforms, paid out a total of $652m to recorded music rights-holders in 2017 to surpass the milestone.
That figure represented a significant (-26%) drop on the $884m paid out in the prior year, but this wasn't unexpected – thanks to the slowdown in digital radio's growth, coupled with the fact that leading rightsholders (including the major labels) have now established direct agreements with Pandora.
In 2017 SoundExchange diversified its offerings to add services for the music publishing community in addition to its core business managing digital sound recording performance royalties.
SoundExchange President and Chief Executive Officer Michael Huppe (pictured) said: "Surpassing $5 billion in digital radio distributions marks an important moment for the new music economy. It's a milestone for the digital music services and, of course, for the artists and rights owners who create the music that makes those services possible.
"We have been on course to diversify our offerings for several years now. With our entrance into music publisher services through the launch of SXWorks and the acquisition of the Canadian Musical Reproduction Rights Agency, SoundExchange is poised to become the leading global player administering both sound recording and music publishing rights on a multi-territorial basis."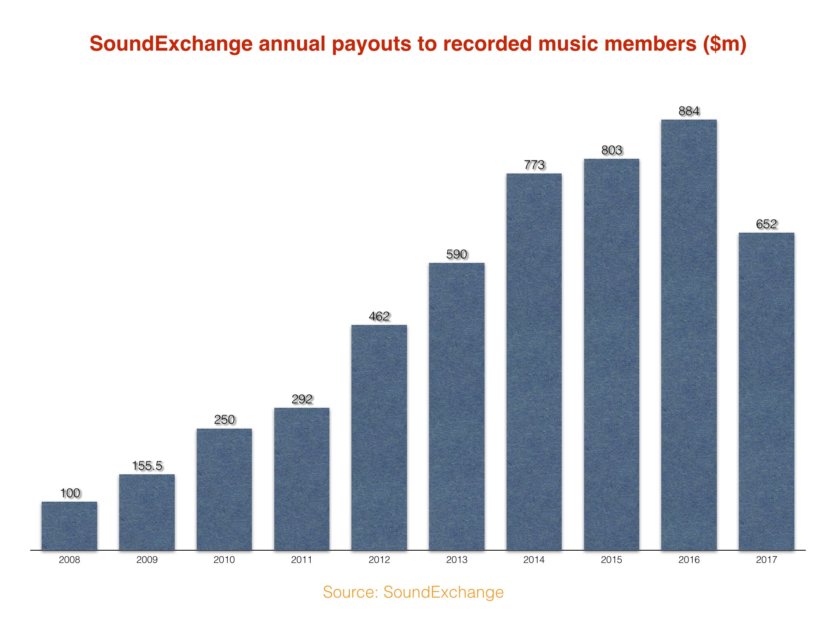 SoundExchange has recently extended its duties with the formation of SXWorks, a wholly-owned subsidiary that provides global administration capabilities to publishers.
With the acquisition of the Canadian Musical Reproduction Rights Agency Ltd. (CMRRA) in May, the SoundExchange companies expanded the scope of rights represented to include the mechanical rights of music publishers in Canada, in addition to the sound recording rights the company administers in the United States on behalf of all artists and rights owners.
Moves such as this saw gross distributions to members from all of SoundExchange's divisions hit $683.1 million in 2017 – meaning that over $30m was paid out to publisher members.
Other achievements from SoundExchange in 2017 included:
Achieving an immediate 41 percent increase in royalty rates for SiriusXM's satellite radio service from 2018 through 2022 in a rate litigation before the Copyright Royalty Board
Advocating for several pieces of important legislation, including the Fair Play Fair Pay Act of 2017 and The CLASSICS Act, which seek to reform antiquated U.S. copyright policy to more fairly compensate creators of music
Launching SXWorks, a music publisher services company. The SXWorks Board of Directors includes senior executives from major and independent music publishers
Announcing NOI LOOKUP, a new service from SXWorks to help publishers and songwriters search address unknown Notice of Intention to Use filings with the U.S. Copyright Office
SoundExchange continues to manage artists distributions of Pandora royalties on behalf of rights owners for the ad-supported tier of the Pandora service.
SoundExchange was selected to administer these artist royalties by more than 50 major and independent labels.
More than 3,100 non-interactive Internet radio, satellite radio and cable television services pay digital performance royalties to music creators through SoundExchange.Music Business Worldwide