The number of plays on SoundCloud in May this year hit 4.9bn – almost double what it clocked up a year previously.
That's according to Next Big Sound's new in-depth review of streaming's recent performance, in which the analytics company reports that a trillion streams took place across YouTube, Vevo, Spotify, SoundCloud, Vimeo, Rdio and Pandora in the first half of 2015.
NBS, which was acquired by Pandora in May, puts a special focus on SoundCloud, noting that in June 2014, it attracted 2.5bn streams, while in June 2013, this number stood at just 700m.
The rapid growth of Berlin-based SoundCloud, which claims in excess of 250m monthly users, has taken place largely unlicensed by music's biggest rights-holders – but in the past year that has started to change.
In November 2014, Warner fully licensed the service, and is understood to have taken a 5% stake in SoundCloud as part of the agreement.
Then in June this year, indie commercial body Merlin – which represents Beggars Group, Domino, Secretly Group, Epitaph, Ninja Tune, [PIAS] and many more – signed a similar agreement.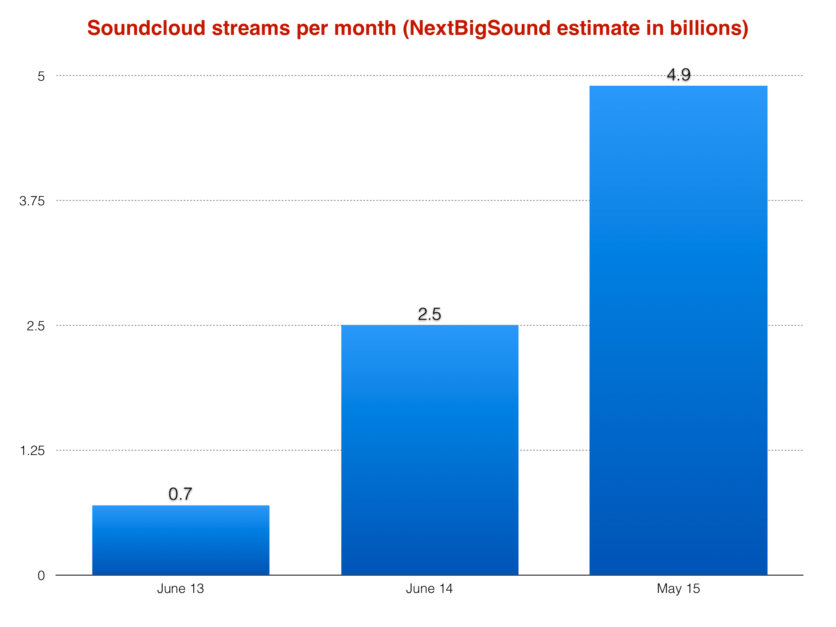 Both Warner and Merlin pointed to SoundCloud's supposed plans to launch a subscription tier later this year as a mitigating factor in their embrace of the service.
Rumours are currently circulating in the market than another major label is on the verge of announcing a landmark licensing deal with SoundCloud. It will be a surprise if this is Sony, which pulled down tracks from artists including Hozier and Adele from the platform earlier this year in protest over copyright infringement – just as US body the National Music Publishers' Association (NMPA) licensed it.
Next Big Sound notes that SoundCloud's popularity, balanced against its licensing woes, leave it "between a rock and a hard place".
"If slow and steady wins the race, SoundCloud could plausibly compete with more mainstream platforms such as Spotify or Rdio," it writes.
"However, SoundCloud provides a valuable niche service in that it is optimised for content such as mix tapes and DJ sets (oh, and Drake).
"If striking direct deals with rights holders – integral to legitimizing the service and monetizing content – means they are essentially strong-armed into charging users for a service they were once offered at no cost, they'll want to see that growth rate remain as stable as it has been."
That Drake gag is explained later in NBS's report, when it lists the ten most-played SoundCloud artist channels.
Drake, who also posts tracks from artists on his OVO Sound label on his SoundCloud page,  is No.1 on the rankings:
Drake
Major Lazer
G-Eazy
Future
Kygo
PartyNextDoor
Chris Brown
Kid Ink
The Weeknd
Chance The Rapper
In FY 2013, SoundCloud posted a US $29m loss on $14m revenues.Music Business Worldwide