SoundCloud is rolling out a new tool that lets artists use the service's proprietary data to discover and connect directly with their most-engaged fans on the platform.
The Fans tool has been used in beta by 10,000 artists – including Warner Music Group artists – enabling them to direct message (DM) superfans with the option to attach a track to these communications.
Today (May 8), SoundCloud is expanding the beta availability of its 'Fans' feature to more than 50,000 Next Pro artists.
SoundCloud says 'Fans' has been made possible because the platform's 'Fan Powered Royalties' offering – aka its 'user-centric' royalty payout capability – helps artists to detect who their most committed listeners are.
In a blog post announcing the new tool, Tracy Chan, SVP of Creator at SoundCloud, explains that 'Fans' taps "into a combination of proprietary data from Fan Powered Royalties, engagement data, and user reach".
"Our company was founded and built on helping artists share and connect through music," writes Chan in the blog post. "And, let's face it: building a fanbase (and being able to activate those fans when you need to) is the only real way to make music your livelihood."
He added: "Just knowing who your fans are isn't always enough. That's why we're also allowing you to message those fans easily and directly".
SoundCloud says that the tool is aimed at letting artists build direct relationships with their fans on the platform, ask for feedback on private tracks, promote new tracks and releases, pitch tracks, identify other artists, and promote shows and 'IRL' events.
The platform says that users can opt-out if they don't want to be contacted by their favorite artists.
Available on the SoundCloud for Artists platform, the new feature gives artists visibility on their most engaged fans based on indicators like comments, listening behavior, and sharing habits.
Artists can also sort fans by listener versus artist to "discover potential collaborators", and by location (by country only).
"Streaming isn't working for the vast majority of artists. Why? Because streaming services won't tell you who your fans are."

Tracy Chan, SoundCloud
Elsewhere in the blog post, Chan claims that, "The music industry has a dirty secret," and that "the promise of the music streaming business model is that as an artist, you can get your music to the world, and build a fanbase, and with that fanbase you can make money selling your fans tickets, merch and music, and make a comfortable living from your art".
He added: "But here's the thing…that promise is empty. Streaming isn't working for the vast majority of artists. Why? Because streaming services won't tell you who your fans are. Instead, they run business models built on selling you access to your fans. And the streaming services aren't alone – ticketing and merch platforms won't tell you who your fans are, either.
"The dirty secret of the music industry is that these platforms expect you to give them content and sales to fuel their bottom lines, but they refuse to tell you who is listening to your songs (or buying your tickets and merch). Promises made, promises broken."
---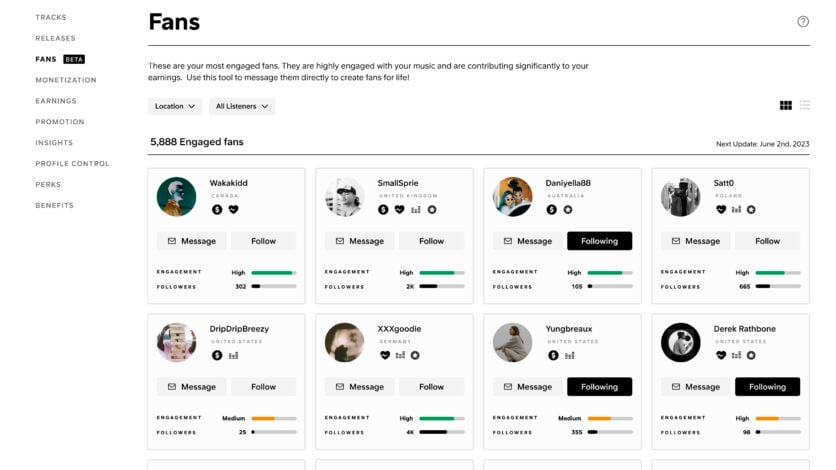 ---
Chan cites a handful of artist case studies from the 'Fans' beta including hip hop artist Dot Cromwell who has been using the tool to message his superfans: "thanking them for their support, sharing private links to unreleased tracks, and getting to know them".
In return, according to Chan, "these superfans are streaming and commenting on his songs more, which means more money in his pocket since he's on our Fan-Powered Royalties (FPR) model".
"I've noticed that simply engaging in a conversation with [fans] led to restreaming of their favorite songs and engagement on new songs. One listener streamed 58 times since we spoke," Dot Cromwell is cited as saying.
In another example, hip-hop/rap artist from Delaware called LIL WEST used Fans to see which artists were on his fans list and DM'd 100 gecs, which led to collaborative track releases.
---
SoundCloud's roll-out of this new direct marketing product arrives amidst the platform's evolution to becoming more of an artist services business.
As we've previously noted, SoundCloud's current model has two distinct sides:
(i) A user-facing streaming service, which offers both ad-supported and subscription (SoundCloud Go+) income streams; and
(ii) An artist services business, under which indie artists can not only upload their music direct to SoundCloud, but also distribute their tracks to rival services like Spotify.
SoundCloud also offers additional tools and resources to indie artists under the 'SoundCloud for Artists' brand. 'SoundCloud for Artists' was formerly known as 'Repost' which SoundCloud acquired in May 2019 for around $15 million.
SoundCloud rebranded Repost, and launched a new creator dashboard for its artist services platform, in October 2022. (SoundCloud also renamed its subscription plans).
Writing in a blog post at the time, Tracy Chan, SoundCloud's Senior Vice President of Creator, (and former Head of Music at Twitch), called SoundCloud for Artists "an elevated, all-in-one platform for artists to connect with fans and accelerate their careers".
---
SoundCloud also launched a top-tier of artist service offerings, known as its "roster" last year.
Under these "roster" deals, particularly successful independent artists 'sign' direct to SoundCloud, with the company paying advances, investing in artist marketing etc. just as a traditional record label might.
SoundCloud signed an artist-signing joint venture last year with Solid Foundation, the management and creative services arm of Atlanta rap powerhouse QC Media Holdings (Quality Control).
SoundCloud expanded its artist services business globally in February by entering into a joint venture with Jax Jones' and Dan Stacey's UK-based, dance-focused record label, WUGD (What You Gonna Do) Ltd.
---
The launch of 'Fans' also follows last week's news that SoundCloud has signed a global licensing deal with Merlin, the digital music licensing agency for independent labels, to allow Merlin members and their artists to participate in SoundCloud's Fan-Powered Royalties (FPR) model.
SoundCloud introduced its "fan-powered royalties" model – its own branding of the user-centric model back in April 2021.
Unlike the traditional pro-rata "one big pot" streaming model  – adopted by services such as Spotify – FPR is a user-centric model that allocates a share of each listener's subscription and advertising revenues only to the artists/tracks they individually listen to.
Warner Music Group signed a global licensing deal with SoundCloud in July last year, becoming the first major label to adopt SoundCloud's payout model.Music Business Worldwide