Each week, The MBW Review gives our take on some of the biggest news stories of the previous seven days. This time, we take a look at the SoundCloud licensing deal with Universal Music Group – and the precarious financial state of the streaming service. The MBW Review is supported by Believe Digital.
---
Her Majesty is waiting patiently for SoundCloud.
The Berlin-based company's annual accounts must be filed with the UK's regally-appointed Companies House each year, according to British law.
Only this time, they're late.
SoundCloud's co-founder Alexander Ljung, was due to post the business's FY 2014 accounts to the body over three months ago – but they're still nowhere to be seen.
Perhaps there's something in there he doesn't want us to read.
---

The biggest news in the music industry this week by far was the completion of a licensing deal between Universal Music Group and SoundCloud– a contract that had, MBW understands, been agreed in principle before PRS upset the apple cart by suing Ljung's business in August.
With that lawsuit now settled, SoundCloud and UMG boss Lucian Grainge (pictured) were free to finally put pen to paper on a far-reaching licensing agreement.
This covers both Universal's publishing and master catalogues, and allows SoundCloud to roll out advertising and introduce subscription services in the US and other markets later this year.
But at what cost?
We have one big historical clue: when Warner Music Group signed a similar agreement back in 2014, it reportedly took a 5% equity stake for its trouble.
Merlin, which represents 20,000 indie labels and licensed SoundCloud last year, is believed to have done the same, to a smaller degree.
Surely Lucian Grainge, arch negotiator, market leader and relentless exterminator of outside competitive advantage, won't have allowed Ljung to get away without giving up a tasty slice of his business?
When you investigate SoundCloud's shaky financial foundations a little further, you realise Ljung might not have had much choice.
---
So we don't have SoundCloud financial data for 2014 just yet (as soon as we do, MBW newsletter subscribers, expect our analysis to hit your inbox).
But we have trawled through the company's figures in previous years – and a lot of what we found ain't pretty.
Mr Ljung, you might want to fix yourself a stiff drink. Or head out for a relaxing helicopter ride.
Here goes.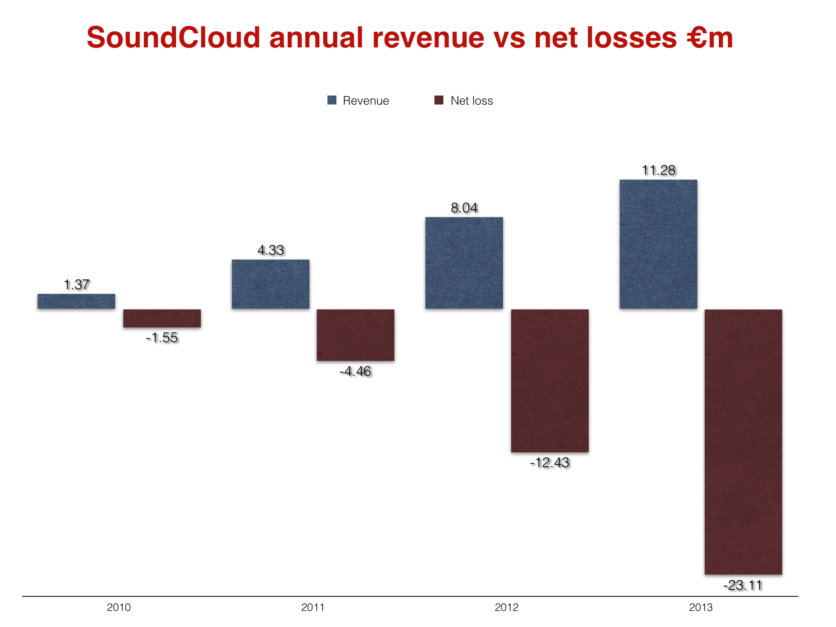 Where to begin?
As you can see, in 2013, SoundCloud's net losses almost doubled, widening from €12.43m in 2012 to a whopping €23.11m.
A couple of factors which further exacerbate these figures: (i) 2012's minus stat includes the $10m acquisition of Instinctiv Technologies; (ii) Year-on-year, 2013 revenues climbed by a comparatively paltry 40.3% – meaning SoundCloud's losses are now accelerating far faster than its income.
This data should have given SoundCloud's hard-nosed Venture Capital investors – including Kleiner Perkins Caufield & Byers (KPCB), GGV and Union Square Ventures – cause for concern.
Not least because in SoundCloud's 2013 filings, the company names its core 'Key Performance Indicators' as turnover (+40.3%), post-tax losses (-85.9%) and, crucially, EBITDA – a standard profit/loss business healthcheck value by which SC's annual losses widened by a wince-worthy 74% to €19.93m.
---

Yet this all looked fairly immaterial for Ljung and his VC cheerleaders back in early 2014 – because at that point, Twitter was mulling a very lucrative bid to buy SoundCloud.
Sadly for Ljung, these talks collapsed by summer that year.
Industry whispers suggest SoundCloud wanted $1bn, while the social media site wasn't prepared to go any higher than $700m.
Lest we forget: had this deal gone through, it would have been one of the greatest ever embarrassments for the very same blockbuster music rightsholders now mugging for the figurative camera with their new buddy Alexander Ljung.
Ljung would have built and sold a billion-dollar business on the back of copyrighted content which his company had, by and large, flagrantly refused to license.
In this case, however (perhaps because it's given them enough bloody noses for one century), history was kind to the major labels.
Twitter turned on its heel, leaving SoundCloud in a rather fragile position: bleeding money, failing to hit its KPIs, with a key exit opportunity for its backers slammed shut.
Time to pivot.
Time to face the music.
---
So as we enter 2016, what now for SoundCloud, a company with a new-found taste for going legit, and one – for all of its historic licensing misdemeanors – that has built a very impressive audience of 175m people?
More MBW analysis shows the vastness of the challenge Ljung has at his feet.
Effectively, Ljung's only option is to convert SoundCloud into a successful global subscription service, and fast – or run out of money.
The probable gift of equity to WMG, UMG and Merlin would have no doubt lessened the royalty advance SoundCloud would have had to pass to all three.
But these are not companies in the habit of licensing for nowt – especially to a business which, until it hit hard times, soaked itself in the putrid lubrication of US safe harbor laws to slip out of mass takedowns.
My hunch is that SoundCloud gave one, two or all three of these businesses the holy trinity: (i) A compensation fee to wipe clean their slate for past copyright infringement ; (ii) An advance on future royalties from SoundCloud's ads and upcoming subscription businesses; and (iii) a slice of equity.
Reports this week suggested that SoundCloud has just raised another €32m cash in debt financing.
A timely reminder, perhaps, that there's another daunting one-off cost about to hit SC's bottom line: its megabucks settlement with PRS For Music.
Looking even more closely at SoundCloud's 2013 figures, there are other reasons for Ljung to feel apprehensive about his business's bold move into the world of subscription streaming.
---
Focus, if you will, on the number regarding 'administrative expenses' below in SoundCloud's 2013 accounts.
Essentially, these are SoundCloud's unavoidable running costs; the stuff it has to pay for – from offices to staff to accountancy – that have no direct impact on the fortunes of its service, but which it can't do without.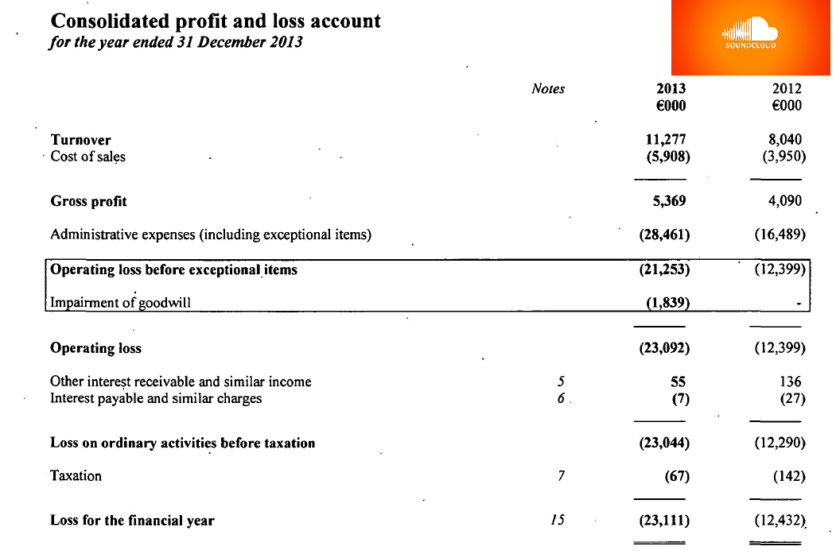 See that? The number that blows all others asunder?
€28.46 million.
So just to stand still as a business in a single year, SoundCloud is eating up almost all of the one-off debt facility (€32m) it just secured.
This is slightly technical but very important, so please do bear with: in 2013, because of these extraordinary 'admin' costs, SoundCloud would have posted a €17.18m pre-tax loss before you even factor in 'cost of sales'.
Cost of sales is the stuff that actually helps a business grow – things you have to pay for in order to directly attract customers and drive more revenue.
At just €5.9m, this number was suspiciously small for SoundCloud in 2013, primarily because it doesn't include much in the way of…
Anyone? Anyone?
That's right.
Royalties.
---
Case in point: compare SoundCloud's 2013 'cost of sales' to Spotify's, whose equivalent spend weighed in at €614.5m in 2013.
Twelve months later, Spotify (which admits its licensing costs make up the vast bulk of its cost of sales) was paying out €876.1m under this banner.
Spotify's 'general and administrative costs' in 2014?
€76.7m – less than a tenth of its cost of sales.
Even with sales, marketing and R&D factored in, this figure was still less than half of annual licensing payment to the music business (see below).
At SoundCloud, these numbers are the other way round.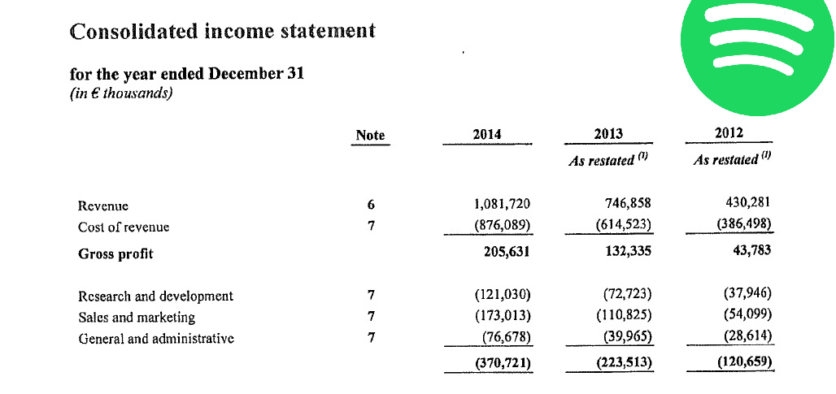 ---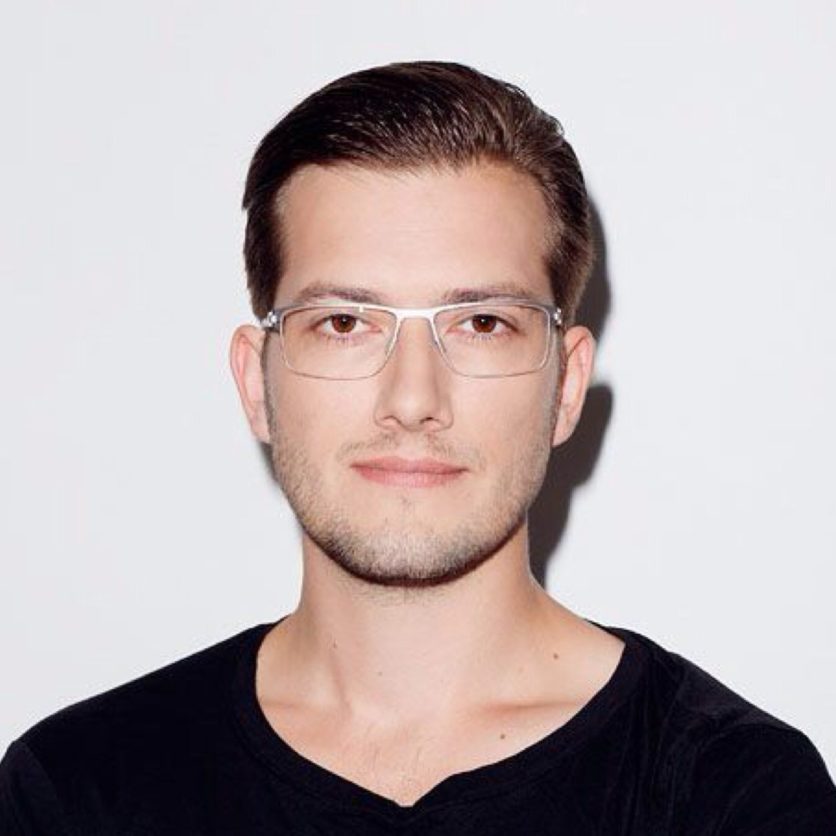 Spotify's royalty payout numbers are the kind of size that Lucian Grainge and other rightsholders – including US and UK publishers via the NMPA and PRS – will, soon enough, want SoundCloud to be pumping their way.
After all, SoundCloud's addressable audience of 175m active users is already around double that of Spotify's.
The big question for Ljung (pictured), with a delicate business underneath him, is to what extent he can now convert his existing audience into paying up.
Regardless of where you stand on the sustainability of Spotify's current model, one thing's for certain – subscription is currently pulling in the sort of money that Ljung can only dream of.
In 2014, Spotify accrued €982.9m from just 15m subscribers, enough to claim 90.1% of its total €1.081bn income.
(The frustration of some in the music industry that Spotify, of all parties, is being singled out for not paying songwriters properly in the US, moves into view.)
Ljung's great difficulty: what will SoundCloud users actually pay for?
Some fear that the thing which made SoundCloud such a pleasure for its customers is now under threat exactly because of its newly-discovered legitimacy.
---
Somehow, Ljung needs to balance the interests of huge commercially-driven pop machines like UMG and WMG – now his licensors and part-owners – with the DIY, free ethos that made SoundCloud such a consumer hit in the first place.
Many in the dance music community, the propulsion for so much of SoundCloud's rapid global growth in recent years, doubt his ability to do so.
Especially while the likes of Lucian Grainge ('a killer shark behind a kind face' – not our words, Doug Morris's) are looking at their watch, and leveraging their influence to call the shots.
Speaking of Doug Morris, SoundCloud doesn't even have the catalogue of Sony Music licensed right now.
In the dog-eat-dog world of streaming subscription services, with Spotify, Apple Music, Pandora and Google Play all taking chunks out of each other, that's a damning disadvantage for SoundCloud.
Another headache.
---
Oh, and as if Ljung doesn't have enough on his plate… he needs to fix all of this stuff while bringing the alarming running costs of his company under control.
An aside: just under half of SoundCloud's colossal admin expense numbers in 2013 (€28.46m, remember) were eaten up by staff costs.
It paid 195 employees – double its head-count from the year before – €12.584m in wages. That's an average per employee of €64,533.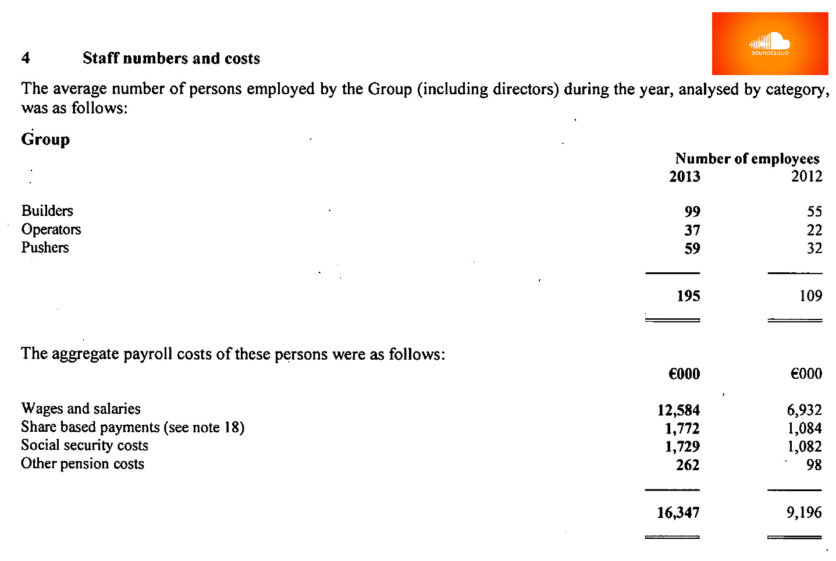 SoundCloud is a business expanding as if it has a grand vision for profitability, yet it's just been forced to embrace an entirely new, far more costly strategy.
Choppy waters.
---
If Ljung and SoundCloud co-boss Eric Wahlforss can't meet this plethora of challenges, especially in terms of fiscal frugality and the rapid acceleration of revenue-per-user, you have to fear for their company's long-term future.
When MBW grilled an oddly mute Ljung back at Midem this year, we candidly asked him: 'Will SoundCloud ever be profitable?'
'Yes,' he replied.
When?
'No comment.'
UMG and PRS deals done, SoundCloud looks firmly in the grip of the music industry's gorillas, with Doug Morris still playing hard to get.
Meanwhile, its VC backers have just witnessed the company they invested in fail to exit – before transforming into something carrying much more operating risk.
Surely Ljung is going to need to find an answer to our question sooner rather than later.
---
The MBW Review is supported by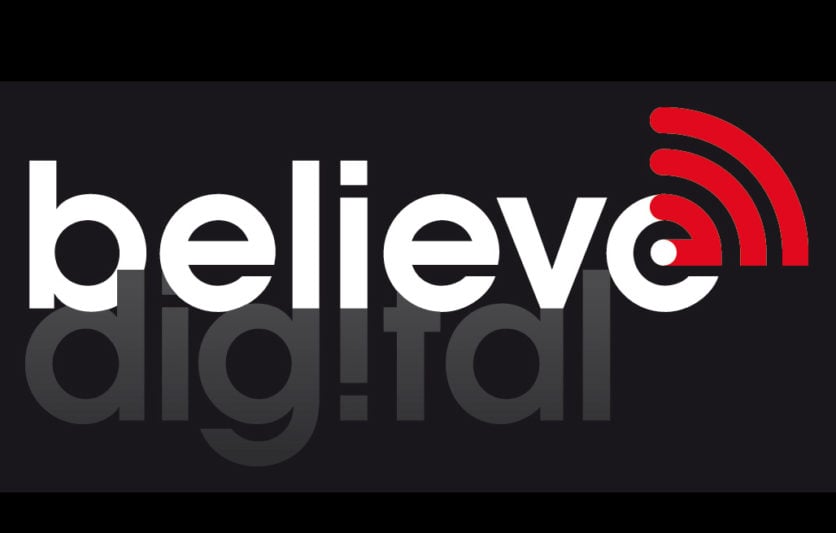 Believe Digital, a leading independent digital distributor and services provider for artists & labels worldwide. Believe empowers artists and labels to maximize the value of their music with a full suite of services. Championing innovation and transparency throughout its ten-year history, Believe prides itself on providing tailor-made services for each label and artist. Visit believedigital.com for more details.Music Business Worldwide