Last year we reported that SoundCloud was becoming a distributor via the launch of its SoundCloud Premier monetization toolset in open beta – a feature that enables artists to spread their music to a range of rival streaming services.
Today, in a blog post unveiling $15m worth of support for creators amid the Covid-19 crisis, SoundCloud CEO Kerry Trainor also revealed the immediate launch of what is described as "a brand new marketing and distribution engine", called Repost by SoundCloud.
SoundCloud says that this new artist services platform is aimed at "serious artists who want to take their career to the next level" – while allowing them to stay independent.
The service promises independent artists and labels access to "professional marketing and monetization services and industry-leading distribution features".
The launch of Repost by SoundCloud follows last year's news that SoundCloud had entered into a definitive agreement to acquire rights management and distribution company Repost Network.
At the time, SoundCloud said that "high-performing, emerging creators" would have access to Repost Network's invite-only tools and services like streaming distribution, analytics dashboards, content protection and more.
SoundCloud has now opened this all up, via Repost by SoundCloud, to anyone, for a $30-a-year subscription, or with a Pro Unlimited subscription.
Artists distributed through Repost by SoundCloud get to keep 100% of their SoundCloud royalties plus 80% of the revenue received from other music services.
Digital distribution is offered to more than 25 platforms including Spotify, Apple Music, TikTok, and others.
There will also be opportunities for select artists to be upstreamed into a program called Repost Select by SoundCloud, a premium services program for "artists on the rise".
---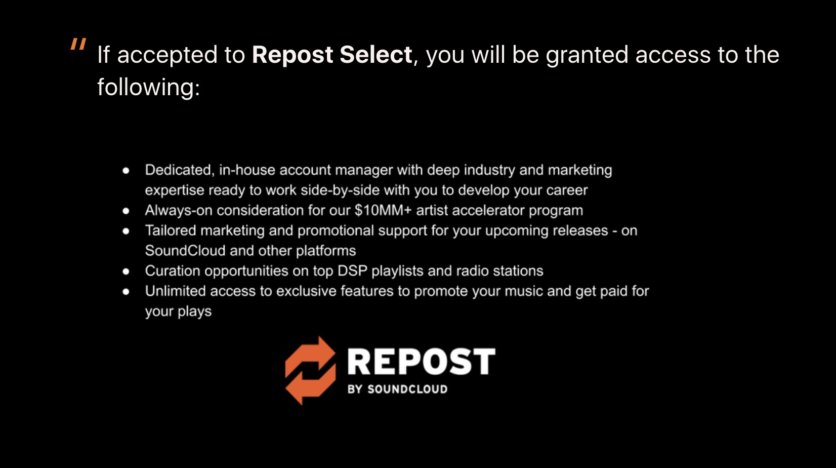 ---
SoundCloud explains that Repost Select, which artists can apply for here, is "for professional artists who want to unlock their potential and take their music full time".
Explains SoundCloud: "You're a professional artist who's seen success and is ready to unlock your full potential.
"With our global team of music industry experts, high-performing Repost artists get first access to promotional opportunities, placement on custom DSPs and radio stations, and all of the support you need from a dedicated account manager."
Repost Select artists will also get "top consideration for funding" from SoundCloud's new $10m artist accelerator program announced today by Kerry Trainor, amongst a number of initiatives to support the SoundCloud community during the Covid-19 crisis.
Trainor also revealed today that SoundCloud has seen a 50% surge in creators uploading in the past month .Music Business Worldwide