The balance of power in the global music industry just changed forever.
Sony is very close to executing a $750m purchase of the 50% stake in Sony/ATV it didn't previously own.
This deal not only completely alters the shape of the music publishing industry, but instantly makes Sony – the wider company – a far greater threat to Universal Music Group than it was last week.
Below, MBW takes a look at five crucial aspects of this historic deal – and what it might mean for Sony, UMG and the future of the music business itself.
---
1) Finally, Sony is on the road to becoming a unified music powerhouse
Operationally, Sony's music division looks desperately untidy next to its fellow major music giants.
Both Universal Music Group and Warner Music Group house their publishing divisions neatly beside their record companies.
Warner/Chappell operates as a sister company to labels such as Atlantic and Warner Bros, with all parties ultimately reporting into WMG CEO Stephen Cooper.
Universal Music Publishing, meanwhile, follows the same structure – with UMPG boss Jody Gerson, like her UMG label colleagues, reporting into CEO Lucian Grainge.
What this ultimately means is that Cooper (or his boss, Len Blavatnik) and Grainge can direct negotiations with digital services across both publishing and records in one fell swoop.
On one hand, this is immensely powerful. Global agreements across huge songwriting and master catalogues can be agreed with a single signature.
On the other hand, it's also a bit worrying.
We've previously noted that writers/publishers can sometimes only expect to gain around 16% of total payouts from services such as Spotify, while labels take home 70%+.
Publishers, as you'd expect, think this segmentation is a mite unfair.
The likes of Grainge and Cooper, so the argument goes, have little incentive to change these ratios when every dollar of this cash ends up on their bottom line regardless.
Back to Sony.
Sony Corporation of America (SCA) is now in spitting distance of owning the whole of Sony Music Entertainment (the big record company) and Sony/ATV (the big publisher).
So long as the deal is approved by regulators, SCA will own both sides in full.
Finally, Sony will be on the way to structural parity with its big rivals.
---
2) Sony just closed the gap on universal to the tune of $300m a year (or more). But it's complicated.
Unfortunately, things aren't quite as neat and tidy as point 1) might have made out. Sorry about that.
That's because, in 2012, Sony acquired EMI Music Publishing for $2.2bn – but did so as part of a patchwork consortium.
As we stand today, Sony owns around 30% in EMI Music Publishing, with 10% still owned by the Jackson Estate (a stake which the Estate is retaining).
The rest of the pie is taken by the consortium's finance partners, led by Mubadala Development Company PJSC, plus Jynwel Capital Limited, the Blackstone Group's GSO Capital Partners LP and David Geffen.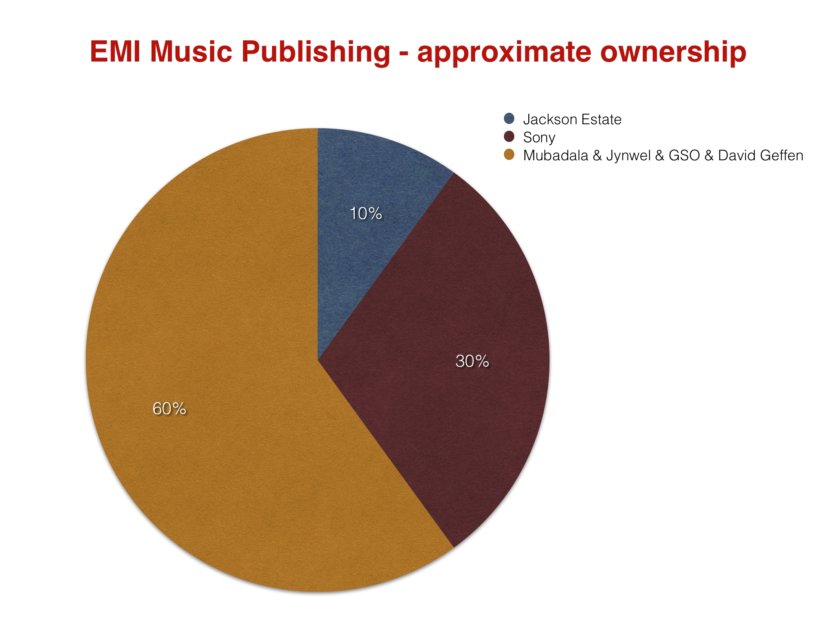 Sony/ATV also benefits from EMI Music Publishing in a different way, because it administrates the latter's catalogue, taking a 15% cut of net publisher share. (EMI owns slightly more copyrights: 2.03m vs. Sony/ATV's 1.94m.)
This ownership structure is unaffected by the new Sony/ATV deal.
Now for some maths.
Sony/ATV and EMI Music Publishing's consolidated annual revenues are believed to sit at around $1.2bn.
Within this, Sony will now fully take home the Sony/ATV share, which in the year ending March 2015 hit 70.96 billion yen, or around $624 million (at March 2015 exchange rates).
The Jackson Estate's 50% share of this revenue – around an extra $312m – will now land in Martin Bandier's lap.
Sony has forecast that its total music revenue in the twelve months to March 2016 (including recorded music plus its full Sony/ATV share) will be 533.99bn Yen – or $4.7bn at today's exchange rate.
But what of Sony's EMI Music Publishing stake?
That depends if (i) EMI turns over the $600m-$700m per year we anticipate, and (ii) if this revenue is additive to Sony's already-reported publishing income.
If so, across a 30% ownership of EMI Music Publishing (and that 15% EMI admin fee), Sony could – feasibly – add another $200m-plus to its tally, pushing its total annual music revenue up towards $5bn.
Universal Music Group just posted FY 2015 revenues of €5.108bn, or $5.68bn at current exchange rates.
Perhaps the true gap between the two businesses is closer than many assume.
---
3) the Michael Jackson estate did a great bit of business…
When announcing the sale of the Sony/ATV stake, John Branca and John McClain, Co-Executors of the Jackson Estate, made sure to note how smart a deal this was for all concerned.
In a joint statement, they said: "[Michael's] ATV catalogue, purchased in 1985 for a net acquisition cost of $41.5 million, was the cornerstone of the joint venture and, as evidenced by the value of this transaction, is considered one of the smartest investments in music history."
Simple maths shows they have a very solid point.
Buy for $41.5m. Sell for $750m.
That's an 18-times return on investment.
Shamone.
---
4) … But not as great as Sony
So why did Sony pay such a seemingly inflated figure for the ATV catalogue?
Because it's considerably grown in value since 1985 – that much is obvious.
But what's also missed out in Branca and McClain's statement is the fact that the value of this catalogue is still growing – and fast – thanks to the changing shape of the music market… particularly streaming.
Just look at the annual revenues of Sony's music publishing business over the past three years alone.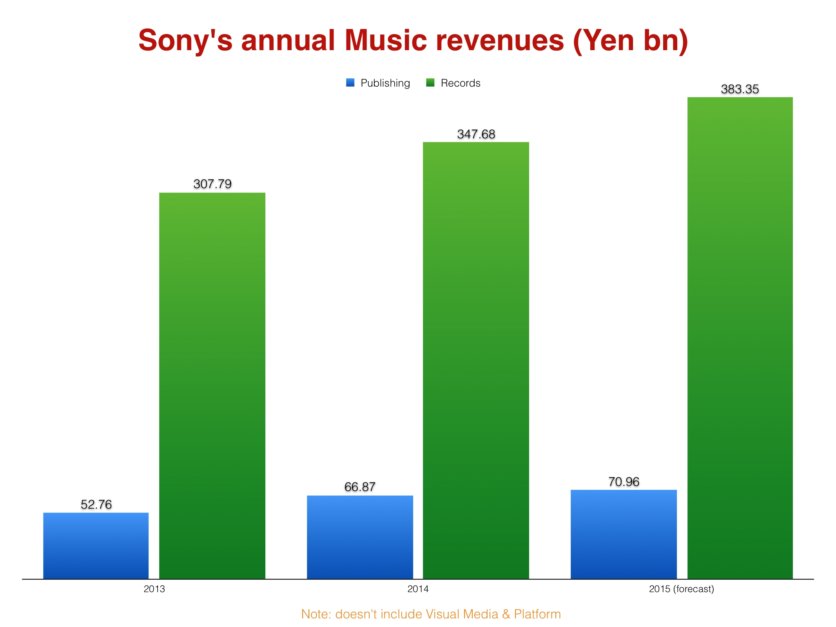 Yes, publishing is dwarfed by recorded music income… but out of the two sectors, publishing is actually growing faster.
From 2013 to Sony's 2015 FY forecast, publishing income shot up 35%.
Across the same time period, the increase in recorded music was 24.5%.
If publishing can keep up this rate of growth, Sony/ATV's annual revenues will hit 96bn Yen in two years' time – which currently equates to $880m US dollars.
Also, should there ever be any movement in that total streaming payout pie towards music publishing and away from recorded music, Sony is now far less exposed to watching a a third party benefit.
---
5) Watch out: Sony is officially in acquisition mode.
Perhaps the greatest significance of today's news is simply Sony Corp's willingness to drop $750m on a music company in 2016.
That should be a confidence booster not only for Marty Bandier, but for anyone making a living out of music copyrights right now.
"This agreement further demonstrates Sony's commitment to the entertainment businesses and our firm belief that these businesses will continue to contribute to our success for years to come," said Sony CEO Kaz Hirai (pictured), adding that music was a "key driver of our future growth".
He means it.
Lest we forget that almost exactly this time last year Sony officially acquired another outstanding 50% stake – spending $200m to fully acquire The Orchard.
The Orchard's digital albums distribution share in the UK in 2014 was just shy of 4%.
"[Music is] a key driver of our future growth."

Kaz Hirai, Sony
Sony taking control of that kind of distribution power would help give it leverage in negotiations with Spotify, YouTube etc.
Which in turn would feed its fast-growing publishing business.
All of a sudden, Sony looks a little bit more joined up, right?
Less top-down deals have recently included Sony Music UK's acquisition of Essential Music & Marketing (a 1% UK distribution market share addition) plus the $17m spent on rock label Century Media.
These buyouts have only added to the Japanese company's mounting global influence.
Bottom line: Sony has spent almost $1bn on music acquisitions in the past year alone.
The last time Universal spent that kind of money was in 2012, when it bought EMI Music for $1.9bn – and that was before it was forced to sell a juicy Parlophone catalogue to Warner.
However, count UMG out at your peril: Universal parent Vivendi has €6.4bn in cash ready to spend today, so Lucian Grainge is hardly lacking in financial firepower.
Yet if Sony makes another big acquisitive move soon – and Hirai's words suggest it wouldn't be a shock – the battle at the top of the global music market is back on. In a big way.Music Business Worldwide