MBW's Stat Of The Week is a series in which we highlight a single data point that deserves the attention of the global music industry. Stat Of the Week is supported by Cinq Music Group, a technology-driven record label, distribution, and rights management company.
---
Sony spent approximately USD $911 million on music catalog acquisitions in the 10 months leading up to February, 2022.
The stat was recently revealed by Sony Corp's Executive Deputy President and CFO, Hiroki Totoki, on an investor presentation seen by Music Business Worldwide.
Somewhere around half of that $911 million figure would have gone on Sony's double-acquisition of Bruce Springsteen's publishing catalog and his recorded music catalog, as announced in December last year.
Sources suggest the price of that double deal was around $550 million, although not all of that was Sony's money: the major music company was supported by additional funds from Eldridge Industries in the publishing side of the Springsteen buyout.
It's interesting to note just how much more money Sony has been throwing down in the catalog investment space versus what Universal Music Group spent in calendar 2021.
As recently reported by MBW, Universal has confirmed that it spent $459 million on music catalog investments in 2021.
That number was down 58% year-on-year, although UMG has in Q1 2022 picked up its expenditure on catalogs – including a ≈$300 million deal for Sting's song catalog, plus a deal for Neil Diamond's song and recorded music catalogs.
Hiroki Totoki told Sony Corp investors in February that approximately 100 billion Yen (around $911 million at annual exchange rates) in music catalog acquisitions had been allocated to Sony's operating cash flow in its financial numbers for the April 2021 – February 2022 period.
This investment in artist/writer catalogs, he clarified, was separate from other investments and acquisitions Sony had made in music over the previous year. Such deals include the $430 million the company paid to acquire AWAL from Kobalt Music Group in May 2021, and the $255 million it paid to acquire Brazilian label Som Livre.
In his presentation, Hiroki Totoki  showed the below chart that broke down the approximate 850 billion Yen ($7.74 billion) expenditure that Sony made in non-music-catalog strategic investments during the April 2021 – February 2022 period.
This chart appears to indicate that Sony's (non-catalog) music investments represented around 18% of this money, worth in the region of $1.4 billion.
Speaking on February 2, Hiroki Totoki clarified that the 850 billion in deals to which he referred included those "that have been decided, but not closed".
---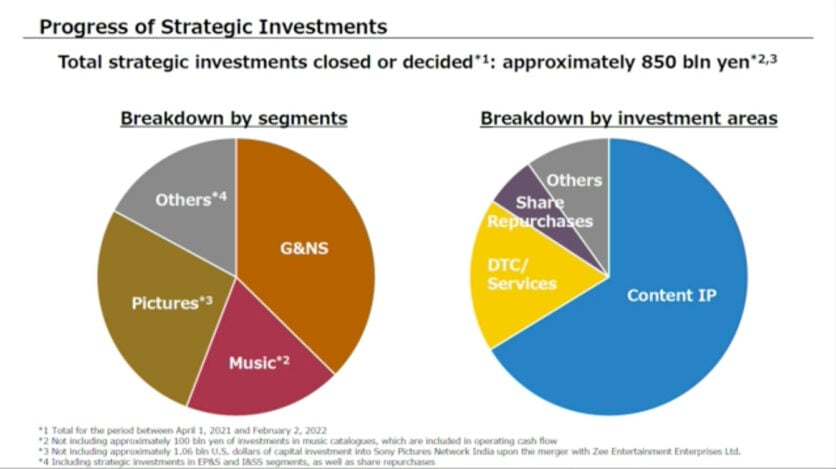 ---
In addition to buying the Bruce Springsteen catalog, Sony's 2021 catalog investments included it spending north of $150 million on Bob Dylan's recordings catalog last summer.
In addition, the company announced in March last year that it had bought Paul Simon's publishing rights in a deal rumored to be worth upwards of $200 million.
---
Major non-music acquisitions executed by Sony Corp in the past year include the firm's $3.6 billion deal to acquire video games maker, Bungie, announced in January this year.
In December last year, Sony Pictures confirmed it had agreed a merger with Zee Entertainment in India, to create that nation's second-largest entertainment network.
The merger resulted in a joint venture company in which Sony Pictures Networks India (SPNI) is the 51% shareholder.
---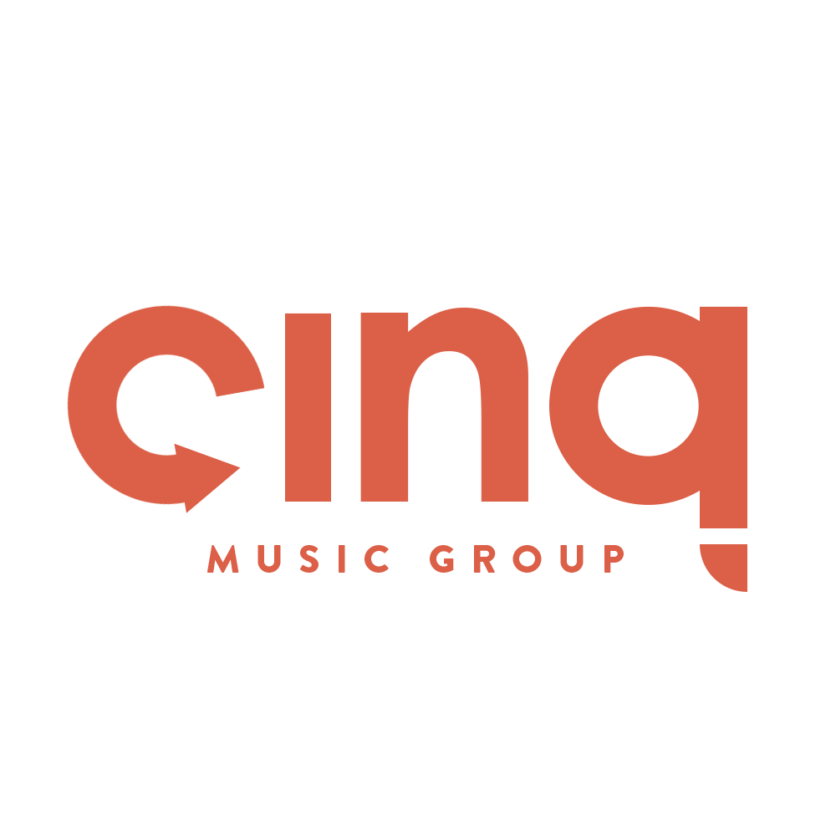 Cinq Music Group's repertoire has won Grammy awards, dozens of Gold and Platinum RIAA certifications, and numerous No.1 chart positions on a variety of Billboard charts. Its repertoire includes heavyweights such as Bad Bunny, Janet Jackson, Daddy Yankee, T.I., Sean Kingston, Anuel, and hundreds more.Music Business Worldwide