Universal remains music's only billion dollar streaming record company – but by a hair's breadth.
Sony Music Entertainment's streaming revenues grew by 57% over the past 12 months, brushing the underside of $1bn while comfortably offsetting a small global decline in downloads.
Interestingly, this growth outpaced the industry average: IFPI figures show that, in 2015, the global recorded music business's streaming income increased by 45.2%.
SME's earnings (across music's recorded, publishing and visual media divisions) hit 617.6bn Yen ($5.47bn) in the 12 months to end of March – up 10.4% year-on-year. Operating profit reached 87.3bn Yen ($773m).
Sony's recorded music business took 412.7bn Yen ($3.65bn) in the 12 month period – up 7.7%.
27% of this figure, or 111.43bn Yen, was generated by streaming – working out to just under a billion dollars, at $986m.
That was comfortably ahead of download, which took 21% of all recorded music income – equating to $767m.
Sony's download income dropped by just 3.4% in the year.
(The streaming figure is all the more impressive when you consider that none of the revenue generated by Adele's 25 came from on-demand streaming services.)
Physical sales claimed 38% of Sony's total recorded revenues in FY2015, with overall digital income taking 48%.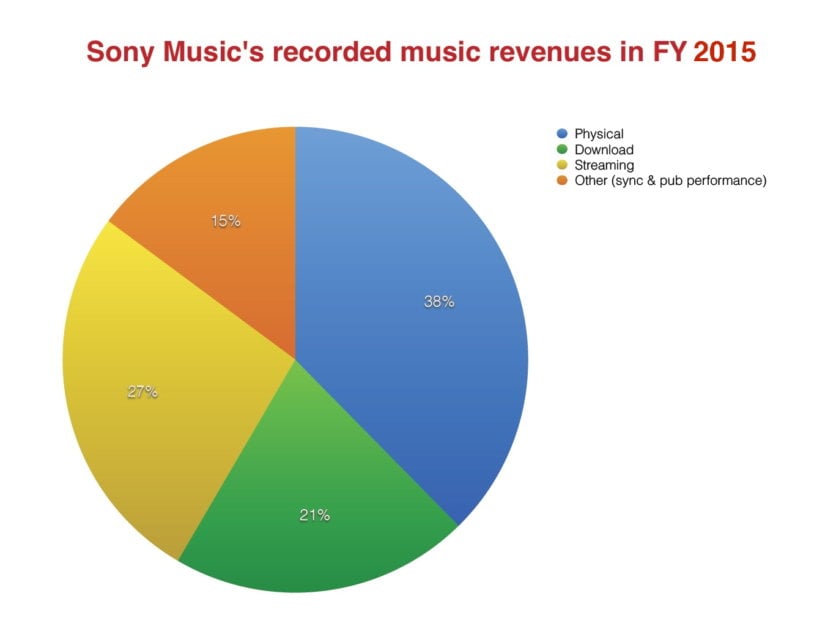 Sony's music publishing interests in Sony/ATV and EMI Music Publishing brought in 71.26bn ($631m) in the 12 months, up 7.7% year-on-year.
SME predicts that its music revenue will fall in FY 2017, primarily because of the impact of foreign exchange rates, but also due to 'lower recorded music sales compared to hit titles in year ended March 2016'.
If you missed it, that's a reference to Adele's 25, which was released via a license deal through Columbia in the US and South America, and had sold 17.5m copies worldwide by the end of 2015.
With that in mind, here are Sony's ten biggest-selling albums of the year ending March 31:
Adele – 25
One Direction – Made In The A.M.
David Bowie – Blackstar
Meghan Trainor – Title
Sia –  1000 Forms Of Fear
Elvis Presley – If I Can Dream: Elvis Presley with the Royal Philharmonic Orchestra
Future – DS2
Bruce Springsteen – The Ties That Bind: The River Collection
Maitre Gims – Mon coeur avait raison
Little Mix – Get Weird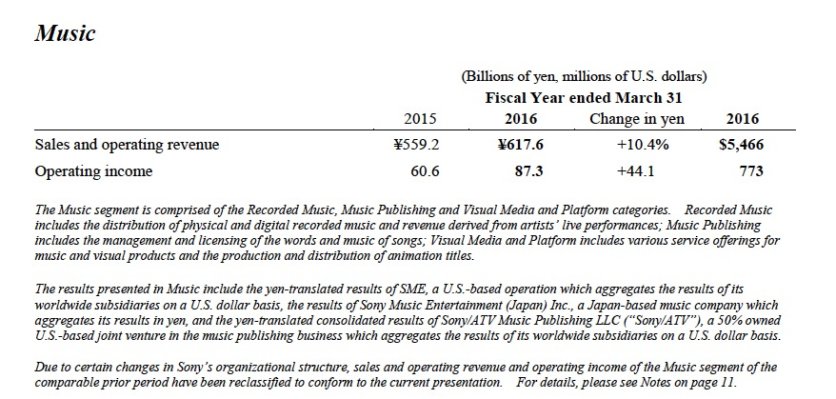 Music Business Worldwide