Sony global recorded music revenues surpassed $2.87bn in the first nine months of 2018 – up $158m, or 5.8%, on the same period of 2017.
That's according to MBW's calculations based on Sony Corp's newly-published results for its fiscal Q2 (calendar Q3), converted into USD at constant currency.
As well as that 5.8% overall rise in revenues, streaming revenues were up $300.1m (+26%) year-on-year to $1.46bn during the Jan-Sept 2018 period.
Physical revenues dropped $114.4m (-14.6%) to $669m in the nine-month period, while download sales dropped $58.8m (-16.6%) to $295m.
On the same USD constant currency basis, Sony's recorded music revenues in the past quarter (to end of September 2018) fell slightly year-on-year, down 3.8% to $945.9m.
That was partly due to an accounting adjustment made by the company versus 2017, and partly due to growth in streaming not quite offsetting double-digit declines in quarterly physical and download revenues.
Streaming revenues were up 7.3% YoY in calendar Q3, to $512.2m, the equivalent of $5.6m per day. Quarterly physical revenues saw year-on-year a decline of 26.6%, down to $182.5m, while download sales fell 20.7%, to $87.9m.
To help you digest those rises and falls: Sony's global recorded music streaming revenues grew by $34.8m in the three months to end of September versus the same period of 2017, but combined physical sales and downloads dropped by $89m. (These numbers are worldwide, including the performance of Sony Music Japan.)
Sony Music's biggest-selling global albums/projects in calendar Q3 2018 were led by Travis Scott's Astroworld (pictured), followed by Luke Combs' This One's for You (No.2) and George Ezra's Staying At Tamara's (No.3).
Camila Cabello's Camila album was at No.4 while various Calvin Harris releases combined stood as Sony's fifth highest-earning project in the three months.
---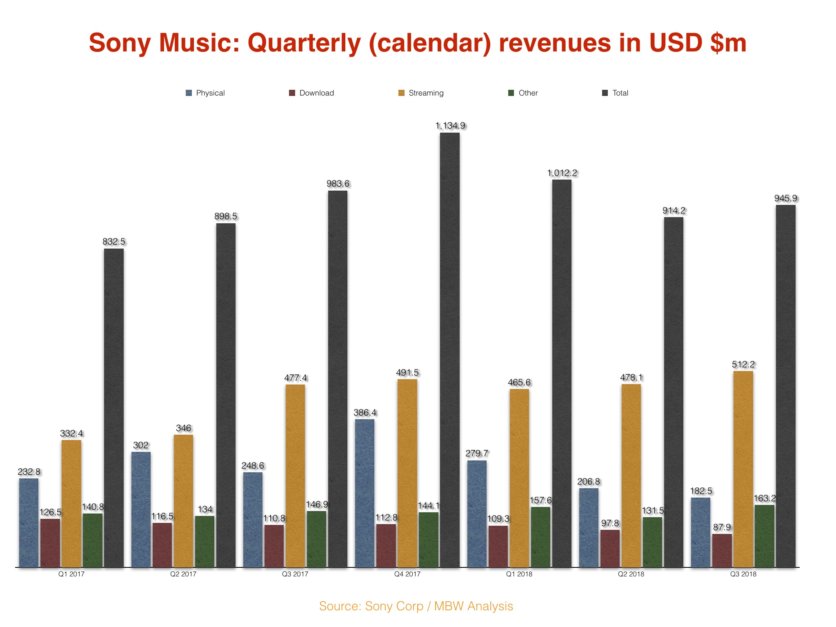 ---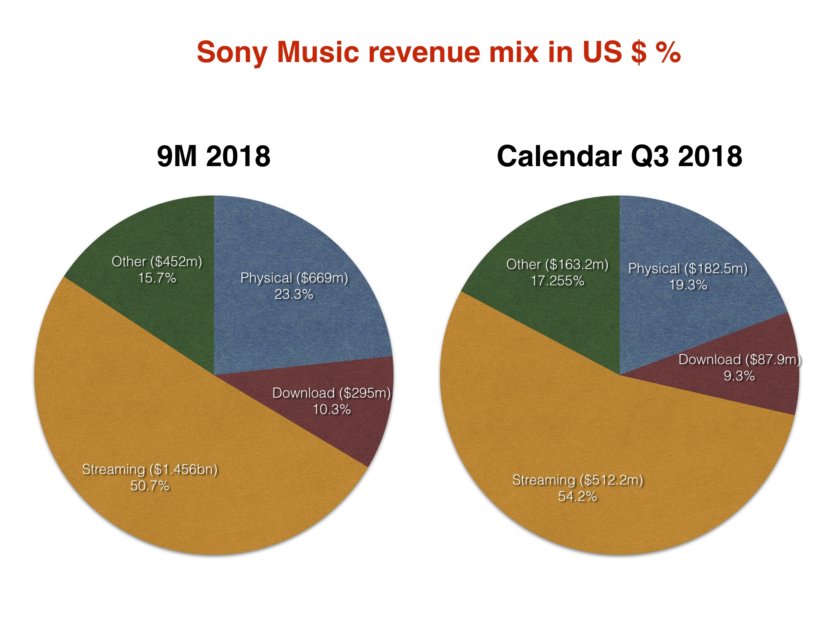 ---

Sony Corp considers its Music division to include recorded music, music publishing and 'Visual Media & Platform' (featuring runaway commercial success video game Fate/Grand Order).
Across this division, the company posted 203.86bn Yen in revenues for the calendar Q3 / fiscal Q2 quarter – which Sony said was up 0.5% when FX impacts were removed.
At the dollar level, that figure translated to $1.83bn.
The operating income of this Music division was $282.5m (31.5bn Yen) in calendar Q3, representing a divisional profit margin of 15.5%.
---
Sony Corp's music publishing division – which includes Sony/ATV in addition to Sony's separate publishing interest in Japan – posted revenues of 19.436bn Yen in the three months to end of September.
That translates to $174.3m, down very slightly (-0.8%) at the dollar level on the same period in 2017 ($175.7m).
Sony Corp is now forecasting Music division revenues of 820bn Yen ($7.3bn) for FY2018, which has been revised upwards 7.9% from its prior forecast.
The firm's FY operating income forecast for its Music division has been doubled from its prior forecast to 230bn Yen ($2.1bn).
Sony Corp used today's (October 30) financial update to inform its shareholders: 'Sales are expected to be higher than the [previous] forecast primarily due to the expected impact from the consolidation of EMI and the strong performance of the mobile gaming application Fate/Grand Order.
'Operating income is expected to be significantly higher than the July forecast primarily due to the above-mentioned expected impact of a non-cash step-up gain for the approximately 40% equity interest in EMI that Sony currently owns and the consolidation of EMI, as well as the impact of the above-mentioned increase in sales.'
---

Note: MBW has reverse-engineered Sony's financials from Japanese Yen into US dollars at the following prevailing exchange rates in each quarter, as confirmed by Sony Corp:
Calendar Q1 2017: 113.7 Yen per USD
Calendar Q2 2017: 111.1 Yen per USD
Calendar Q3 2017: 111.0 Yen per USD
Calendar Q4 2017: 113.0 Yen per USD
Calendar Q1 2018: 108.4 Yen per USD
Calendar Q2 2018: 109.1 Yen per USD
Calendar Q3 2018: 111.5 Yen per USD
By applying these exchange figures to each applicable period, we effectively get a US-leaning constant currency picture of Sony Music's performance.
This isn't a perfect system; it risks overplaying the major record company's global business slightly by converting a chunk of revenues from Sony Music Entertainment Japan (which would usually be straight-reported in Yen) into US dollars.
But it provides us with a cleaner reflection of the performance of New York-based Sony Music Entertainment outside of FX distortion – because the company had to convert its US currency into Yen in the first place for Sony Corp's results.
This is also believed to be the yardstick used internally at Sony Music Entertainment's HQ in New York.
See below for a table and chart showing Sony Music's recent quarterly revenue breakdown at the Yen level.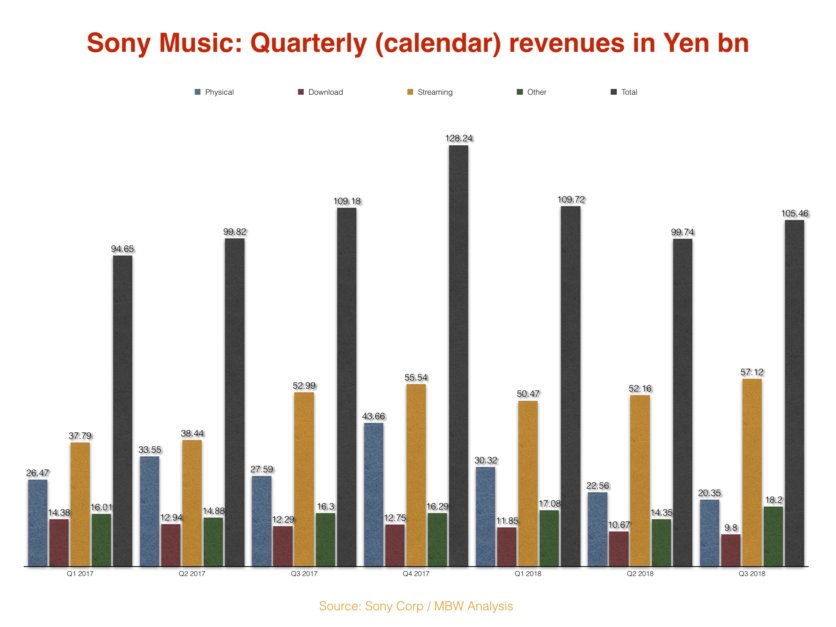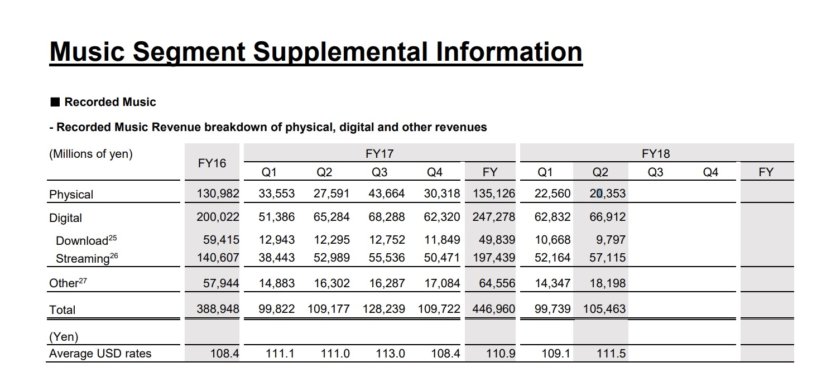 RE: the 'accounting change' noted above, Sony moved to the Generally Accepted Accounting Principles in the U.S. ("U.S. GAAP") earlier this year.Music Business Worldwide