Sony's global recorded music operation (Sony Music) saw its annual streaming revenues jump by 19.5%, or nearly half a billion US dollars (+$467m), in calendar 2020.
Those streaming revenues hit $2.87bn in the 12 months, as Sony's worldwide recorded music revenues – across all formats, licensing etc. – hit $4.51bn, up 8.1% YoY.
After a pandemic-affected wobble in calendar Q2, Sony Music had a much stronger Q3 – the three months to end of September – when its quarterly turnover returned above $1 billion ($1.16bn).
However, there can be no doubting the star quarter of Sony Music's last year: numbers revealed by Sony Corp today (February 3), analyzed by MBW, show that Sony Music generated $1.36bn in global recorded music revenues in calendar Q4 (Sony's fiscal Q3), up by 17.5% year-on-year. That represented a YoY jump in quarterly revenue of over $200m.
Sony Music's quarterly streaming revenues in calendar Q4 (the three months to end of December) jumped up 26% YoY, or by $174m, to $843m.
The firm's physical revenues also rose significantly in calendar Q4 – during a pandemic, no less – up 41.3% year-on-year to $336m.
Because of that stellar quarterly performance from physical music, Sony's global physical music sales rose annually too, up from $803m in calendar 2019 to $898m in calendar 2020.
(All % figures here and in the below charts have been calculated using USD converted from Yen on a constant currency basis, using the prevailing rates in each respective period.)
Sony Music's biggest global artist projects (excluding Sony Music Japan releases) in calendar Q4, in order and based on revenue generation, were:
AC/DC, Power Up
Harry Styles, Fine Line
Bruce Springsteen, Letter To You
Luke Combs, What You See Is What You Get
21 Savage, Savage Mode II
Miley Cyrus, Plastic Hearts
The Kid LAROI, F*CK LOVE
Polo G, The Goat
24kGoldn, Dropped Outta College
Francis Cabrel, À l'aube revenant
---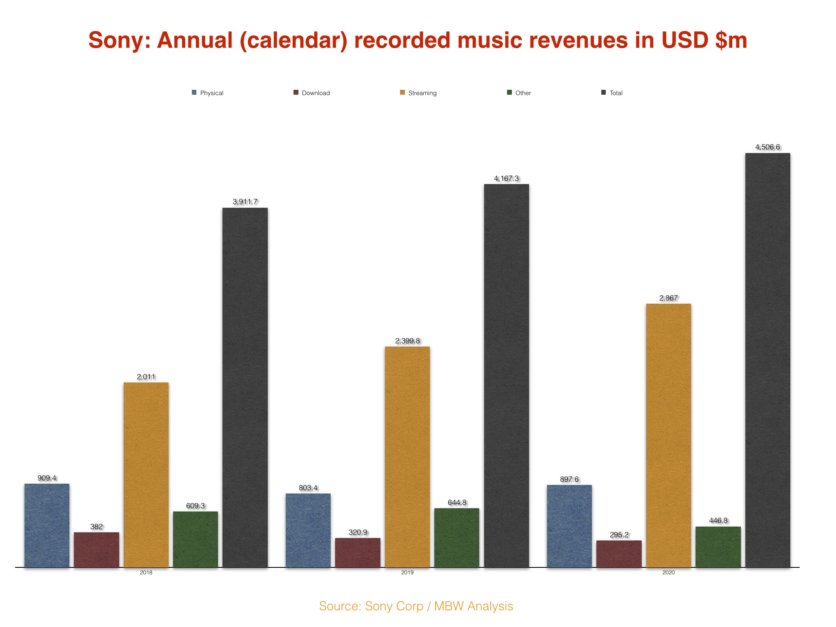 ---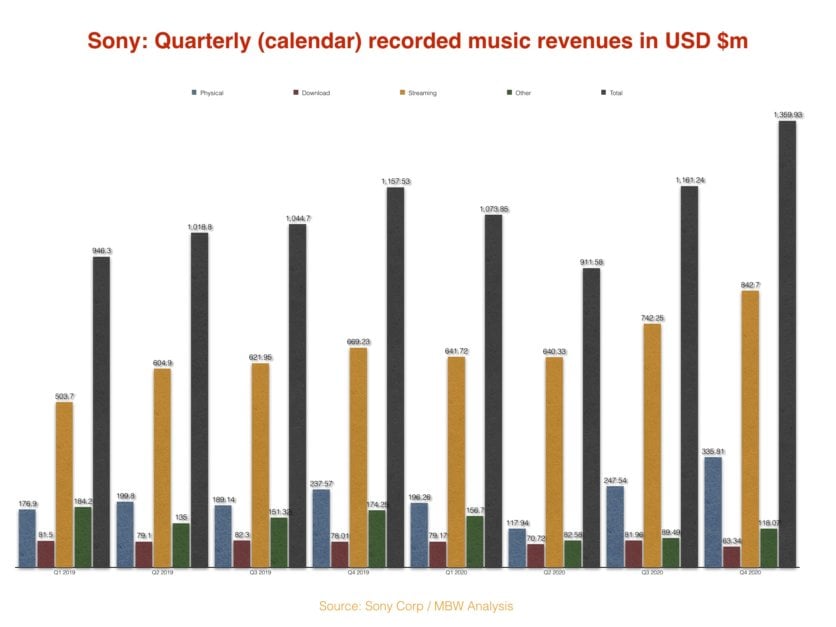 ---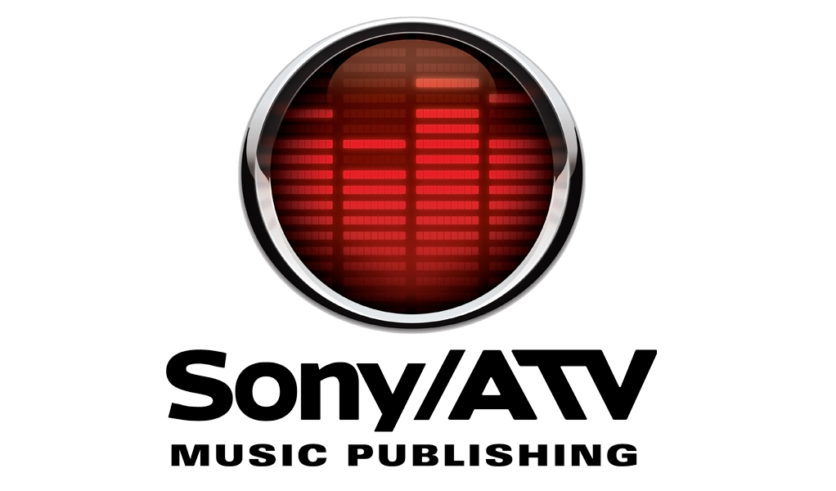 Sony Corp's global music publishing revenues – including Sony/ATV plus Sony Music Publishing Japan – generated $430.6m (44.997bn Yen), up 18.0% at the US dollar level on the $365.0m generated by the same division in the equivalent period of 2019.
[UPDATE: Since we published the original version of this story, Sony Corp has amended an erroneous figure in a financial filing regarding music publishing revenues. Sony's true global music publishing revenue in calendar Q4 / fiscal Q3 was actually $430.6m, or 44.997bn Yen, which was up 18.0% YoY at the US dollar level. This has been corrected. It does not affect the recorded music figures at the top of the article.]
---
Sony Corporation has once again upped its forecast for the performance of its umbrella corporate Music division in its fiscal year to end of March 2021.
This division encompasses Sony's global recorded music and publishing operations, as well as its 'Visual Media & Platform' segment, which includes anime and mobile gaming products.
The Japanese corp has upped its expectation of annual revenue  in its FY (the 12 months to end of March) by a further 6%, partly due to the "higher-than-expected sales of physical media in recorded music" seen in calendar Q4.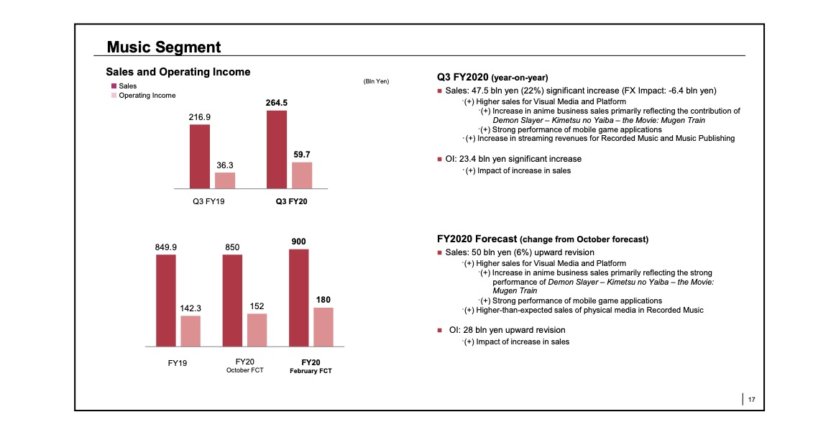 ---
Note: MBW has calculated Sony's financials from Japanese Yen into US dollars at the following prevailing exchange rates in each quarter, as confirmed by Sony Corp:
Calendar Q1 2019: 110.3 Yen per USD
Calendar Q2 2019: 109.9 Yen per USD
Calendar Q3 2019: 107.4 Yen per USD
Calendar Q4 2019: 108.8 Yen per USD
Calendar Q1 2020: 109.0 Yen per USD
Calendar Q2 2020: 107.6 Yen per USD
Calendar Q3 2020: 106.2 Yen per USD
Calendar Q4 2020: 104.5 Yen per USD
By applying these exchange figures to each applicable period, we effectively get a US-leaning constant currency picture of Sony Music's performance.
---
This isn't a perfect system; it risks overplaying Sony Music Entertainment's global business slightly by converting a chunk of revenues from Sony Music Entertainment Japan (which would usually be straight-reported in Yen) into US dollars.
But it provides us with a cleaner reflection of the performance of New York-based Sony Music Entertainment outside of FX distortion, because the company had to convert its US currency into Yen in the first place for Sony Corp's results. The same is true for US-based Sony/ATV.
MBW believes this currency exchange system is the yardstick used internally at Sony Music Group's HQ in New York.
---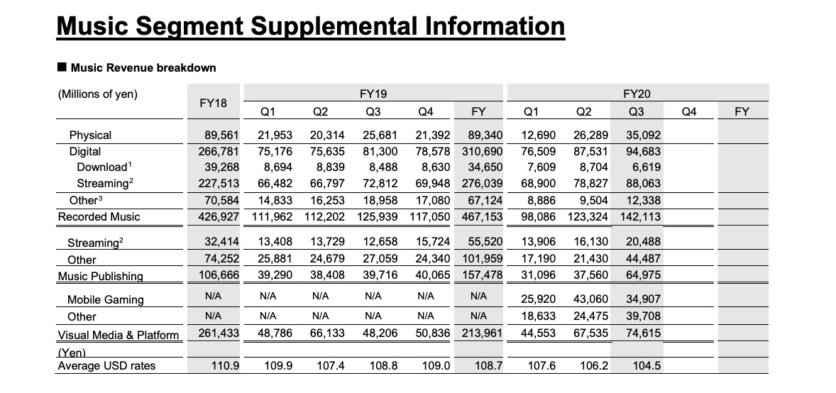 ---
You can see the Yen-level stats from Sony's fiscal quarterly music results above.Music Business Worldwide