Sony's recorded music revenues hit $4.17bn in calendar 2019, according to MBW's calculations – representing year-on-year growth of $255m or 6.5%.
In a year that saw the release of global smashes including Lil Nas X's Old Town Road, Sony's annual recorded music streaming revenues rose by $389m in calendar 2019, up 19.3% YoY to $2.4bn.
Annual physical music sales dipped by $106m in the 12 months to $803m, while download sales fell by $61m to $321m.
---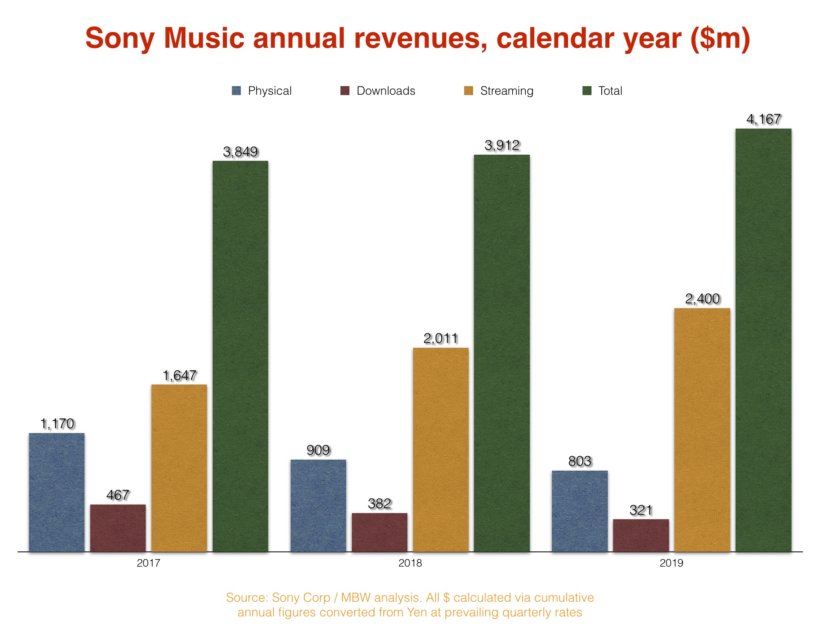 ---

MBW is able to make these calculations as Sony Corp has today (February 4) announced its results for calendar Q4 2019 (its fiscal Q3), i.e. the three months to end of December.
In that quarter, the company's recorded music operation once again generated over a billion dollars – $1.16bn – up 11.4% year-on-year.
Sony's recorded music quarterly streaming revenues grew by 20.6% YoY in calendar Q4 2019, hitting $669m.
The recorded music projects that generated the most global revenue for New York-based Sony Music in calendar Q4 were, in order: (i) Fine Line by Harry Styles (pictured); (ii) Fear Inoculum by TOOL; (iii) Courage by Celine Dion; (iv) What You See Is What You Get by Luke Combs; and (v) Romance by Camila Cabello.
Sony Corp has also broken out the Top 5 revenue-generating projects for Sony Music Japan in calendar Q4, which were, in order: (i) UNSER by Uverworld; WE DO by Ikimono-Gakari; (iii) Zurui yo Zurui Ne by =LOVE; (iv) Yoake Made TsuyogaranakutemoIi by Nogizaka46; and (v) Fate Song Material by Various Artists.
(All % figures here have been calculated using USD converted from Yen on a constant currency basis, using the prevailing rates in each respective period.)
---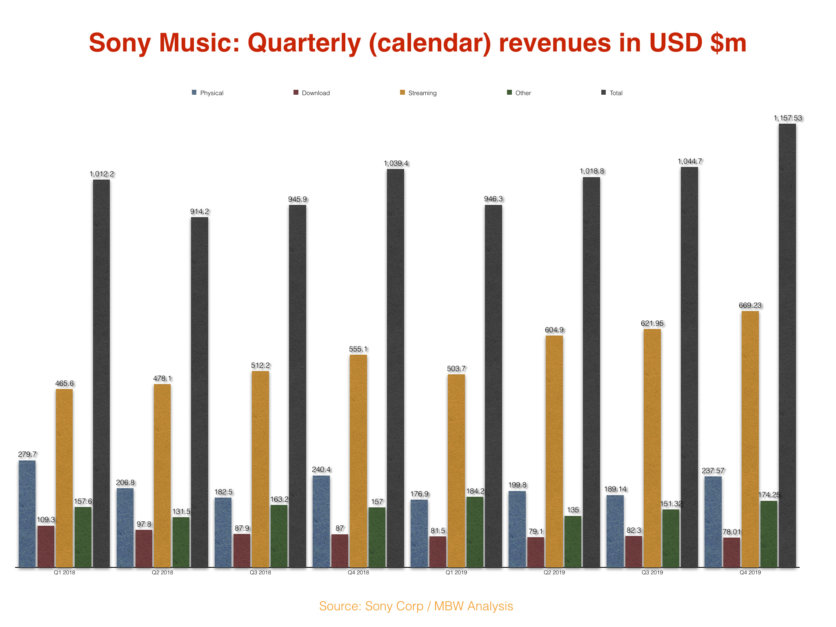 ---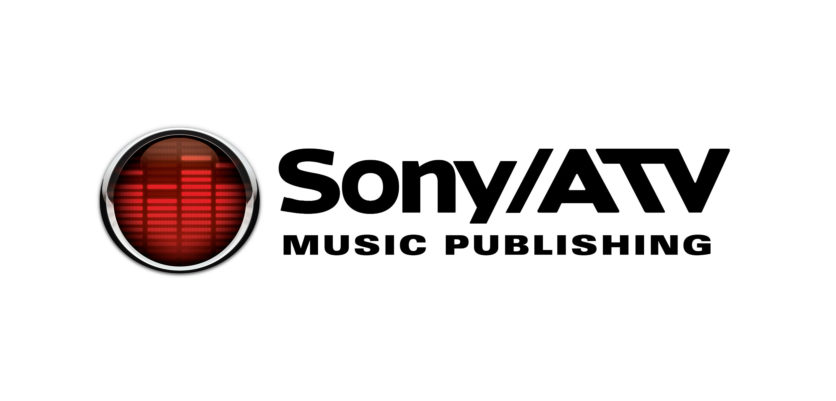 Sony Corp's music publishing operation – which includes Sony/ATV, Sony Music Publishing Japan and the fully-acquired EMI Music Publishing – posted external quarterly revenues of $365m (39.7bn Yen) in calendar Q4 / fiscal Q3.
Sony's overall music division – including recorded music, publishing and 'visual media and platform' – posted quarterly sales of $1.99bn (216.94bn Yen) in calendar Q4 / fiscal Q3, up 7.5% year-on-year at the US dollar level.
In the same calendar quarter (Q4 2019), Sony Corp's overall music division posted a quarterly operating profit of $333m (36.25bn Yen).
---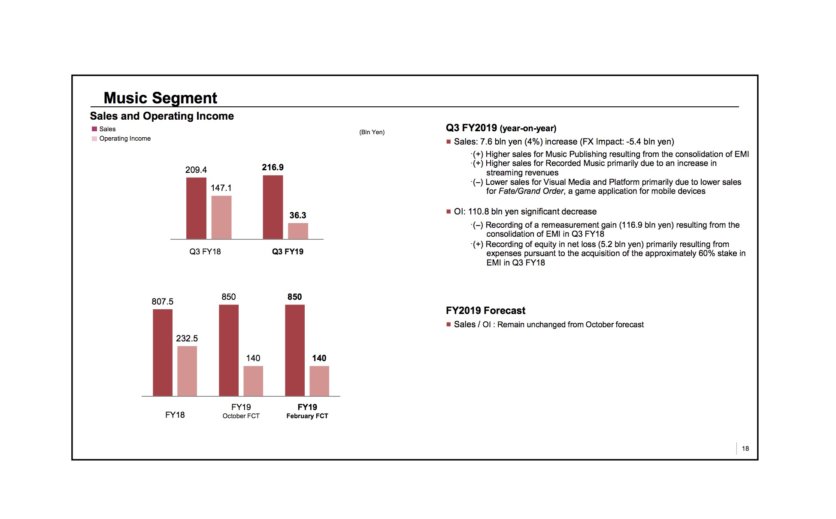 ---

Note: MBW has calculated Sony's financials from Japanese Yen into US dollars at the following prevailing exchange rates in each quarter, as confirmed by Sony Corp:
Calendar Q1 2018: 108.4 Yen per USD
Calendar Q2 2018: 109.1 Yen per USD
Calendar Q3 2018: 111.5 Yen per USD
Calendar Q4 2018: 112.9 Yen per USD
Calendar Q1 2019: 110.3 Yen per USD
Calendar Q2 2019: 109.9 Yen per USD
Calendar Q3 2019: 107.4 Yen per USD
Calendar Q4 2019: 108.8 Yen per USD
By applying these exchange figures to each applicable period, we effectively get a US-leaning constant currency picture of Sony Music's performance.
---
This isn't a perfect system; it risks overplaying Sony Music Entertainment's global business slightly by converting a chunk of revenues from Sony Music Entertainment Japan (which would usually be straight-reported in Yen) into US dollars.
But it provides us with a cleaner reflection of the performance of New York-based Sony Music Entertainment outside of FX distortion, because the company had to convert its US currency into Yen in the first place for Sony Corp's results. The same is true for US-based Sony/ATV, and US-based EMI Music Publishing.
MBW believes this currency exchange system is the yardstick used internally at Sony Music Entertainment's HQ in New York.
You can see the Yen-level stats from Sony's quarterly and annual recorded music results below: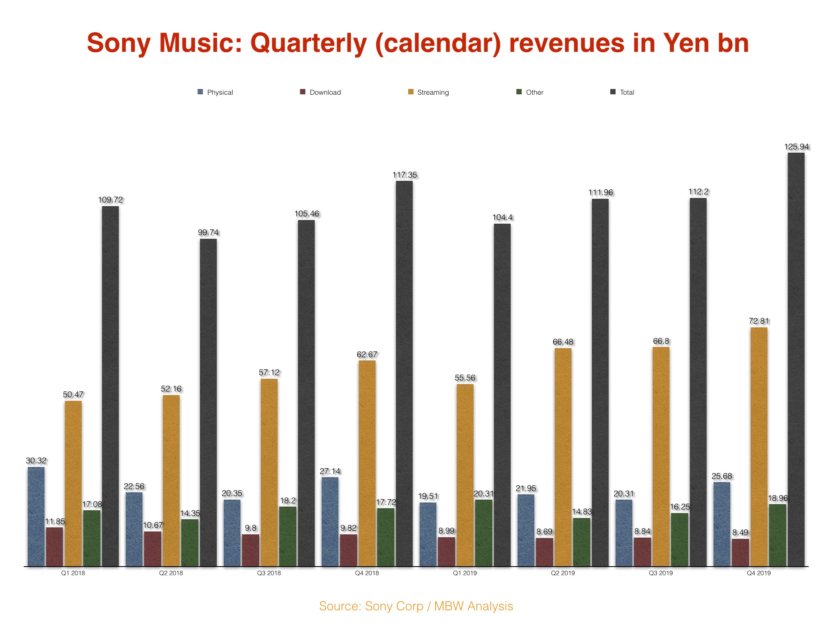 Music Business Worldwide