There's another blockbuster music IPO on the horizon… with participation from one majorly interesting founding partner.
Chinese technology giant NetEase Inc. has confirmed that its subsidiary Cloud Village – which operates music streaming service NetEase Cloud Music – will list on the Main Board of the Hong Kong Stock Exchange on December 2 under the symbol "9899.HK."
A pre-IPO prospectus reveals three "cornerstone investors" are backing Cloud Village's listing: current parent company NetEase, Orbis Investment Management Limited, and last – but definitely not least – Sony Music Entertainment.
The latter company, MBW has discovered, is buying shares in Cloud Village worth USD $100 million, as per an agreement signed by Cloud Village and Sony Music on November 22.
---

---
Cloud Village tells its shareholders in the prospectus that it currently has active direct licensing agreements in place with all three major music companies.
Discussions around Sony Music's commitment to buy $100 million in shares, says the prospectus, took place on an "arm's length basis" from Cloud Village's music licensing discussions with the major.
It's not unprecedented for Sony Music to unilaterally acquire shares in a digital streaming company ahead of its IPO.
In 2018, financial filings revealed that Sony Music owned a 5.7% stake in Spotify before Daniel Ek's company went public on April 3, 2018.
The size of Sony's 5.7% stake meant that – in addition to the equity stake that Sony received as a founding licensing partner of Spotify – the music company must have bought additional SPOT shares via further investment.
Sony Music subsequently sold half of its Spotify equity stake for $768 million after SPOT went public.
That wasn't the only time Sony Music has bought shares in a soon-to-be-listed music streaming company.
In 2018, Sony Music Entertainment acquired shares in Tencent Music Entertainment ahead of TME's listing on the New York Stock Exchange, for a cash consideration of approximately $100 million.
Warner Music Group acquired the same number of shares in TME for the same price, at the same time.
In exchange for their aggregate $200 million spend, the two majors divided a total of 68,131,015 ordinary shares in TME between them.
---
According to Cloud Village's prospectus, the firm is aiming to raise around US $450 million in the IPO, which is expected to initially comprise 16 million new ordinary shares, divided into 1.6 million shares under the 'Hong Kong Public Offering' and 14.4 million shares for the 'International Offering'.
The indicative offer price for Cloud Village's Hong Kong IPO has been given a high-end threshold of HK $220 (approx. $28.20) per share, with a low-point indicative price set at HK $190 (approx. $24.30).
Assuming the final Offer Price is that higher figure of HK $220 ($28.20) per share, Sony Music's investment of $100 million will result in the major record company owning 3,541,850 shares in the newly-public Cloud Village.
---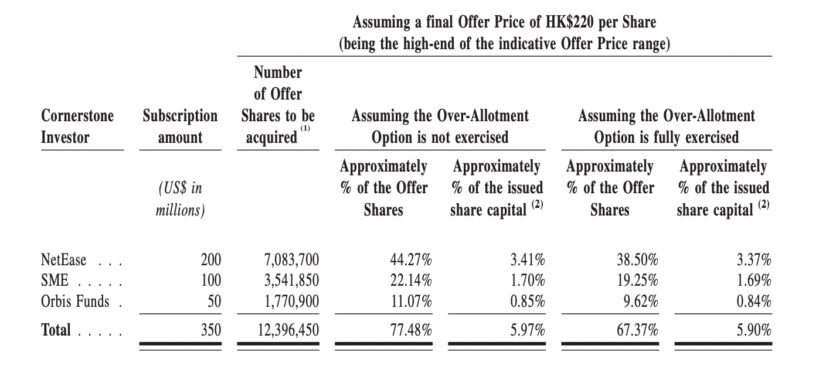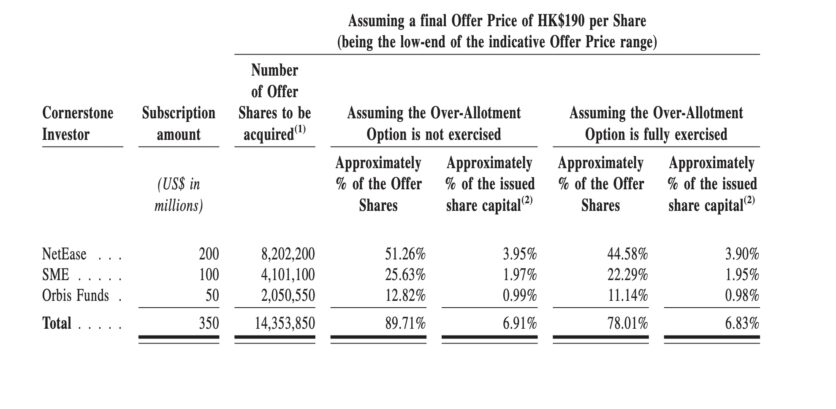 ---
Alongside Sony Music's $100 million investment, Orbis Investment Management, which was founded in 1989, is investing US $50 million in Cloud Village.
Plus, Cloud Village's parent company, NetEase, is making a US $200 million cornerstone investment in its soon-to-be-spun-out music subsidiary.
Cloud Village says that it plans to use the net proceeds from its IPO, including the $350 million from these three cornerstone investments, for "cultivating its community, innovating and improving technological capabilities, selected mergers, acquisitions and strategic investments, and general corporate purposes".
---
At the high-end of its indicative offer price range of HK $220 ($28.20) per share, Cloud Village says that its IPO market cap will be HK $45,707 million (approx USD $5.8 billion).
This market cap figure is based on 207,756,876 shares which Cloud Village says that it expects to have issued and/or outstanding immediately upon completion of the IPO on December 2.
---

---
Elsewhere in the prospectus, Cloud Village refers to the recent benefit it has received from the "fall of the exclusive licensing wall" in China, following an exclusivity ban imposed by China's State Administration of Market Regulation (SAMR) in July.
This move forced NetEase rival Tencent Holdings and its majority-owned music arm Tencent Music Entertainment to end all exclusive deals held with global labels in China.
A flurry of direct agreements with NetEase Cloud music followed.
In 2020, Warner Chappell Music and Universal Music announced multi-year licensing agreements with Cloud Village's music service NetEase Cloud Music, and extended their licensing agreements with Tencent Music Entertainment Group.
In May 2021, Sony Music signed direct digital distribution deals with both NetEase Cloud Music and Tencent Music Entertainment for China.
In Q3 2021, meanwhile, NetEase Cloud Music says that it reached a direct agreement with Warner Music Group.
As a result, NetEase Cloud Music now has direct digital distribution contracts with all three of the world's largest recording label groups.
---
Cloud Village reports that its Monthly Active Users (MAUs) of online music services grew from 173.2 million in the six months ended June 30, 2020 to 184.5 million in the six months ended June 30, 2021.
NetEase Cloud Music's monthly paying users of online music services, meanwhile, more than doubled from from 13 million in the six months ended June 30, 2020 to 26.1 million in the six months ended 30 June 2021.
According to NetEase, the firm's growth in MAUs of online music services "was primarily due to our continued efforts in improving user experience, innovating interactive features and enriching our content offerings".
"We have built a highly engaged and loyal user base, and our growing content ecosystem continues to satisfy our users' evolving needs, providing us with multiple levers and avenues for user-centric monetisation."

Cloud Village
Said Cloud Village in the prospectus: "Since we began offering our services in 2013, we continuously attract users with diversified music and music-inspired content, retain users with vibrant community and curate the right content to satisfy their consumption needs.
"We have built a highly engaged and loyal user base, and our growing content ecosystem continues to satisfy our users' evolving needs, providing us with multiple levers and avenues for user-centric monetisation."
---
NetEase initially filed a listing application in Hong Kong on Wednesday May 26, but pulled the IPO plans in August.Music Business Worldwide