Sony laid off more than half of EMI Music Publishing staff after it took control of the business as part of a consortium in 2012, it has been confirmed.
Sony/ATV became exclusive administration partner of EMI Music Publishing after the $2.2bn buyout, with Martin Bandier (pictured) becoming head of both companies as a result.
Bandier explained to The New York Times following the acquisition: "We are not going to run these as separate entities… at the end of the day, we are going to be one homogeneous company, with one person – myself – running it."
MBW has now uncovered a note buried in a Sony Corp investor presentation from November 2014, which confirms that Sony cut EMI's headcount by 60% within two years of acquiring it.
The investor deck also claims that Sony reduced EMI's costs by 67%, while additionally 'streamlining worldwide recorded music operations'.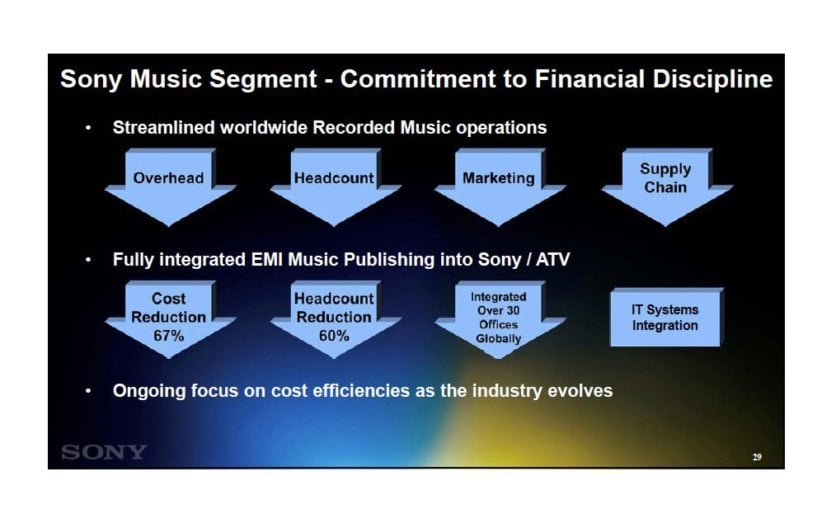 You can download the IR Day document in full here.
Its contents back up a report from The NYT's Ben Sisario in 2012, which predicted the 60% cut – and also suggested that Sony believed Sony/ATV and EMI combined would claim a 31% share of the global music publishing business.
According to Sony Corp filings, the business spent 2.4bn Yen ($23m) on restructuring its music operation 2013, a figure which fell to 576m Yen ($5.6m) in 2014.
As MBW revealed in July, Sony's total controlled publishing copyright portfolio now stands at 4.2m songs – including 2.16m of its own and 2.05m of EMI's.
(These figures include Sony/ATV and Sony Music Publishing in Japan.)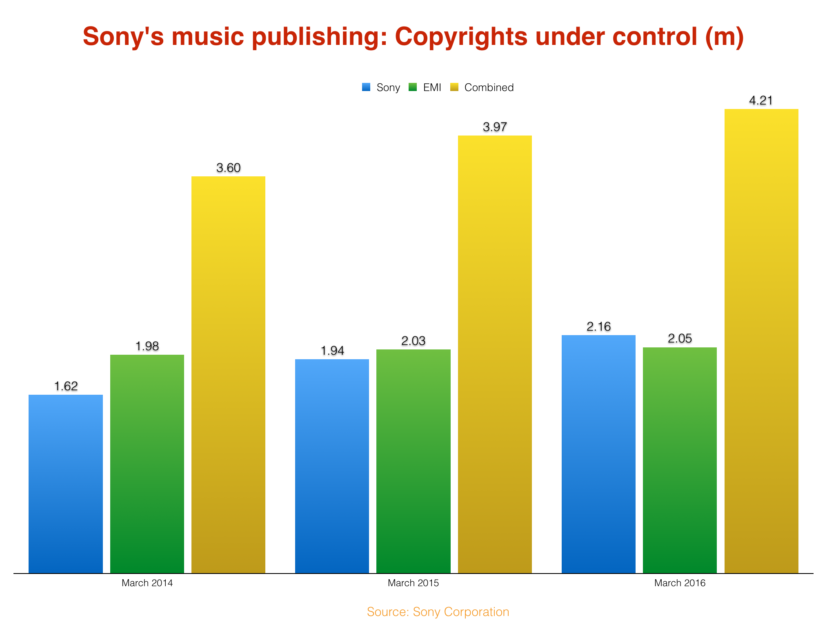 One of the biggest personnel exits from EMI in the wake of the Sony buy was A&R hotshot Jon Platt, who has gone on to run Warner/Chappell with impressive success.
Sony acquired EMI Music Publishing as part of a patchwork consortium.
As things stand today, Sony owns around 30% in EMI Music Publishing, with 10% still owned by the Jackson Estate.
The rest of the pie is taken by the consortium's finance partners, led by Mubadala Development Company PJSC, plus Jynwel Capital Limited, the Blackstone Group's GSO Capital Partners LP and David Geffen.
Sony/ATV itself, meanwhile, is set to be fully acquired by Sony Corp of America after the Jackson Estate agreed to sell its 50% stake for a $750m concern.Music Business Worldwide