Sony and Universal really like the business of streaming music.
Unlike physical music, streaming requires very low overhead, with no need for sales reps on the road, human-powered distribution or potentially costly consignment deals with big retailers.
Plus, even more so than download, having a huge catalogue pays dividends when it comes to the formulas by which platforms such as Spotify pay out to music rightsholders.
As such, both SME and UMG are in a careful kind of race, aiming to increasingly rely on streaming consumption for their business, but without rushing and harming their income as other formats decline.
For the first time, we have a side-by-side health-check as to how both companies are doing in this shared mission.
Vivendi released its Q4/full year results last night and they were jam-packed with good news for Lucian Grainge… including the fact that Universal is now the first billion dollar streaming record company.
Other key takeaways included:
In the 12 calendar months of 2015, UMG's streaming income was up 43.2% at constant currency to €954m. That's a staggering year-on-year rise of €344m.
UMG's download revenue in the year stood at €1.02bn. That was slightly above its streaming income in the year, but in the second half of 2015, says Vivendi, streaming claimed 52% of all digital revenues.
Download income fell 13% on 2014 at constant currency, but this was a reduction of just €9m in monetary terms.
Vivendi reported that 'significant growth in subscription and streaming revenues more than offset decline in physical and download revenues' and you can see why. UMG's total digital recorded music income stood at €1.98bn in 2015, up 8.6% at constant currency.
Here's how that streaming and download income stacked up against Universal's other recorded music revenues in the year: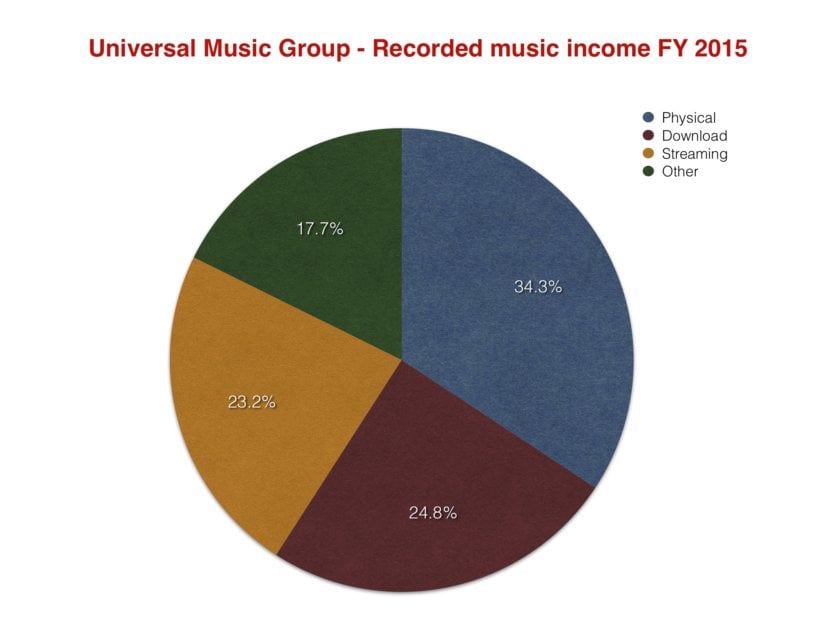 Handily, though, our analysis doesn't need to stop there.
You know that old maxim 'anything you can do, we can do better'? And how Sony and Universal just love to direct it at each other?
Well in Sony's last quarterly results, the company broke down its recorded music income by format for the first time.
As MBW reported, streaming music income took care of 24% of Sony's global recorded music revenues in the three months to the end of 2015, with physical on 45%.
Helpfully enough, Vivendi has done the same for Universal – not for Q4 alone, but for the six months to the end of the year.
---
This gives us a reasonably fair opportunity to compare the income make-up of both businesses (just recorded music, remember – not publishing, merch etc.)
The 'other' in both charts below predominantly relates to sync licensing, although UMG's also includes 3% of 'other digital' (ringtones and other niche products).
The important bit: as you can see, the same percentage of both Sony and Universal's recorded music income – 24% – came from streaming.
Now, UMG and Sony don't like to be neck-and-neck for anything. They usually just want to win.
So here's an excuse for both parties as to why you've drawn on this occasion:
Sony's results are tied exclusively to Q4, which is traditionally a more physical-orientated time of year due to Christmas gifting;
Universal's results, however, include figures from Q3, when the streaming market would have been less mature (and therefore lucrative) than it was in Q4. Most notably, Apple Music's first wave of customers were still in their free trial. (They started paying in October.)
The truth, however, is that the below snapshot is broadly accurate.
And, therefore, that the 'victor' in Sony and Universal's race to run a healthy business reliant on streaming remains very much in the balance…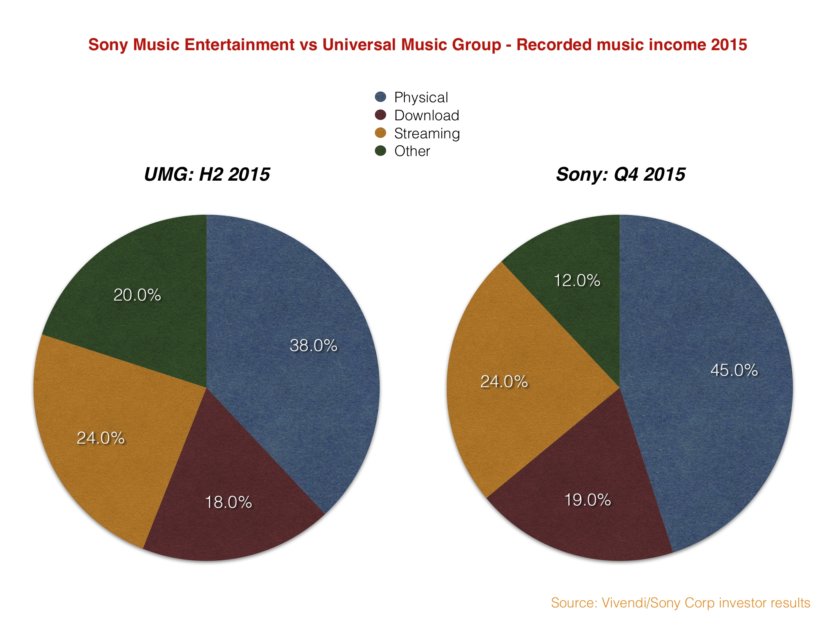 Music Business Worldwide