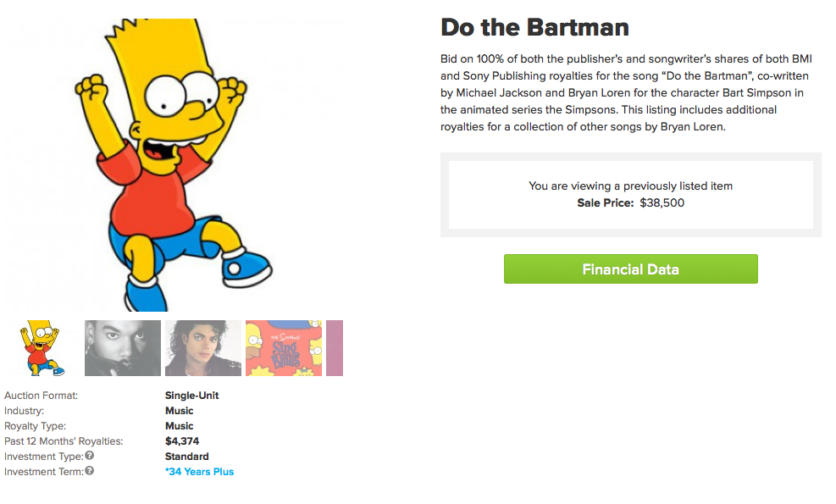 The full publishing and songwriting rights to Do The Bartman, the 1990 novelty hit from TV series The Simpsons, have been sold to an anonymous buyer for US $38,500, MBW has discovered.
Despite its jokey pop-rap style, Do The Bartman is a serious piece of real estate: not only did the track become a No.1 hit in the UK, Ireland, Norway and Australia in 1991, but it was technically co-written by a certain Michael Jackson.
That's 'technically' because Jackson's name still does not officially appear on the credits of the song – or, therefore, the $38,500 package  (pictured) snapped up at auction by its anonymous buyer.
In September 1990, Simpsons producer James L. Brooks issued a press release claiming that reports linking Jackson to the track were misplaced. He stated that 100% of the song was written by Jackson's friend, Bryan Loren.
This appears to have been a fib.
In 1998, Simpsons creator Matt Groening finally gave the game away, confirming that The King Of Pop really had co-written and co-produced Do the Bartman alongside Loren.
The team behind The Simpsons were apparently forbidden from publicly giving Jackson any credit – whether for songwriting or backing vocals – because he was under a heavily exclusive contract to Sony Music as a recording artist.
"It has always been amazing to me that no-one ever found out that michael jackson wrote that song."

Matt groening, speaking in 1998
Do The Bartman came out on rival Geffen and Jackson's involvement remained a secret for the best part of a decade.
According to Variety, Groening told an audience at the Annual World Animation Celebration in Pasadena in 1998: "[It has] always [been] amazing to me that no one ever found out that Michael Jackson wrote that song…
"He was a big fan of the show."
[UPDATE: Bryan Loren has been in touch with MBW to dispute Matt Groening's claims. He tells us: "The story of the song and its creation has been a thorn in my side since I did it. But, despite Matt Groening's repeated confessions, I am the sole writer of the song. While it's true, along with me, Michael Jackson does sing backing vocals. And it WAS his idea to call the song, DTB. AND, he did insist I include his name in the lyric. Hence, "If you can do the Bart, you're bad like Michael Jackson." And so, obviously, he was involved. Perhaps this tidbit of info is not as sensational as saying MJ co-wrote the song, but I assure you, he did not."]
According to auction site Royalty Exchange, the new owner of the song just bought a 100% share of 'both BMI and Sony Publishing royalties'.
The $38,500 lot also includes royalties for a collection of other songs by Bryan Loren.
The average yearly revenue generated by Do The Bartman and Loren's other songs between 2010-2012 was $4,357.
But in 2013, the last accounted-for year, they amassed less than $1,000.
In its heyday, Do The Bartman sold over 400,000 units in the UK market.
It was never officially released as a single in the US, but reached No.11 on Billboard's Hot 100 Airplay chart.
So there you have it: Just $38.5k (around £25k) for a No.1 Michael Jackson smash.
Aye carumba!
Music Business Worldwide