Sofiane Seddiki started out as an artist – but his areas of expertise perhaps always suggested that he would have a second career as a music biz entrepreneur.
He was a drummer and musical director – keeping time, in control, calling the shots. He worked with stars such as Liam Payne, Ellie Goulding and Rita Ora, before forming his own rock band, The Blackmordia.
He explains: "I had to learn every side of the music business: not just writing and producing, but also, because we had no manager and no label, releasing our records, booking tours etc."
The Blackmordia ended up playing arenas supporting big name bands, including KISS and Nickelback. And whilst Seddiki enjoyed the success, he particularly "loved the process of making it happen".
He says: "I started to become a deal-maker for independent artists looking to sign with one of the majors. I negotiated deals with Universal, Sony, Play Two and others. I kept on watching and learning, seeing how labels and managers worked, and eventually decided to start my own company, Throne Music."
That was just two years ago, which means the majority of Throne's corporate life has been in the COVID era. Rather than opt to weather the storm, however, Seddiki decided to set sail: born in France, Throne recently opened offices in New York and LA, and signed up-and-coming US rap artist, Diamond Qing, to a JV label deal.
(In addition to its record label, Throne Music also operates in artist management and music publishing.)
Here, Seddiki tells MBW about his global ambitions for Throne, a "new model" for labels and how he persuaded US music business maverick Ron Sweeney ("a legend of the game") to be part of the plan…
---
Throne Music started life in France. Why did you decide to expand into the US?
The idea of taking the label to the United States has always been part of my plan. It was a logical step for me as I considered the growth of the company.
I have always been a huge fan of legendary American record execs like Berry Gordy, Clive Davis, David Geffen, Quincy Jones, Diddy, Andre Harrell, LA Reid, Jimmy Iovine and others. I am very passionate about their work including the artists they have signed and the records they have produced.
The US will always be one of the key countries in the entertainment market, so I needed to be there.
---
It's A very competitive Territory and hip-hop is a very competitive genre, what gives you confidence that you can make it and what do you bring that is perhaps different to what is already there?
I am and have always been a very competitive person, someone who will do anything to succeed, despite the opinions of others.
I am convinced that the combination of the right artists and the right songs, with a good team, great strategies and, above all else, a lot of work and perseverance, will make success inevitable.
---
Will Throne be a label, publisher and management company in the US?
Absolutely. Currently, we are a record label and management company, which also offers label services and publishing.
The industry is changing every day, and in some ways I think the label model as we know it is dead, which is why we strive to offer a wider range of services. Many artists do not have the structure of a team, while others already have a vision, a team and/or a company and only need some support to be successful.
Our ultimate goal is to be the modern music company that meets the needs of artists today.
---
Is the new division a way of giving your signed artists a route into the US, or is it more about discovering US artists and then taking them to the world?
The French market is a fairly specific market, but I would be more than happy to sign a French artist and develop them globally.
That said, Throne Music's main priority in the US will be to develop and sign artists from the States and to take them to the worldwide market.
---
How did you start working with Ron Sweeney and what role has he played in taking Throne to the States?
I had known about Ron Sweeney and his work for many years before officially working with him.
After seeing him in the Netflix documentary on Clarence Avant [The Black Godfather], I decided to contact him. One day he answered my call, I told him about my ambitions for Throne Music in the USA and we went from there.
"This moment feels amazing. In eight months I was able to accomplish more than I dreamed I could. It's a blessing and I'm forever grateful to Sofiane and the Throne Music family for helping to make this possible. I'm so excited for what's to come."

Diamond qing on signing to Throne
Ron Sweeney is a legend of the game and much more than a lawyer. I would call him more a lawyer/manager/record exec. He has extensive experience in all three fields and he has added tremendous value in our learning of the industry.
In addition to representing us, Ron and his team at Ron Sweeney & Company, including Justin Sweeney, play an important role in advising Throne Music.
---
Are you looking to partner with a more established label via a JV?
We are currently in discussions about this, we will tell you more about it very soon.
---
Tell us about discovering and signing Diamond Qing.
I was in the US, building my staff and looking for partners – and especially looking for artists – when I came across a song by Diamond Qing on the famous Spotify playlist, Feelin Myself.
I called her manager Jesse 'JB' Brown of BAG Management Global and immediately made a JV offer to sign her. We signed the deal a few days later.
"I'm excited to work with a global team that enjoys the work of the music business as much as we do here at Bag management. The music industry is filled with smoke and mirrors, and it's truly refreshing to have been able to connect on so many levels with genuine business partners who care about and believe in diamond qing just as much as we do."

Jessie 'jb' brown, manager & CEO, bag management global
I immediately felt that Diamond could become a world rap star.
Her singles were already doing well on the iTunes and Shazam charts, which is quite rare for new artists, so we decided that Diamond Qing would be our first signing in the States and that she would be the artist who would put Throne Music on the map.
---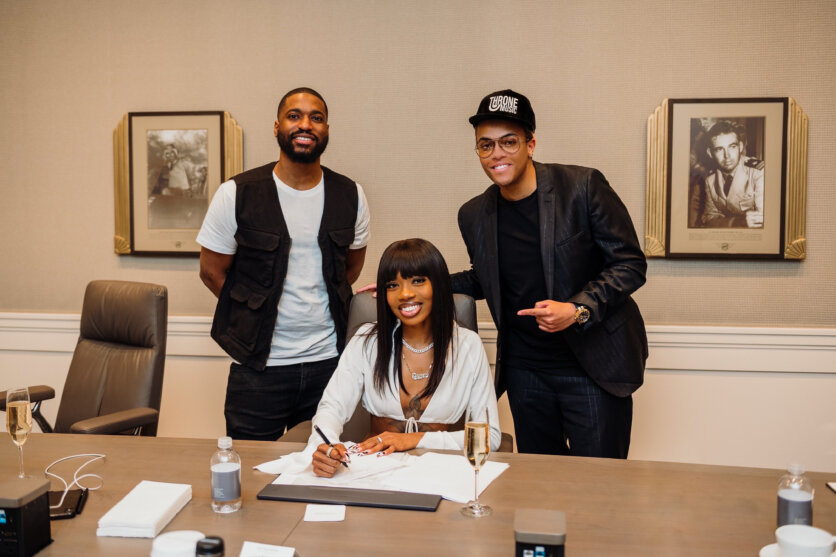 L-R: Jessie 'JB' Brown, Diamond Qing and Sofiane Seddiki
---
What makes her special and what are your plans for her?
First of all, she's an incredible artist. I have the sincere conviction that her talent and her vision will make the difference.
In addition to that, she is surrounded by a very smart team at BAG Management. The artist and their environment are the most important starting points for any career; amazing things are coming.
---
---
What are your medium/long-term ambitions for Throne in the US; is there a label you see as the gold standard and something to aim for?
Motown Records, at the time of Berry Gordy, was and will remain the best label in the history of music. That said, there are plenty of other labels that we admire: Def Jam, Roc-A-Fella, LaFace Records and many more.
Our ambition is to become a key label in the global industry, with our first priority  always being the quality of the music, the songs.
We do not operate only in one genre of music, we want to become a powerhouse capable of being versatile, ranging from hip-hop to pop, from Latin to rock. We have no barriers, only the quality of the songs matters.Music Business Worldwide