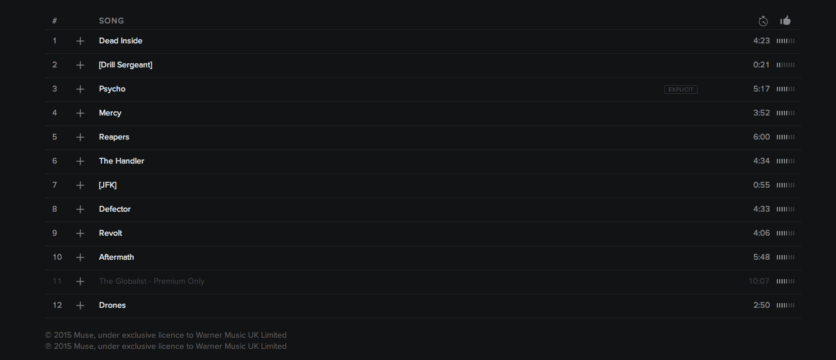 Spotify has hosted its first ever premium-only track, but insists it is not part of a wider strategy to remove certain content from its free tier.
Muse track The Globalist is currently greyed out and unavailable to play for freemium Spotify users. It bears an usual description: Premium Only.
There has long been a debate about whether artists should be able to choose if their tracks appears on all tiers of Spotify, or are only listenable amongst paying subscribers.
The ability to stay off the freemium tier may have convinced the likes of Taylor Swift to make her music available on Spotify.
The likes of Adele, Pink Floyd and Paul McCartney – whose music remained off Spotify for months before being added to its catalogue – are understood to have initially requested their tracks were premium-only.
"Access to this track should be seen as a unique offer within a wider bespoke marketing campaign."

Spotify spokesperson
Swift removed her catalogue last year, questioning the value for artists of remaining on a free service.
The Globalist is a bonus track taken from the Warner-signed group's new LP Drones, released last week.
However, Spotify says that the 'premium only' mark reflects a one-off marketing push from Spotify with PlayStation.
"Spotify and Sony PlayStation are partnering on a campaign to promote Muse's new album, Drones, to music fans all over the world," explained a Spotify spokesperson.
"Part of the campaign provides premium subscribers with additional access to the bonus track.
"Access to the track should be seen as a unique offer within a wider bespoke marketing campaign with Sony PlayStation, rather than a broader shift in our content approach."
Spotify launched on PlayStation devices in April, taking over from Sony Music Unlimited.Music Business Worldwide