Snoop Dogg has resigned as a director of FaZe Clan just a year after the rapper joined the e-sports giant, which also claims to be the first publicly traded Gen-Z influencer company.
The exit of the rap icon and entertainment executive, whose real name is Calvin Broadus Jr., on March 29 "was not the result of any disagreement with the company or any of its subsidiaries," FaZe Clan said in a brief stock exchange filing on Wednesday (April 4).
FaZe Clan told Variety in a statement: "Our relationship with Snoop remains positive as we will continue a multi-year collaboration agreement between Snoop and FaZe. The FaZe Holdings Inc. Board of Directors will continue with 9 members."
"Broadus's resignation was not the result of any disagreement with the Company or any of its subsidiaries."

FAZE CLAN
The rapper and music executive joined FaZe Clan as a director and a member of its talent network in March 2022. The company at the time said Snoop Dogg will bring his extensive entertainment industry insights and his "passion for Web3, gaming and culture as FaZe Clan charts its course as a public company".
"It only makes sense to partner with FaZe Clan as both a team member and on the Board of Directors," said Snoop Dogg at the time.
"The youth identifies with their brand and that's something my son Cordell knew, which is why he brought us together."
FaZe Clan went public four months later, receiving a lukewarm response from Wall Street on its debut day. The company merged with a special purpose acquisition company (SPAC) in a deal that reportedly valued the company at $725 million.
The figure was below the company's previously reported $1 billion valuation target, which would have made FaZe the first esports unicorn, according to Forbes.
Now, FaZe's stock is trading at its all-time lows. On Wednesday, its shares closed down 1.2% to $0.49.
---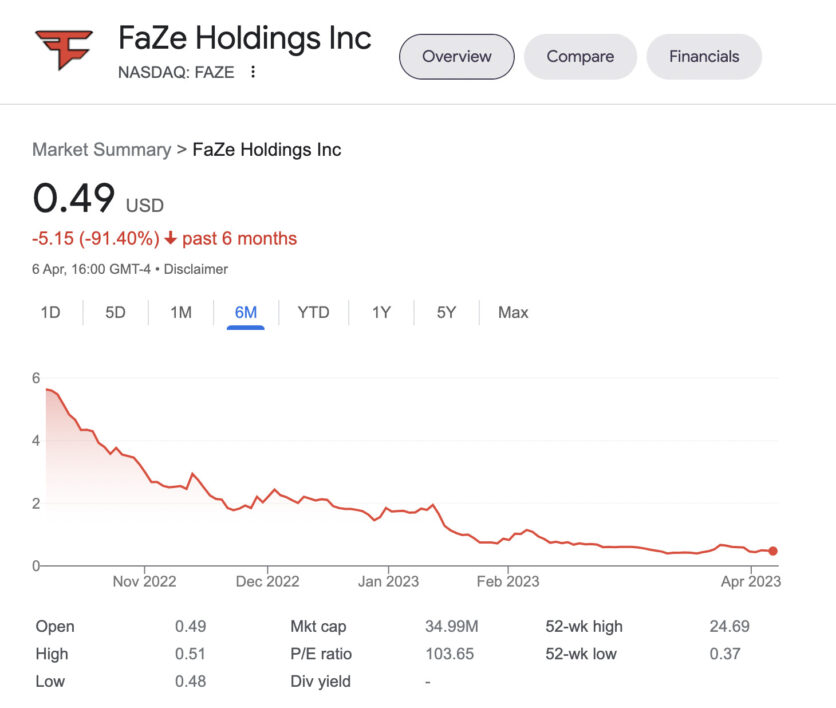 ---
The company has faced financial challenges since its NASDAQ debut.
In the third quarter of 2022, FaZe's net loss ballooned by $120.6 million, which the company attributed to the company's loss on debt extinguishment of $115.3 million, it said in a stock exchange filing.
"We have incurred net losses since our inception, and we expect to continue to incur net losses in the near future," FaZe said at the time.
"We expect our costs and expenses to increase in future periods as we intend to continue to make significant investments to grow our business. These efforts may be more costly than we expect and may not result in increased revenue or the growth of our business."
FaZe flagged "substantial doubt about our ability to continue as a going concern."
The company's financial woes were exacerbated when its investors defaulted on $71.4 million of funds that were intended to be delivered as liquid capital, according to a stock exchange filing.
Despite booking losses and facing issues with its financial health, FaZe Clan has made a number of promotions across the company in recent months
FaZe Clan named Rana Kaplan as general manager and appointed five other staffers to leadership roles, Variety reported in January.
Music Business Worldwide