We previously suggested it was turning into the biggest will-they-won't-they since Ross and Rachel.
We may yet get a satisfying season finale.
It seems that satellite radio specialist SiriusXM may end up buying Pandora after all – for a pricetag of anything up to $2.7bn.
That's according to a new report from the New York Post, which suggests that Sirius recently restarted talks with Pandora's banks and is currently 'discussing the size of a potential offer'.
Pandora's share price has bounced 9% after hours tonight following the news, and currently stands at $9.73.
---
Optimistic sources suggest Sirius's eventual bid could be close to $12/$13 per share (which works out to around $2.7bn in total) – but that's been dismissed as too high by people familiar with the negotiations.
Last summer, Sirius was rumored to have put in a $15-per-share bid for Pandora – worth around $3.4bn all in – which was rejected by the streaming music company.
Sirius Chairman Greg Maffei – also the boss of the company's majority shareholder, Liberty Media – has previously said he thinks Pandora is worth $10 per share.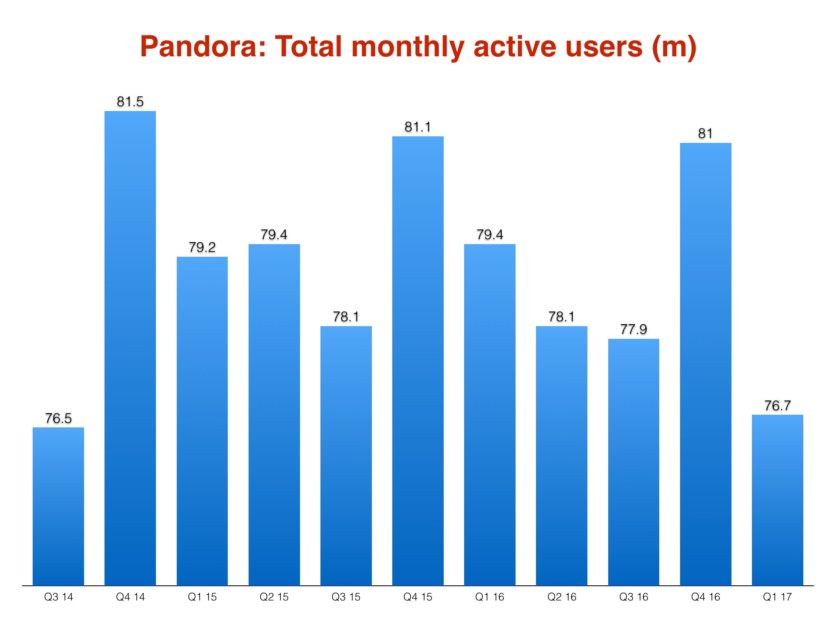 ---
According to fresh SEC documents analyzed by MBW, Pandora's total active user count in the 30 days to end of March this year stood at 76.7m. Compared to the previous year, that figure had shrunk by 2.7m people.
In the three months to end of March this year, Pandora posted revenues of $316m, up 6.3% YoY. However, quarterly net losses hit $132m, widening 15% on the equivalent period of 2016.
The company last week announced a $150m investment from KKR – but is exploring strategic options, including a sale, in the 30 days until that deal officially closes.
Pandora is now reportedly considering offloading its Ticketfly venture, which it acquired for a whopping $450m in summer 2015.
Earlier today, Goldman Sachs analyst Heath Terry admitted putting misplaced faith in the growth of Pandora – removing the company from Goldman's Americas Conviction List.
As we wrote in February, Pandora's annual net losses jumped by 102% last year – widening from $169.7m to $343m – as its total revenues grew much more slowly, increasing 19% year-on-year to $1.39bn.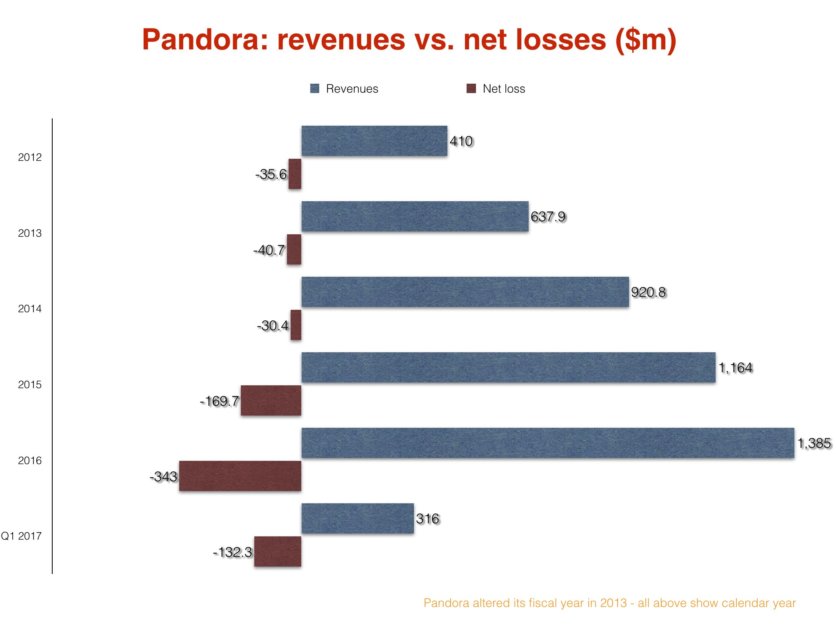 Music Business Worldwide