Italy's record industry had a positive year in 2019, according to stats released by local recorded music association, FIMI, with trade revenues up 8.2% on the prior year to €247.8m ($278m).
This year, though, as Italy enters its third week of nationwide Coronavirus quarantine – a government-mandated process which kicked off on March 9 – Italy's local music business is far from optimistic.
In a warning to the global record industry, FIMI – whose members include Universal Music, Sony Music, Warner Music and BMG in Italy – has today (March 24) issued a statement forecasting that "COVID-19 will stop [the Italian record industry's] growth in 2020", while noting that the market is already suffering from "signs of crisis with potentially extremely serious effects in the coming months".
The early signs of this crisis, FIMI tells MBW, are a 60% year-on-year decline in industry-wide CD and vinyl sales in the first three weeks of March, as well as a 70% YoY fall in performance licensing income since the end of February.
In addition, FIMI has confirmed that a "drop in streaming" has occurred since the quarantine began in Italy. (An MBW report yesterday estimated that on-demand audio streaming volume in Italy fell by approximately 10% week-on-week a fortnight ago, and now appears to have stabilized at this level.)
The fall in Italy's physical music sales has been caused by the shutdown of retailers and entertainment chains earlier this month, says FIMI, combined with "many" record releases being postponed until after the summer.
Performance licensing income, meanwhile, has plummeted due to the closure of shops and a lack of live music.
"Syncs are also suffering," confirms FIMI (sync contributed €8.44m to Italy's recorded music trade revenues in 2019).
---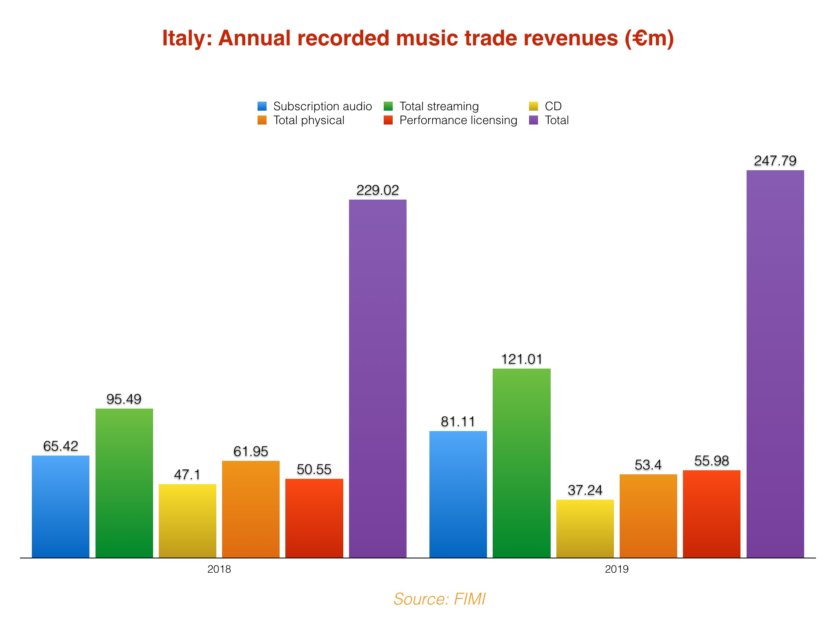 ---
In 2019, Italy's recorded music growth was driven by streaming, which saw its trade revenues increase 26.7% year-on-year. As a result, digital formats contributed 70% of all revenues in the territory.
The physical sector, on the other hand, continued to decline in 2019, as CD revenues fell by 20.9% YoY.
"This [physical] decline," says FIMI, "will unfortunately only be exacerbated by the current crisis".
"[Our] numbers for 2019 were really encouraging with an increase number of Italians shifting to the subscription at a fast rate," Enzo Mazza, CEO of FIMI, told MBW today (March 24).
"The current situation will probably hit the physical market very hard, and we hope streaming can remain at least flat for the next few months."
Mazza explained that a lot now depends on the length of the Italy-wise Coronavirus lockdown, with a recent draft government decree (the Cura Italia) mentioning that some quarantine measures could remain active in the country until July 31.
"At this stage, the impact on the music biz in Italy will be devastating."

Enzo Mazza, FIMI (pictured)
Mazza doesn't mince his words at the prospect of a summer-long business shutdown in Italy. "At this stage," he says, "the impact on the music biz in Italy will be devastating."
However, he adds: "FIMI is working closely with the Government to identify all the initiatives to support the entire music community during the following months."
---
One factor which could cause particular economic harm to Italy's music industry: 87% of Italy's annual best-selling album chart for last year were domestically created – one of the highest national repertoire percentages in the world.
Because of this, with local recording studios remaining inaccessible, FIMI suggests that Italian labels and artists could "suffer the most from this state of crisis".
It adds that "with recording studios closed down, concerts and tours at a halt, the impact on the whole industry of creatives, studio technicians and generic workers could be devastating."
The downturn in physical music sales in Italy last year was stemmed by the introduction of the so-called Bonus Cultura – a government measure that saw 18-year-olds given €500 each to spend on cultural consumption, including music, which generated estimated revenues in the region of €20m.
"FIMI is working closely with the Government to identify all the initiatives to support the entire music community during the following months."

Enzo Mazza, FIMI
Mazza suggests that an extension of this policy to a larger range of consumers could now curb against some of the damage wrought by COVID-19 on the music business in 2020.
FIMI also posits that an extension of Italy's tax credits for labels and others operating in the recorded music industry (including music publishers) could also help, in addition to a reduction of Value Added Tax in the market to 4%.
Some of these measures already appear in the draft Cura Italia decree, which was launched by the Italian government on March 17, eight days after the commencement of the national lockdown.
The Cura Italia decree's budget package allocates over €10bn euros to industries to help them face the economic shock caused by COVID-19.Music Business Worldwide