Music recognition platform Shazam has posted its financial results through Companies House in the UK for the year ended December 31, 2018 and revealed that it had 478 million active annual users, up 78m from 400m the previous year.
As first reported by Music Ally, the company also posted a profit of £124 million for 2018, up from a loss £17.7m in 2017, approximately $152m and $22m respectively.
That major shift from being a loss-maker to posting £124m profit (see below) is of course owed to the fact that the company was acquired by Apple for $400m in 2018, a deal which had the potential to change the face of music streaming forever.
That deal was officially completed on November 26, according to the financial results published yesterday (October 9).
Shazam's revenue for the year ended 31 December 2018 was £31.4m ($38.4m), down from the £40.8m ($50m) reported at the end of the previous year.
Although the report notes that turnover is the main financial key performance indicator of the business, it adds that "following the sale of its intellectual property assets and given the current size as well as the straightforward nature of the business, the Company's director is of the opinion that further analysis using KPIs is not necessary for an understanding of the development, performance or position of the business."
---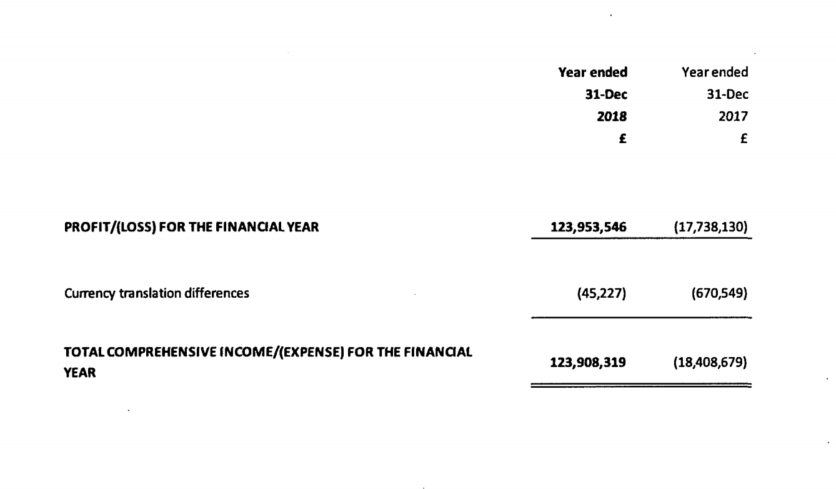 ---
As noted by Music Ally, Shazam has also reported revenue £157.7m ($193m) from the 'disposal of intangible assets'.
Said the report: "Revenue of £156.6m ($191) relates to the proceeds from the sale of intellectual property net of cost of disposal in the period ending 31 December 2018 and revenue of £1.1m ($1.3m) relates to the value attributed to the workforce of Shazam Media Services."
Elsewhere in the financials, the company states that it "continued expanding the international distribution of its services with significant contracts with major brands and blue chip companies".
Regulators in the European Union officially cleared Apple to acquire Shazam in September 2018 after launching an investigation in April 2018.
At the time, Commissioner Margrethe Vestager, who is in charge of competition policy, said: "After thoroughly analysing Shazam's user and music data, we found that their acquisition by Apple would not reduce competition in the digital music streaming market.Music Business Worldwide