The return of live music venues and the reopening of the economy following the Covid-19 pandemic has proved to be a major boon for music royalty collection organizations.
Nowhere is that more obvious than in the 2022 financial report from Paris-headquartered Sacem, showing a record-breaking year for one of the world's largest collective management organizations (CMOs).
The world's oldest royalty-collecting cooperative says it brought in EUR €1.413 billion (USD $1.489 billion) in royalties in 2022, a 34% YoY increase.
Sacem paid out €1.056 billion ($1.112 billion) to authors, composers and publishers worldwide in the year, marking a 19% YoY jump.
The PRO says 390,000 rights holders worldwide received payment from its collections in 2022.
Sacem's EUR €1.413 billion in collections in 2022 were broken down into the following areas of revenue:
€492.6 million in online revenues (+38%)
€353.1 million for TV/Radio/providers (+19%)
€327.0 million in general royalties (+93%)
This placed Sacem once again among the world's leading royalty collectors, with annual revenues on a similar scale to those of the US's BMI and ASCAP, Germany's GEMA and the UK's PRS.
Revenues at ASCAP, the American Society of Composers, Authors and Publishers, topped $1.522 billion in 2022, an increase of 14% over 2021.
Its main US counterpart, BMI, recorded revenues of $1.573 billion in the fiscal year ended June 30, 2022, a 16% YoY increase.
---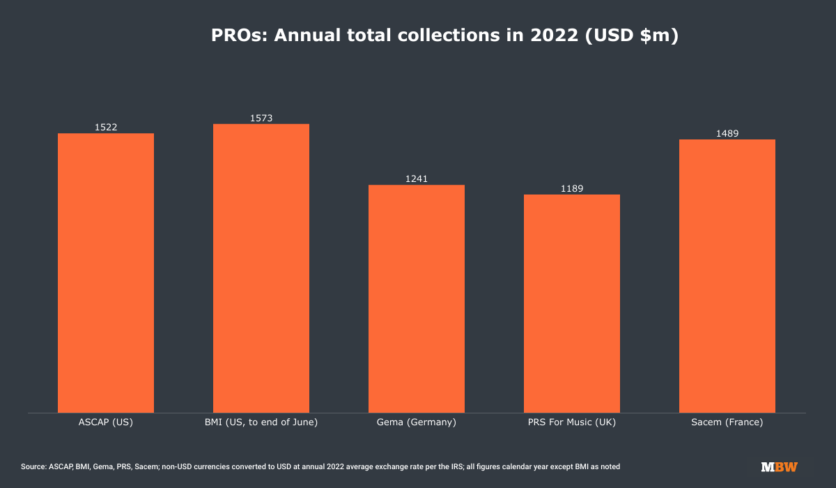 ---
Meanwhile, the UK's PRS raised £964 million ($1.19 billion) in 2022, a 22.9% YoY jump at constant currency prices.
Germany's GEMA collected  €1.178 billion ($1.241 billion) in 2022, an increase of 13% YoY.
All of the royalty collectors in the above chart also saw a banner year in 2022 – something Sacem and others attribute to the reopening of businesses and cultural events following widespread Covid-19 lockdowns.
Sacem noted its royalty collections dropped by around €350 million as a result of the pandemic.
Sacem attributed some of its success last year to its constantly growing network of agreements with rightsholders and music distributors.
In 2022, Sacem expanded those deals with – among other things – a new partnership with Hipgnosis Songs Fund, the music rights investment company run by veteran artist manager Merck Mercuriadis.
Sacem will manage and process digital royalties generated by Hipgnosis' catalogs in various markets, primarily the UK and European Union.
The cooperative also launched Musicstart, a blockchain-based service that helps artists protect their rights. Musicstart allows artists to quickly generate a proof of ownership certificate for a musical work, which can be used to prove anteriority in a dispute over who originally created a musical work.
Sacem also partnered with French music NFT marketplace Pianity, in a deal that established a payment model for music creators and publishers on sales of music titles in NFT form.
---
The PRO said it spent €29.2 million ($30.77 million) in 2022 through cultural action and aid programs to support 3,375 musical projects. This money was raised through collections of private copying levies (i.e., additional charges on blank media paid to rights holders to cover losses from copying).
"Thanks to the resumption of concerts, the explosion of digital, the new agreements signed with the many users of Sacem's repertoire, and the strategic shift undertaken in its transformation plan, Sacem had a record year in terms of both collections and royalties distributed. These results demonstrate, once again, our ability to adapt and strengthen our expertise in a highly competitive and rapidly changing sector," Sacem CEO Cecile Rap-Veber said in a statement.
"These results demonstrate, once again, our ability to adapt and strengthen our expertise in a highly competitive and rapidly changing sector."

Cecile Rap-Veber, Sacem
Rap-Veber added: "We still face many challenges for the future of creation: securing financial resources for public broadcasting and the National Music Centre, the defense of private copying levies, the establishment of a more equitable music streaming ecosystem for creators and publishers, the fight against 'buy-outs,' and the regulation of artificial intelligence.
"Sacem will be at the forefront, defending the rights and revenues of its members and partners as we face all these challenges."
Serge Perathoner, Sacem's Chair of the Board of Directors, said: "The rapid and constant evolution of the music ecosystem, combined with the possibilities offered by new technologies, have had a considerable impact on the way we create, distribute and consume music. They have opened up new territory, while at the same time creating space for a new era of development for Sacem.
"Never before have Sacem's costs been so tightly under control. The strength of our tools and our expertise in authors' rights management have enabled us to optimize the value works generate by redistributing more revenue to creators and publishers."
---
All EUR-USD currency conversions for the 2022 calendar year in this story have been made using the IRS's published annual average exchange ratesMusic Business Worldwide