MBW's World's Greatest Producers series sees us interview – and celebrate – some of the greatest talents working in studios across the decades. The latest instalment features Rogèt Chahayed, the exec producer of Jack Harlow's Come Home the Kids Miss You, and key collaborator with, among others, Doja Cat and DRAM. World's Greatest Producers is sponsored by Hipgnosis Song Management.
---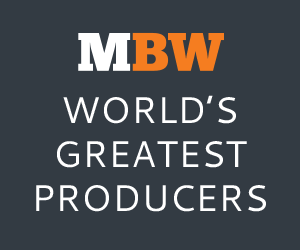 Jack Harlow's second album, Come Home the Kids Miss You, is one of the biggest hip-hop records of the year so far.
Released in May, it reached No. 3 and spawned the No. 1 single, First Class. Some critics loved it; others – hello, Pitchfork! – did not.
Exec producer Rogét Chahayed has experienced critical acclaim, commercial success, the odd brickbat and award nominations (seven Grammy nods to date) aplenty – and he has views on how important (or not) each of them are within his definition of success.
He says: "To be a part of an album that has huge sales, great reviews and a really good reception from the fans, that's a blessing. But, obviously, music is still art, and not everybody likes the same art; not everybody likes the same stuff, whether it's good or bad in your eyes.
"For me, what's important is that the artist is happy, that they have made something that represented them the best it could at the time that they were making it.
"When you have that mindset, that's when you'll get the most sales and the Grammys; that's when it happens.
"I also think the fans mean the most, not, like, blogs, or people who don't really know much. I don't trust their taste, because a lot of times they're just doing it to get attention or whatever. I make music to make the artists and the fans happy – and myself happy. To be able to say, yeah, I'm proud of what I did, that to me is the most important thing."
---
Chahayed's breakthrough hit was the knowingly dumb and unabashedly basic Broccoli, by DRAM (2016, US No. 5), built around a Chopsticks-style piano hook that sounded like it might have been written for (and played by) children.
Having grown up listening to Arabic and Latin music (courtesy of a Syrian father and Argentinian mother) alongside a more regular diet of pop and hip-hop, then studied jazz and classical music at the San Francisco Conservatory of Music, he sees the irony.
"I'm sure some of my old classmates and teachers weren't very impressed, maybe even a little angry, that I made such a big song off of two chords", he reflects, without seeming especially perturbed at the thought.
Even while studying at the Conservatory, Chahayed led what he jokingly calls "a double life". He recalls: "I had a few close friends that were really into the newer wave of hip-hop, so I got introduced to people like Scott Storch and Pharrell and Timbaland.
"Once I started realizing that there were actual musicians and producers behind the songs, my brain sort of started navigating towards thinking, hey, you know, maybe I could be one of these guys. Why am I sitting here struggling to perfect a Beethoven sonata, when I could be in the studio, having fun, making classic songs? That's where the shift began.
"I would be at the Conservatory for a month or two, doing my recitals and classes. And then I'd come back home to LA and I had two hip-hop bands that I'd started. All the while I was bringing elements of both into each other.
"It was also good to go back to each side fresh every two months. And I just think it's great to play different styles and have different experiences to enhance you as a producer, your sound, your everything; it all stays absorbed."
And it has all played a part in hits not just from Jack Harlow and DRAM, but also Travis Scott (Sicko Mode, 2018), Drake (Laugh Now Cry Later, 2020), Doja Cat (Kiss Me More, 2021) and many more.
He even features on a couple of tracks from Kendrick Lamar's landmark 2015 album, To Pimp A Butterfly. Well, sort of, he'll get to that. But first, that leap from Chopin to Chopsticks…
---
Do you think those studies of jazz and classical have helped you in your role as a producer?
Well, I think that a producer's job is to bring things together, to bring it all together, however it is that you do it. There are people who are good at connecting the dots, putting the right people in the room, there are people that are good at making beats, whatever it is.
For me, I think having the education and the background in classical and jazz, it's helped me be able to play whatever kind of color or sound people are looking for.
You know, if somebody wants some strings, or some orchestration at the end of a song, or some guitar, or something more jazzy, something more R&B-like, the foundation of theory and technique that the classical and jazz study provided just allows me to be musically free, to play and integrate anything I want into a song or into a production.
---
When you thought about breaking into the business, and started to try and make a living, was that initially more as an artist than a producer?
I really started out as a session player, I was just somebody who loved to be in the studio. One of my best friends, his dad is an amazing producer, Ron Aniello, who's been working with Bruce Springsteen for a while.
He noticed my talents when I was a teenager and he started inviting me into the studio, asking me to play some piano on some things.
And slowly, over time, I realized that my contributions to songs were greater than just somebody playing keys, that I was really adding life that they didn't have before. Eventually, I knew it was time to turn something I just did into something really serious.
---
And is this around the time you meet Dre and do some work with him?
Yeah, that came not too long after my first experiences in the studio. I was working with a singer whose husband was connected to Dre and he said, 'Hey, I love the work that you're doing, I really want to introduce you to some people'.
So he ended up introducing me to someone who would become my mentor, Mel Man. He's one of Dre's most important producers, he did 2001 and a lot of that early stuff. He took me under his wing, he sort of trained me, helped me make beats from a different angle, taught me about how to act in the studio, how to have good etiquette.
And when the time was right, he brought me into the studio with Dre. We made a track together, I think he kind of put me to the test. He liked it and said he wanted me to come work with him. That's kind of where it all started; that was about 2013
---
What work did you do with Dre and what did you learn from being around him?
Basically, there was one goal there all the time: make the hottest shit you can; make the best music you can at all times and nothing less – so that was a lesson in itself, just that attitude.
My gig there was as on-call keyboard player-slash-producer-slash-whatever-he-needed. So, I would get a call, to say Dre is coming to the studio today, and I'd go there an hour early, set up all my keyboards and just kind of start cranking away.
It was such an incredible experience to be able to work for him. That's when I really felt the shift of everything in my life, I just felt the change right there.
I'd say some of the most important things I've learned from him are how to bring the right combination of people into a room and bring the best out of everybody. You know, everybody has sort of a superpower when it comes to being a producer, Dre could spot that and bring it out of everyone.
I still wasn't officially credited as a producer or writer on anything, but I went back into the world to do my own thing with a new perspective on life and on my career. I felt equipped to go out on my own.
---
So how did you then manage to start making your way as a producer in your own right?
Well, this is where the story starts to get sort of heavy.
Around the time I was working with Dre, I also worked with a producer who was working on an artist project for himself. This was 2013/2014. Me and a close friend of mine, Wes Singerman, who's a very talented producer and guitarist, we worked on this on this guy's album for a month or two, making endless beats. This is when we had no management, we didn't have anybody looking after us, really.
We signed a contract just to get paid for the work we did, and, you know, it said no royalties, this and that, but we didn't really think anything of it because we sort of looked at it as a passion project.
Fast forward a few years, this is after I'd worked for Dre, I was kind of struggling a little bit. To Pimp A Butterfly came out, and two of the songs on there featured beats that we had made with this producer.
So yeah, we found out our beats were on that album when it came out. We didn't have any credit, no publishing, nobody approached us about anything, so we were kind of lost.
And then this guy reached out to me and said he wanted to meet. That turned out to be Greg Katz, who became my manager and who still manages me today.
---
---
Greg sort of took me under his wing and started connecting with people. He introduced me to this guy named Imad Royal, who also became a very close friend of mine and is an incredible producer.
He called me randomly one day and said, 'Hey, I'm going to Rick Rubin's studio tonight, do you want to come work with me?'
So I packed up all my gear, I went over there and DRAM was one of the artists floating around. We all started having this epic jam session, DRAM took a liking to what I was doing and we sort of clicked. I ended up spending two or three weeks in the studio with him and he ended up saying he wanted me to help him finish his album.
We booked another studio in Hollywood, owned by Yeti Beats, and the first day we were there we ended up making what became Broccoli.
---
Was that the first time you got credit as a producer?
Yeah, my first official credits as a producer were with DRAM. He was one of the first people to see my ability beyond being a musician and say, 'This guy is a producer'.
It really helps to have that, because that's how you get people to start looking at you, when you get the respect of the artist saying this guy or this girl is the person that is making me sound the way I do. For the first time in my life and my career, I felt that love from him, so I'm forever grateful to DRAM, who's still a very dear friend of mine.
---
Did the issues surrounding your beats on To Pimp A Butterfly ever get resolved, or was that something you just had to put down to experience and move on from?
You know, it was a hard thing for me to grasp in the beginning. Because you do all this work, you put all this time in, you go through a struggle, and then to see all these people getting credits and Grammys and money off of work that you did… I was angry, I was in a rage and in a very negative headspace because of it.
"I thought I'm Probably just gonna end up teaching Piano for the rest of my life, or playing gigs, because This business is too cutthroat."
I thought I'm probably just gonna end up teaching piano for the rest of my life, or just playing gigs, because this business is too cutthroat.
And then when I started getting managed by Greg, he told me the best thing to do is to keep working. He explained how the legal thing would work, that it's gonna take a lot of time and money and it's probably not going to be worth it.
So I decided to put it behind me. And things sort of came full circle, because about 18 months ago, I was in the studio with Baby Keen, and he actually brought me in one day when Kendrick was there.
So I ended up working with Kendrick. Nothing that has been released or anything, but we got to work a little bit and I didn't even bring that up to him. Because I just thought to myself, you know, that's not going to really take it anywhere, you know; I am where I am, I worked hard to get here and I'm happy here.
Plus, you know what, when I started meeting a lot of other producers, I told them my story and they'd look at me and say, 'Oh, you think that's bad? Let me tell you my experience…' I've heard stories that made mine look like a walk in the park, like nothing.
Over time, you learn that it's not about what happens to you in this business, it's about how you react to situations and to people, it's about how you respond.
I'm actually grateful that things went the way they did, because had they not, maybe my head would have gotten too big at a young age and I wouldn't have been able to get as far as I've got.
Plus, you know, that album is part of history, and, regardless of what happened in terms of credits and the legal situation, you're either on it or you're not. And I'm on it. I'm happy about that.
---
How did you come to work with Jack Harlow and become exec producer on Come Home the Kids Miss You?
I actually spoke with Jack for the first time on Instagram. He sent me a DM around May 2021.
But I had been manifesting working with him, because I was a huge fan of What's Poppin? and a lot of other songs from his early projects.
I just thought there was something about this guy. So for him to send me that message, just like, 'What's up?', I was kind of caught off guard. But I told him, you know, I'm ready to work.
He said he wanted me to come to some sessions in LA. And the first day I showed up, I met Angel Lopez, who is also an exec producer on this album.
---
---
That role sort of created itself over time, because when we started working with Jack, he was trying out all these producers, they were big rooms. And then over the months, the rooms started getting smaller, until it ended up being me, Angel, Jack, plus Nickie [Jon Pabón], who was kind of driving the ship, and Nemo [Achida], who's like Jack's right hand. The core of that album was the five of us.
It was an incredible experience, because they were really long days, I'm talking 4pm to 4am. Whenever Jack was in town he would text us and I literally just changed my entire schedule and cancelled all these other sessions, because I felt like when I was in the room with Jack we were doing something different.
It felt like maybe how they made albums when I was growing up, making everything from scratch – every riff, snare, hi-hat, every sound, and all from Jack, we were following his lead because he knew where he wanted to go. And so when he was in town, there was nowhere else I wanted to be.
It was a very different experience for me, and one of the greatest times I've had in my life making music.
---
What's the most enjoyable project you've worked on? It sounds like Jack's album would be right up there…
Definitely. And I would say Doja's project was really fun to work on. Any session that I've ever had with her, or ever had with Yeti, or anybody in that crew, I always feel so lucky to be just hanging out with friends. And I had a lot of fun working with DRAM too.
---
On the flip side, have there been challenging sessions and situations in the studio?
To be honest with you, I try not to deal with that so much. If I'm really not feeling something, I usually just make an excuse and leave. I know that doesn't sound like a good thing to do, but I've sort of gotten to the level where, if there's no vibe, if there's no purpose, I feel like, don't waste your energy.
"I like to be joking and smiling and laughing when I'm in the studio. Because if you're not having fun, it's going to show."
Your energy and creativity as a producer is the most precious and valuable thing that you have. And if you spend 11 or 12 hours in a room with someone you can't stand, or with an artist who's just not doing it, that bums me out, it makes me sad.
I still feel like a little kid, I like to have fun. I like to be joking and smiling and laughing when I'm in the studio. Because if you're not having fun, it's going to show.
---
Is producing a technical skill to do with sonics or a psychological and emotional process that's to do with relationships?
It's got to be both, an even portion of both. To me, the most important thing is, no matter how you do it, when you're in the room, there's something that you have to add, something that is going to turn people's heads.
Maybe you're not the best musician, but you have the best beat, or you know how to collect the best from people and put it together for the artists.
And then you also have to have the ability to make the artists feel comfortable, earn their trust. Talk to them on a daily basis, and then when they're struggling with an idea, you're able to convince them, hey, this isn't the way to do it, try it my way. And that being okay.
It's an even thing: you have to have those relationships skills and people skills as well as having something to offer technically.
---
Do you have a wish list of artists you'd like to work with or genres that you'd like to do more work in?
I really feel so fortunate to have worked with most of the people that I wanted to work with way before that was ever a possibility.
But of course, there are still so many people I'd love to work with one day. I still haven't worked with Frank Ocean. I'd love to just create with him, just to be in the room with him and see how we would interact musically.
I'd love to work with Unknown Mortal Orchestra, that would be something so interesting and different for me, as a guy who does a lot of rap and pop stuff.
It'd be cool to work with Bjork, it'd be cool to work with Radiohead, it'd be cool to work with Jay Z and Beyonce. But, already, I'm really grateful. I feel like all the artists that I've worked with – and I'm working with now – they're all my heroes, and I'm lucky enough to call most of them my friends.Music Business Worldwide