MBW Reacts is a series of analytical commentaries from Music Business Worldwide written in response to major recent entertainment events or news stories. MBW Reacts is supported by JKBX, a technology platform that offers consumers access to music royalties as an asset class.
---
There are just 73 days left until Robert Kyncl becomes CEO of one of the world's largest music rights companies – Warner Music Group.
Following the confirmation of the ex-YouTube exec's appointment in September, there was the predictable outbreak of music biz chatter regarding:
Kyncl's history (the man who once butted heads with major labels over YouTube royalties and 'Article 13');
Kyncl's personality ("the guy takes zero sh*t", as one senior figure bluntly put it to MBW, "he's going to be a great asset for the record business when we're standing up to big tech");
And, inevitably, Kyncl's annual compensation at WMG (up to $15 million a year, all told, including share grants. That's in line with the CEOs of companies with a similar ≈$12 billion market cap to Warner Music Group's, like, for example, MGM Resorts.)
Now, though, the industry jibber-jabbering over Kyncl has died down.
As such, he has a couple of months away from the hubbub to pull together his topline plan for shaping Warner Music Group into a company destined for future success.
Here are three major questions that MBW believes will be high on Kyncl's agenda soon after he settles into the WMG hot seat…
---
1) The TikTok problem: Upfront checks, or 'revenue-share' deals?
Major record companies are growing increasingly impatient with ByteDance and the revenue they are receiving from its flagship phenomenon – TikTok.
The cornerstone issue: TikTok continues to license music on a 'buy-out' basis, paying an upfront check to obtain two-year blanket licenses for the majors' catalogs.
In the past few years, these 'buy-out' deals have been manna from heaven for the majors – "bonus free money" on top of a growing subscription streaming industry globally.
But now subscription streaming growth is starting to slow in key markets like the US and UK. At the same time, TikTok's growth is going bananas: It's expected to triple its global revenue from $4 billion to $12 billion this year.
More frightening for record labels: the power that TikTok is starting to wield with young music fans. eMarketer concludes that, today, nearly two-thirds – 61.3% – of 'Gen Z' in the US uses TikTok at least once a month.
There is a real sense amongst many senior executives that the music industry needs to push TikTok towards a 'revenue-share' deal – i.e. rightsholders getting paid a certain % of the platform's topline revenue – and get away from the 'buy-out' agreements.
As we reported the other day, Sir Lucian Grainge – CEO and Chairman of Universal Music Group – has made his first overt nod in this direction.
"Another [value] gap is forming fast in the new iterations of short-form video," said Grainge last month, stopping short at naming TikTok directly, but adding: "Let's work together as an industry – majors, indies, and DIY artists alike – to ensure music has both cultural and commercial value."
Sources also suggest that senior figures at Sony are fighting for a revenue-share agreement in their next TikTok deal (no great surprise when you consider that Sony just refused to re-license Resso, TikTok's sister music app).
But what of Warner Music Group?
"I think we've got a couple more turns at the buy-outs before we see the social, fitness, and other socially-oriented platforms [build] enough of a history and have done [enough] experimenting to really make [a move to revenue-share deals with these services]."

Steve Cooper, speaking in September
At a Goldman Sachs event last month, outgoing WMG CEO, Steve Cooper, was asked to predict when Warner might move from a buy-out model to a revenue-share model with certain key platforms.
Cooper answered: "I think we've got a couple more turns at the buy-outs before we see the social, fitness, and other socially-oriented platforms [build] enough of a history and have done [enough] experimenting to really make that turn."
Again, Cooper didn't mention TikTok by name. But if he was referring to the ByteDance company, he was essentially saying that Warner would be happy to sit out another four years of licensing agreements with TikTok without obtaining a revenue-share deal.
Will Kyncl – an exec who pioneered revenue-share agreements with the music industry for user-generated content at YouTube – follow Cooper's lead?
Or will he stand with the unofficial alliance – "majors, indies, and DIY artists alike" – that Lucian Grainge just called for?
---
2) What's to be done with Warner's distribution strategy? and especially with BMG?
Question marks hang over a few elements of Warner Music Group's current distribution strategy.
For one thing, Robert Kyncl is going to have to take a hard look at Level Music – the possibly-neglected DIY distribution platform (i.e. rival to DistroKid, TuneCore etc.) that Warner launched in 2018.
(Evidence of said possible neglect: The Level site still describes itself as a 'new music distribution platform for independent artists'. It's four years old.)
Warner launched Level with a clear intention: To use it to discover new talent that could be upstreamed through the WMG frontline system.
For that to work, Level needed to be made attractive to indie artists – which is why, to this day, it allows acts to keep "100% rights and royalties" for a fee of just $20 per year.
Interesting thing is, Level is now out of step with both Universal Music Group and Sony Music Group's equivalent strategies, because Level allows all artists who are willing to pay that $20 to distribute their music via its services to Spotify, YouTube Music etc.
Sony Music Group runs its own indie artist distribution and services platform: AWAL, which it bought from Kobalt Music Group for $430 million last year.
In contrast to Level, AWAL is invite-only: To upload your tracks through the service and enter the Sony system, an artist has to be accepted as good enough by the AWAL team. (Around 1 in 10 artists who apply are understood to be accepted.)
Meanwhile, Universal Music Group has its own Level equivalent: Spinnup. But, mirroring Sony and AWAL, this summer, Universal switched Spinnup from an 'all are welcome' platform to an invite-only platform… essentially ending Universal's flirtation with, and investment in, free-for-all DIY distribution.
At least part of Universal's decision, MBW understands, was because unlimited distribution for any willing artist also comes with… unlimited costs. And when only a tiny percentage of acts are being 'upscaled' from a service like Spinnup into 'proper' labels, the whole DIY distribution-for-all model begins to look unrewarding.
Will Robert Kyncl now follow suit at Warner and pull up the drawbridge on Level?
Or, as the last remaining un-gated DIY distributor owned by a major record company, can he turn Level's USP to Warner's advantage?
---

At the other end of Warner Music Group's distribution business, there is something of an iceberg dead ahead.
When Warner's ADA struck a global distribution agreement with BMG in 2017 – a move sealed by then-ADA President, Eliah Seton – it was a reasonably big deal for WMG.
"ADA is immensely proud to represent the extraordinary BMG catalog across the globe, and it is very exciting to be expanding our collection with this latest treasure trove of outstanding music from so many iconic artists," said Seton at the time.
Now, that picture has shifted dramatically.
Since 2017, BMG has grown considerably, as large independent labels (Beggars Group, Domino – two examples) have moved significant business away from ADA.
Sources now suggest that BMG makes up somewhere around 50% of revenues in Warner's distributed third-party labels business.
It's not hard to see how: BMG generated EUR €371 million in the first half of 2022, up 25% YoY, with around 40% of that figure coming from recorded music.
Indeed, just the other week, in a Bertelsmann presentation, BMG CEO Hartwig Masuch projected that the music company would become a €1 billion annual turnover business in 2024.
Making this situation extra topical for Robert Kyncl: whispers now suggest that BMG will soon have the contractual freedom to walk away from ADA and shift its business to a rival – Sony's The Orchard, perhaps, or Universal's newly-launched Virgin Music Group – if it so wishes.
It's worth pointing out that, for BMG, being the single biggest partner-distribution priority for a major music company – i.e. Warner – might not be a bad position to be in.
Still, there are two ways Robert Kyncl could insure that BMG – and those hundreds of millions in revenue – stay with WMG:
Renegotiate and agree a new multi-year distribution deal with BMG pronto that keeps both sides happy;
Make an acquisition offer for BMG.
---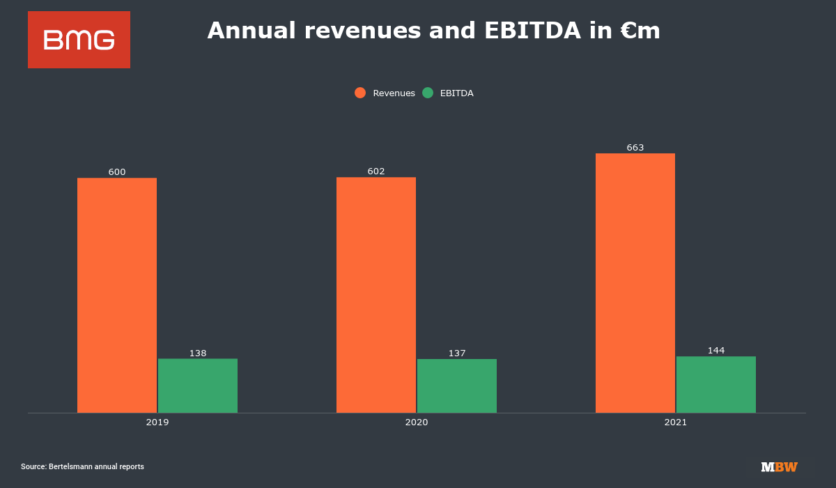 ---
It's difficult to say what a company like BMG might fetch in the current marketplace, but its EBITDA in calender 2021 stood at €144 million (USD $170 million).
Even in a high-interest-rate environment, it looks highly unlikely that Bertelsman would consider an offer short of $3 billion (18-times 2021's EBITDA).
BMG's valuation may actually be much higher than that: Don't forget that Concord, with a similar sized EBITDA to BMG (around USD $200m in Concord's case), was turning down acquisition offers of over $5 billion just a few months back.
Can Warner afford that kind of price-tag to acquire BMG?
Depending on whether any of WMG's rivals are interested in making their own bids… can it afford not to?
---
3) What is Warner Music Group? And where do superstars and catalogs sit within that?
Under Steve Cooper, Warner has prided itself on adopting the mindset of 'the independent major'. Being honest, that's partly out of necessity.
No-one can knock Cooper's incredible record running WMG: Revenues at the company have almost doubled during his 11-year run as CEO.
However, the gulf in size between Warner Music Group and Sony Music Group (the world's No.2 biggest music company) is statistically getting bigger.
Below, you can see MBW's currency-converted calculations for what the recorded music and music publishing operations of Universal Music Group, Sony Music Group, and Warner Music Group generated over the past two calendar years.
(This is based on quarterly investor data, and prevailing currency rates in each period.)
The important thing to look at is the second graph (in orange): it shows the difference in total annual global revenues (recorded music divisions plus publishing divisions) between Warner Music Group and Sony Music Group.
That difference grew by nearly $500 million in calendar 2021, up to $1.911 billion.
---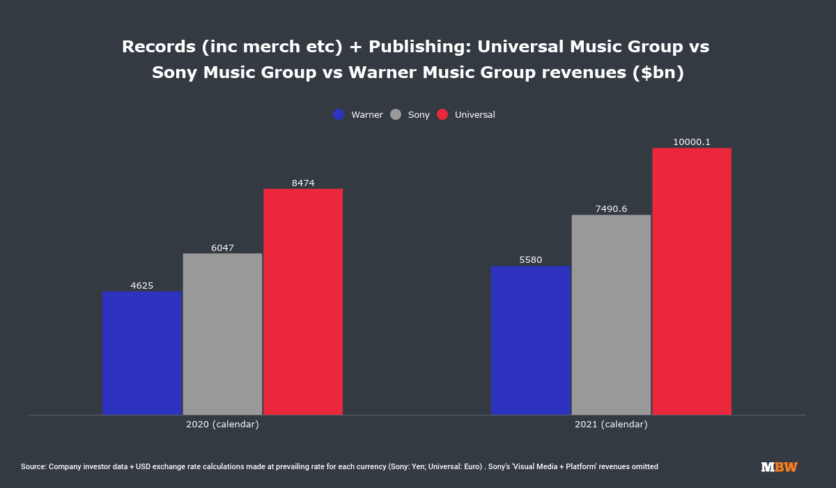 ---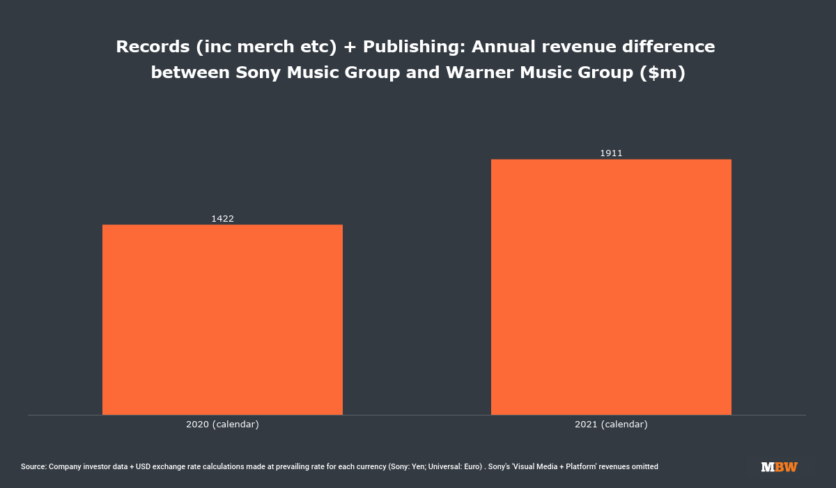 ---
These are numbers that, on Sony's side, would have been boosted by its $430 million acquisition of AWAL in 2021.
Still, the upshot for Warner (and its identity as a 'major') is clear: The No.3 company in the market (WMG) is now nearly a full $2 billion in annual revenues smaller than the No.2 company in the market (Sony Music Group).
To really drill home the point of Warner's comparative scale vs. its major rivals, let's now turn to WMG vs. Universal.
In calendar 2021, Universal generated just over $10 billion in overall revenues; Warner Music Group generated $5.58 billion.
Yes: Universal is now nearly double the size of WMG.
Then again, Warner's position at the industry's No.3 company is very secure: Its largest smaller rival these days is probably Korean firm HYBE – which this week lost the active participation of its biggest asset, BTS, until 2025.
HYBE's business across all divisions generated just over USD $1 billion in calendar 2021 – less than a fifth of the size of WMG.
---
All of this begs a fundamental question for which Robert Kyncl must, eventually, find an answer: What actually differentiates Warner from its major music company competition in 2022?
MBW isn't the only one asking this question.
Billionaire UMG investor, Bill Ackman, has railed on Warner a number of times, portraying the company as a less powerful version of Universal, with less hitmaking might.
Ackman's Pershing Square taunted WMG on this topic in an investor note last month, which read: "When viewed on a multi-year basis, UMG's revenue growth has both been higher and more consistent than Warner Music Group, its most closely followed peer."
So how does Warner now move in a direction that its two biggest competitors cannot?
How can it use its unique size in the marketplace, and the strategy-resetting arrival of Robert Kyncl, to respond faster and smarter to market dynamics than any other company around it?
---
Perhaps the answer lies in controversial comments made by Steve Cooper last month, in which he revealed that in the past few years, Warner had been following a "portfolio" strategy that had "reduce[d] our dependency on superstars".
Added Cooper: "Reducing that dependency has allowed us to continue to reinforce our approach to A&R, which is long-term artist development."
Essentially, Cooper was saying that Warner is spending a smaller proportion of its overall A&R budget on 'superstar' artists, and spreading the remainder amongst a wider spread of non-superstar artists.
More bets, but smaller bets. An increase in partnerships with artists who have healthy, growing businesses and loyal audiences – but who lack any realistic hope of playing two nights at Wembley Stadium.
This portfolio strategy, said Cooper, is now resulting in "mid to high teen [percentage] returns" for Warner on its A&R investment.
There is solid data underpinning this strategy: According to MBW's calculations of Luminate figures, the Top 10 audio streaming tracks in the US in H1 2022 were cumulatively played over 1 billion times less than they were in H1 2019 (2.74bn vs. 3.81bn).
Making mega-hits, with superstar artists, is getting empirically more difficult.
---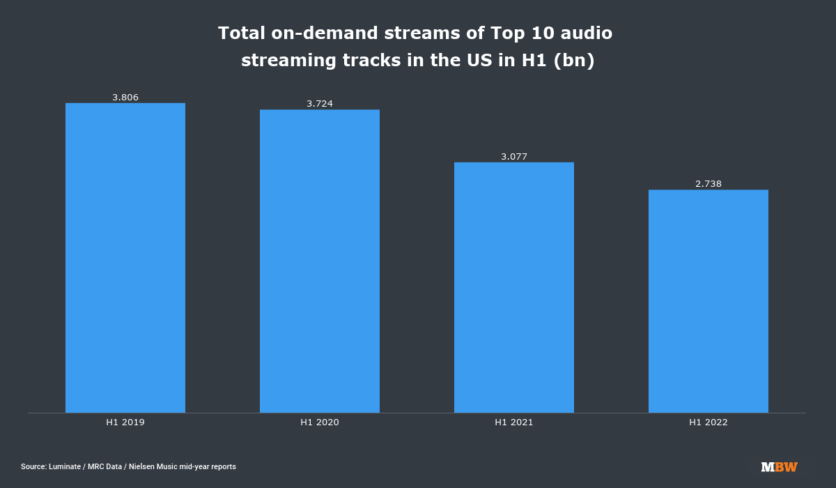 ---
Will Robert Kyncl attempt to accelerate WMG's "portfolio" strategy – leaving more of the 'superstar economy' for Universal Music and Sony Music, but potentially widening Warner's relationship with profitable artists who court smaller audiences than Taylor Swift, Harry Styles, Drake etc?
If so, what might this mean for Warner's frontline label strategy in the States, where WMG-owned companies such as Atlantic Records, 300 Elektra Entertainment, and Warner Records continue to duke it out against one another (and UMG and Sony's frontline labels) to try and find music's next megastar?
Can Warner Music Group culturally train itself – not to mention its labels – to be less motivated by discovering and developing superstar acts?
Also, could this strategy – more bets, but smaller bets – inspire a corollary in the catalog world?
Rather than throwing down hundreds of millions on superstar artist and writer catalogs – and fighting with Sony and Universal in the process – could a more frequent catalog acquisition strategy, for smaller per-deal fees, end up as Warner's 'Moneyball'?
Robert Kyncl may not walk into WMG with answers to these questions on day one.
But he'll arrive at Warner armed with a fresh viewpoint on this business – one unburdened by ever working at a music company, and "the way things have always been done".Music Business Worldwide