It's Rajar day in the UK – when the popularity of all local and national radio stations are revealed.
In an age when we all seem to be prattling on about the brave new world of streaming, it's all-too-easy to forget the immense power of traditional audio broadcast.
The latest Rajar figures show that UK radio listening is at an all time high, reaching 48.7m listeners per week.
Compare that to Spotify and Apple Music, which are jointly believed to boast around 4.5m active users in the UK.
(That said, those radio stats aren't actually growing quite as fast as the population of the UK, according to Rajar.)
---

The big Rajar stories in the media about the three months to end of June all concentrate, as you'd expect, on the market's big guns.
BBC Radio 1's weekly listeners were down 9.4% year-on-year to 9.46m in Q2 – its lowest audience figure in 13 years;
BBC Radio 2's weekly listeners were up 1% year-on-year to 15.3m, and it remained the dominant national UK station;
And the biggest commercial station, Global's Capital brand, reached an all-time high of 8.53m weekly listeners;
None of these stats, however, tell us anything about what may be the biggest story in British music radio over the past decade.
BBC 6 Music is a digital-only station which prides itself on playing "the cutting edge music of today" alongside "iconic and groundbreaking music of the past 40 years".
It is considered a great friend to the music industry, with a reputation for taking risks and loyally backing new artists in the UK market.
And just over five years ago, the BBC tried to close it.
The main reason for this rash cost-cutting measure? That 6 brought "relatively few unique listeners to BBC radio".
To whoever wrote those words down back in 2010… how are they tasting right now?
---

In an amusing wisp of irony, a vocal (but polite) petition from loyal listeners against the mooted closure brought 6 Music some much-needed, and new-found, national publicity.
It did the trick: not only was 6 Music saved, but between Q2 2009 and Q2 2010, it doubled its average weekly listenership – up from 595,000 people to 1.2m.
And the best bit is, these listeners – and that momentum – never went away.
In fact, led by presenters such as Steve Lamacq, Lauren Laverne (pictured, main), Shaun Keaveny, Mary Anne Hobbs, Mark Radcliffe and Stuart Maconie – with a music policy helmed by respected BBC exec Jeff Smith (pictured, inset – who also works across BBC Radio 2) – 6 Music has just kept growing and growing.
According to Rajar, in Q2 this year, 6 Music reached 2.27m people – yet another all-time record, up around 10% on the 2.06m figure recorded in the same period of 2015.
With no FM residence to amplify its appeal, BBC 6 Music – the UK's largest digital-only station – is now over a quarter of the size of BBC Radio 1, on a fraction of its resource.
In fact, over the past decade, 6 Music's weekly audience has grown by no less than 694%.
Spotify, eat your heart out.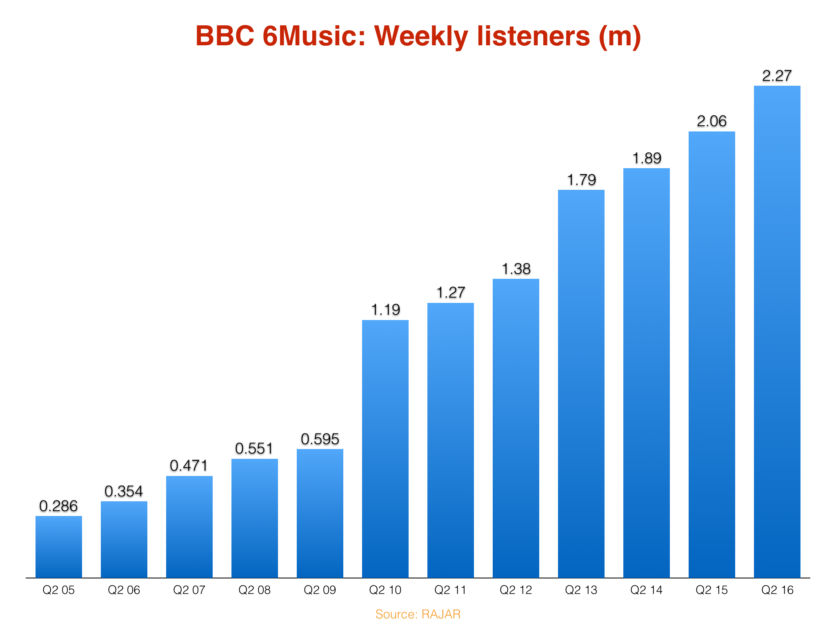 Music Business Worldwide