MBW Reacts is a series of analytical commentaries from Music Business Worldwide written in response to major recent entertainment events or news stories. MBW Reacts is supported by JKBX, a technology platform that offers consumers access to music royalties as an asset class.
---
Reservoir Media had an impressive 2022.
The New York-headquartered music rights company, led by CEO Golnar Khosrowshahi, posted USD $122.6 million in overall revenues during the 2022 calendar year, according to the firm's public quarterly financials.
That figure was up 26.7% YoY on the equivalent calendar year figure that the company posted for 2021, according to MBW's calculations. (Reservoir's FY runs through to the end of March each year.)
One accelerant to Reservoir's annual revenues last year vs. the prior year was its July 2021 acquisition of the Tommy Boy Records label for approximately USD $100 million.
---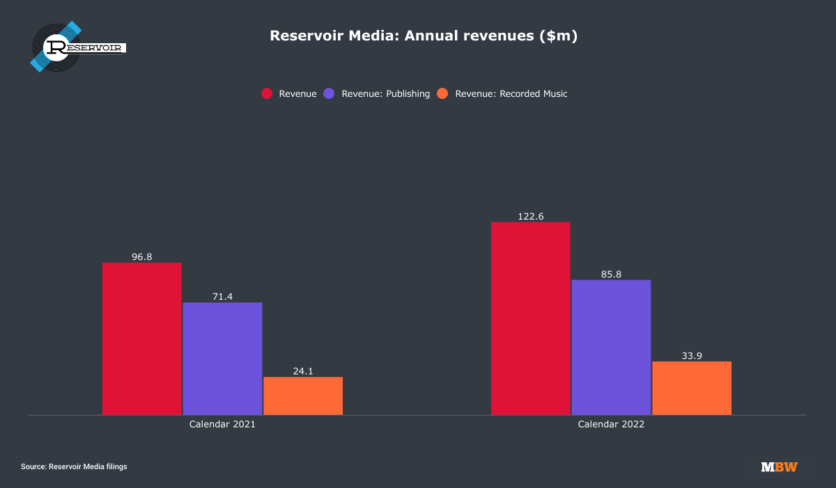 ---
But did you know that Reservoir is expecting its annual FY revenues to grow to $160 million by 2025?
Or that the company, one of the most active rights acquirers in the music business, has spent over $695 million on music catalog M&A to date?
You do now.
These and other interesting nuggets about Reservoir are revealed in a new investor factsheet released by the company via an SEC filing last month.
Below, MBW fillets this filling (complete with slides) and pulls out several interesting facts and figures about Reservoir.
They paint an insightful picture of the company today – and its large-scale ambitions for the future…
---
1) Reservoir made 96 offers for catalog acquisitions in 2022… and closed more than half of them
Anyone close to the music catalog M&A market will tell you that it's not uncommon for potential buyers of songs and recordings to make offers to rightsholders… and then walk away before a deal is closed.
Reservoir claims that's not its style – and has the numbers to back it up.
According to its investor factsheet, Reservoir considered 232 new deals in FY 2022 (the 12 months to end of March last year).
Of those considered deals, it made 96 firm offers, out of which it took 60 deals into a period of exclusivity  – and closed 52 of them.
As of the end of calendar 2022, Reservoir says it had spent $695 million on M&A deals in its history (as noted in our headline above).
As previously reported, as the close of December 2022, Reservoir counted 220 more M&A targets in its pipeline, with a total value of $2.3 billion.
---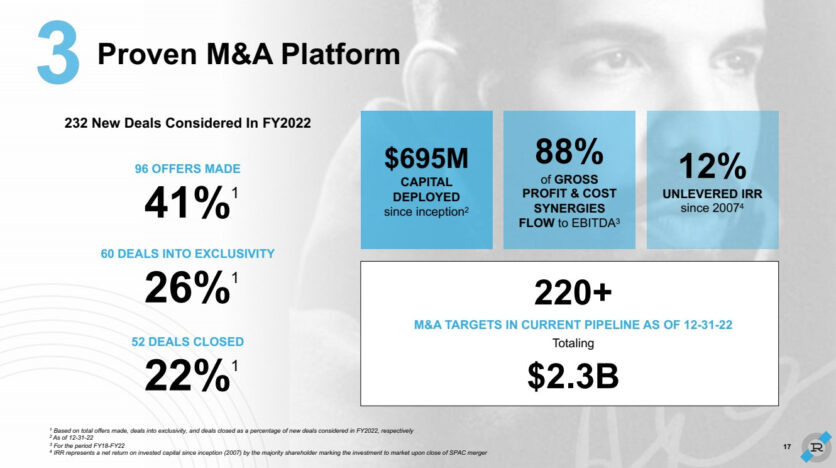 ---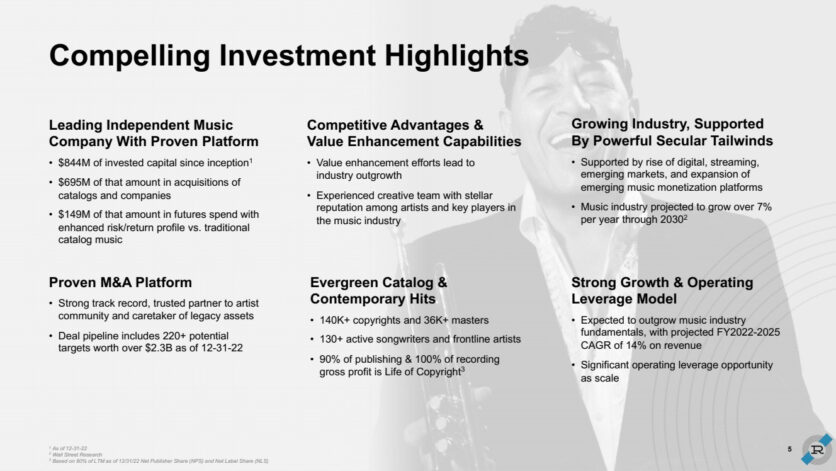 ---
2) It says it can bring an 18X multiple down to an 11X multiple, via its "value enhancement" machine
The below table is very interesting: a list of anonymized acquisition deals that Reservoir has struck over the past decade.
The most expensive of those catalog deals took place in 2021, for a USD $101.3 million purchase price (likely to be the Tommy Boy deal).
Reservoir has struck three other acquisitions of over $50 million each in the past five years, says the chart – one in 2019 ($50.1 million), and two in 2020 ($60.2m and $61.3m, respectively).
---
But the really interesting thing for Reservoir investors is the magic that happens after these copyright acquisitions have been executed.
Reservoir claims that its "value enhancement" formula – encompassing marketing and sync capabilities, as well as operational efficiencies, and legal settlements – leads to significant growth in a copyright portfolio's 'New Publisher Share' or 'Net Label Share' (aka annual gross profit).
For example, the firm says it paid an 18.3X multiple on the NLS ($5.5 million) of that $101.3 million acquisition in 2021.
But in its FY 2022 (12 months to end of March '22), the catalog's annual NPS/NLS had risen to $8.7 million – reducing the effective multiple paid to 11.7X.
Reservoir claims that its average acquisition multiple in the past few years has been 14.7X, and that it's been able, on average, to reduce the 'effective multiple' by 2.3X subsequently.
---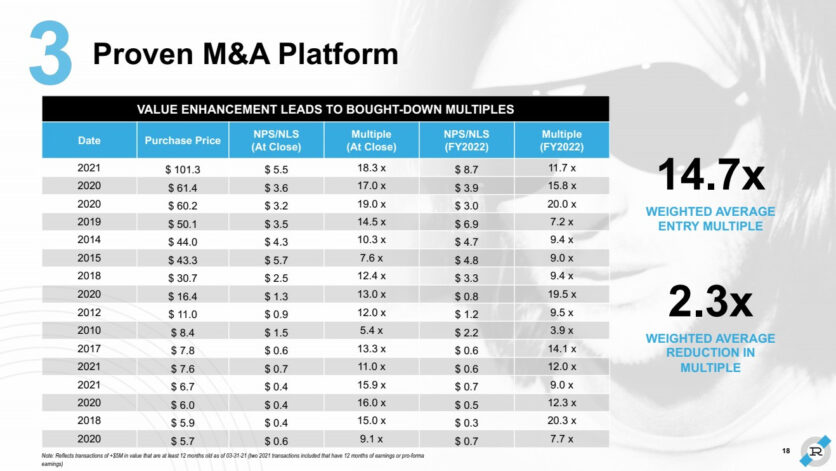 ---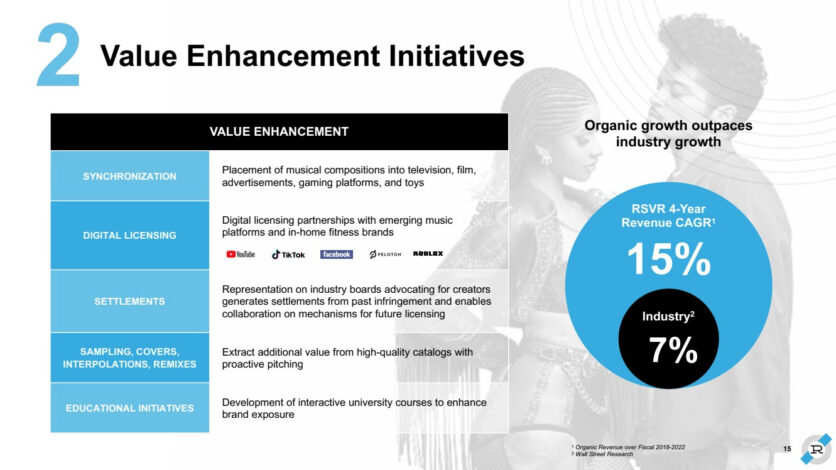 ---
3) More than half of Reservoir's publishing copyrights were released after the year 2000
Two stats worth knowing: Reservoir owned over 140,000 music publishing copyrights and over 36,000 sound recordings as of the end of December 2022 (see below).
In terms of its music publishing copyrights, some 57% were released after the year 2000, with 29% of them released after 2010.
Reservoir's publishing copyrights make the majority of their revenues in the US (58%); its sound recordings catalog, however, is more international-leaning, with ex-US territories contributing 56% of total revenue generation.
---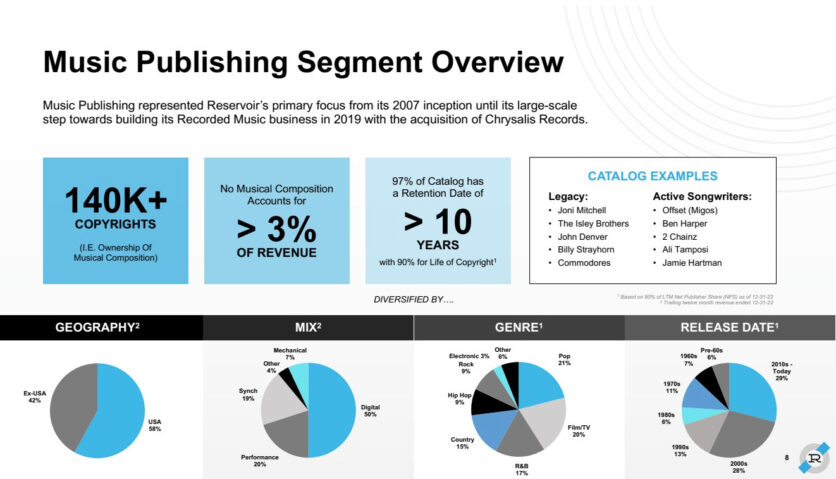 ---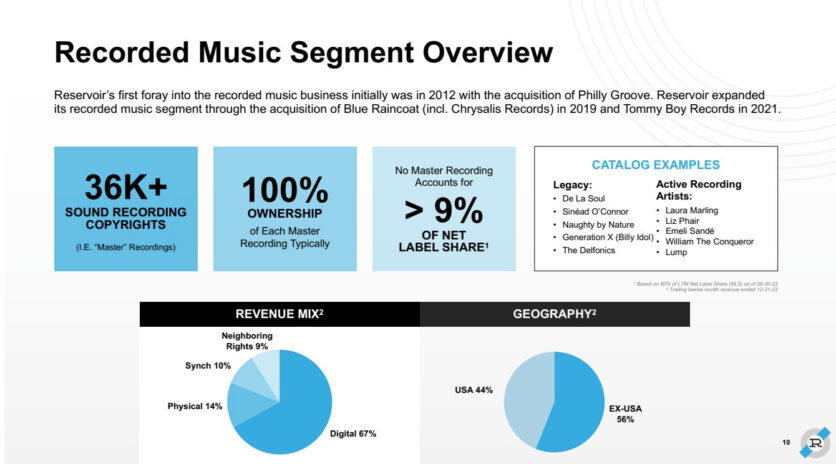 ---
4) Gangsta's Paradise is Reservoir's most lucrative recording copyright; It's Your Thing is its most lucrative publishing copyright
One recording copyright makes up close to a tenth of Reservoir's ≈$30 million in annual net recorded music revenue.
That copyright is Gangsta's Paradise, performed by Coolio, which generated 9.0% of Reservoir's 'Net Label Share' in the 12 months to end of June 30, 2022.
(Coolio, of course, sadly passed away three months after this date, in September 2022; fans paying tribute to the late rapper will have no doubt boosted the streaming popularity of the classic hit since then.)
Reservoir acquired Gangsta's Paradise via its purchase of the Tommy Boy catalog in summer 2021.
In terms of music publishing, no single copyright claims more than 3% of Reservoir's total annual 'Net Publisher Share': In the 12 months to the end of December 2022, It's Your Thing by the Isley Brothers was Reservoir's biggest publishing earner, claiming 2.18% of the firm's total NPS.
---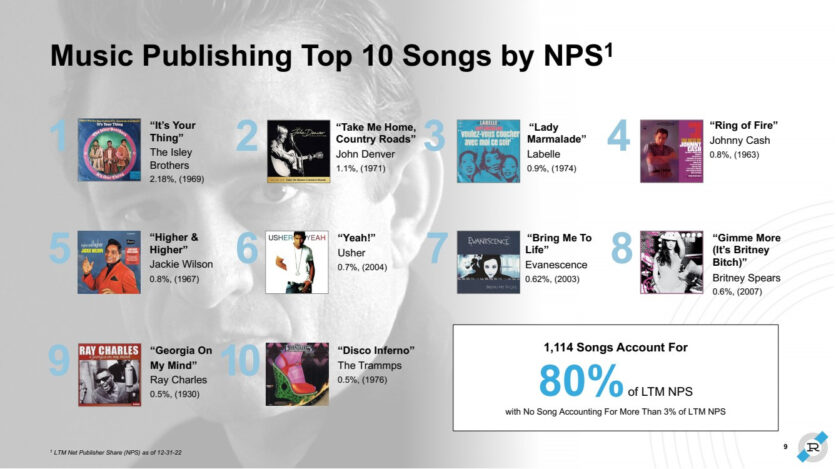 ---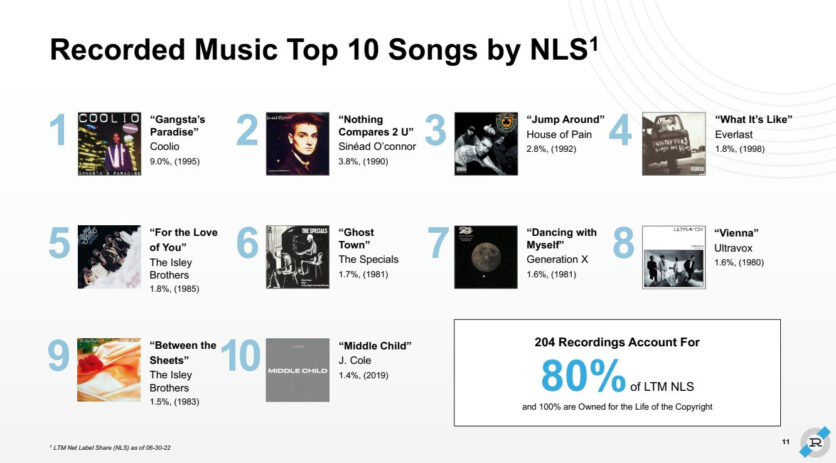 ---
5) It's done eight-figure go-forward advance deals, and has 130 active writers and artists
Reservoir is best known in the music business as an acquisitive music rightsholder, but it's also struck plenty of big-money advance deals with active writers and artists.
Reservoir's biggest ever go-forward advance came in 2016, when it paid an "American female hit pop songwriter" a $14.2 million advance – an investment for which it expects a 20.5% IRR (Internal Rate of Return, see below).
Its second-largest ever new roster investment, for $9.9 million, was paid in 2017 for an 'American hip-hop trio with two No.1 Billboard albums".
That's likely to be Migos: Reservoir announced worldwide publishing deals with the trio's Takeoff (RIP) and Offset in Q1 2017.
Reservoir's expected rate of return on that deal: 33.6%.
Elsewhere, Reservoir's biggest-ever rate of return came via a $6.6 million investment in a 'British 4X BMI & 2X Ivor Novello-winning songwriter' in 2014.
Reservoir says it's achieved a 52.8% expected IRR from that investment alone.
In total, Reservoir says it's spent $149 million in total to date on go-forward / 'futures' deals with talent, with a typical 23.3% IRR on "significant" deals.
Another slide in the March 2023 investor factsheet shows that Reservoir currently works with "130+" active songwriters and artists.
---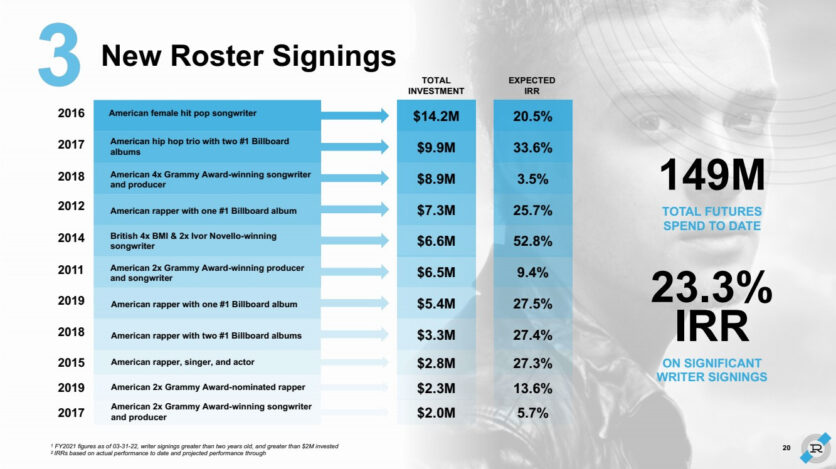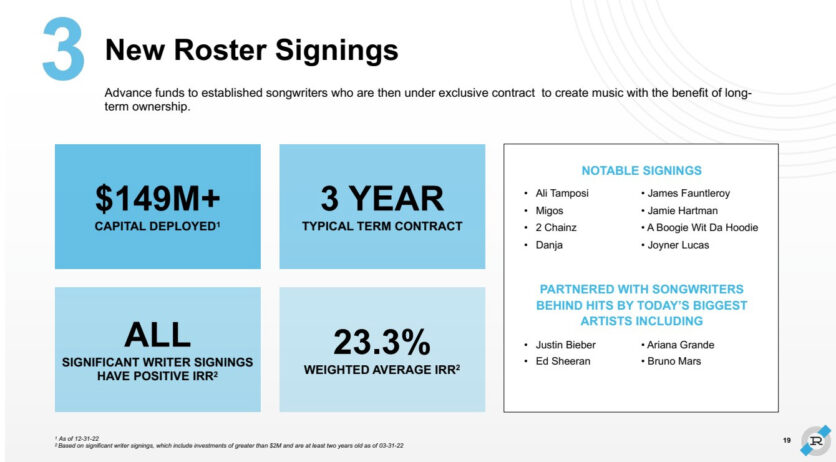 ---
6) It hopes the music rights industry will more than double in value by 2030
Reservoir is bullish over the future growth of the music rights industry, even as yearly growth in the industry's streaming revenues begins to slow in mature markets.
The firm forecasts that, by 2025, its annual revenue will top $160 million (the equivalent figure stood at $122.6 million in the 2022 calendar year, and at $107.8 million in its last announced fiscal year, to end of March 2022).
The firm cites 'Wall Street research' which suggests that the recorded music industry will be generating global trade revenues of $92 billion in 2030, with 1.3 billion paid music streaming subscriptions globally.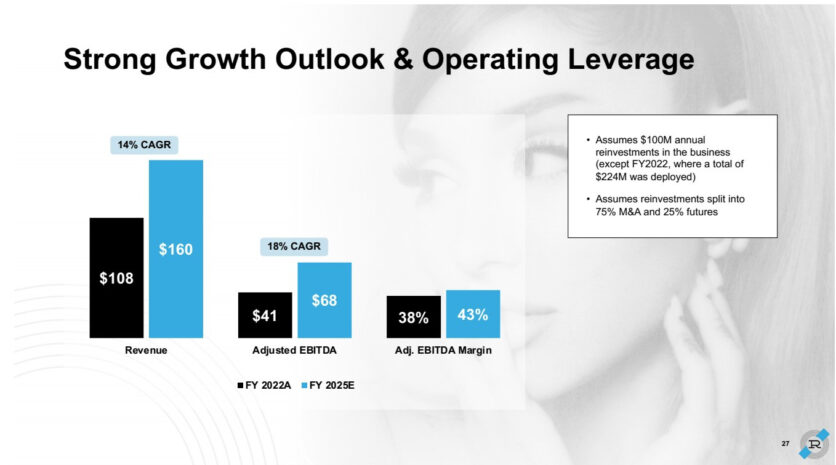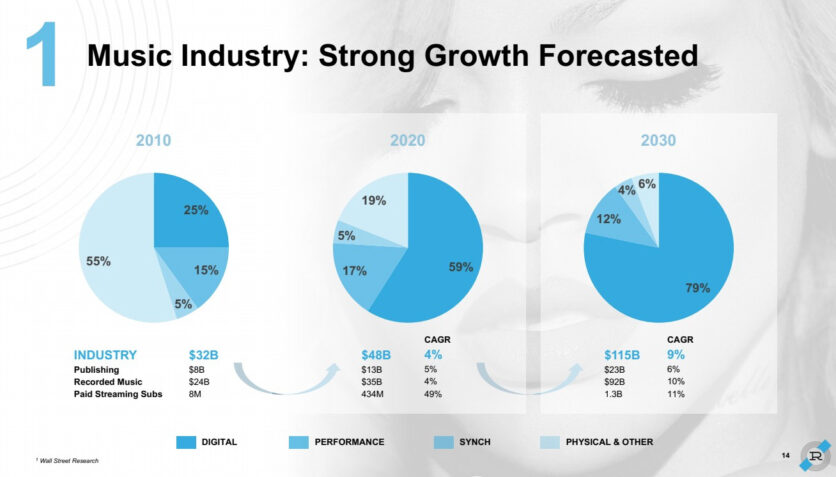 ---
Reservoir is expected to announce its FY 2023 results (and its fiscal Q4 / calendar Q1 results) in June or July this year.
The firm, which trades on the NASDAQ, has seen a 3.82% rise in the calendar year-to-date according to Google Finance, which suggests Reservoir's current market cap value stands at $411.1 million.Music Business Worldwide