Republic Records, one of the most powerful record labels in the United States, has officially axed the word 'urban' from its company lexicon.
According to a post on social media earlier today (June 5), the Universal-owned label says it will "remove 'urban' from our verbiage in describing departments, employee titles and music genres".
It adds: "We encourage the rest of the music industry to follow suit as it is important to shape the future of what we want it to look like, and not adhere to the outdated structures of the past."
Republic's artist roster – via its industry partnerships – includes The Weeknd (via XO) and Drake (via OVO), in addition to the likes of Ariana Grande, Taylor Swift and Justin Bieber.
Republic's statement comes a day after one of the industry's leading DJ/producer/songwriter management companies, Milk & Honey, made its own public statement declaring that it would "formally ELIMINATE the term 'Urban' at our company".
Los Angeles-headquartered Milk & Honey added in its post on socials yesterday (June 4, see below): "We will no longer be using the term as we believe it's an important step forward, and an outdated word, which has no place in 2020 onwards."
Milk & Honey's 60-plus clients – including the likes of Oak Felder, Jamie Hartman, David Hodges and Sir Nolan – have contributed to over 400 million record sales worldwide, from artists such as Drake & Rick Ross, The Chainsmokers, Alessia Cara, Khalid, Dua Lipa, Selena Gomez and many more.
---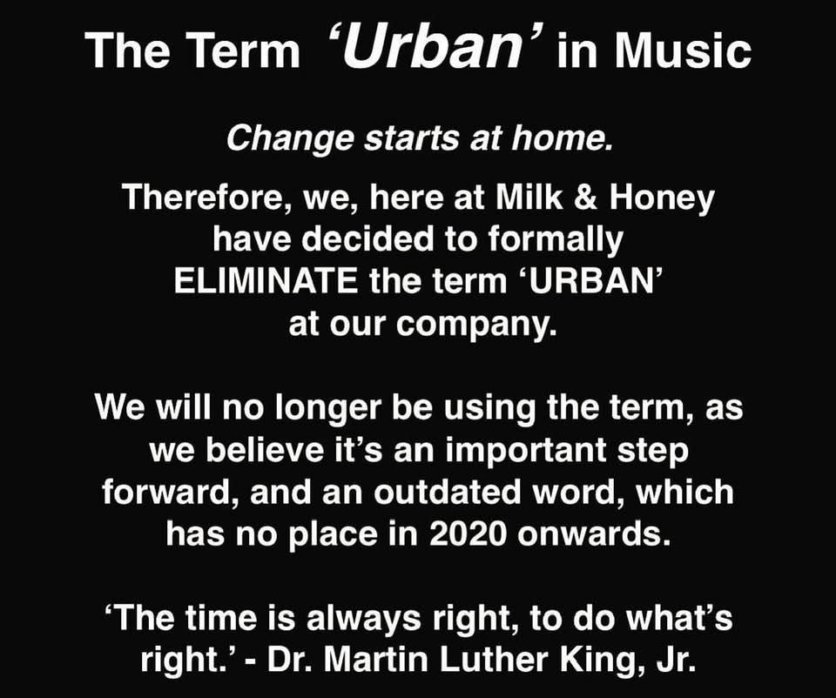 ---
In August 2018, MBW ran a report in which a run of senior executives in the global industry expressed their growing unease with the term 'urban music'.
Kobalt's then-SVP of Creative, Sam Taylor, commented: "I hate and despise the word urban," adding: "The word urban to me feels like a project. It feels like something that needs to be built. It's basically like, 'Oh this urban neighborhood.'
"It means it's low-income, not safe, etc. So when you say urban music, to me, it's letting me know that you think it needs to be rebuilt."
DJ Semtex – podcaster, radio presenter and an influential internal figure at Sony Music UK – told MBW's Music Business UK magazine at the time: "I despise the word urban. I know artists that do hip-hop, grime, or rap. I don't know anyone that does urban music.
"'Urban' is a lazy, inaccurate generalisation of several culturally rich art forms."Music Business Worldwide