Recorded music sales increased in Sweden by 8.6% during the first six months of 2016.
The territory generated 547.3m SEK ($64m) for labels and artists in the half-year period, according to IFPI in Stockholm, up on the 507.5 SEK ($60m) posted in H1 2015.
Streaming was responsible for 469.7m SEK ($55.2m) of this money, up 9.6% year-on-year – and claimed 85.8% of the total market.
Download income was tiny in comparison, falling 24.2% year-on-year to just 10.16m SEK ($1.2m).
That was almost half the sum generated by vinyl, up 69.4% to 19.13m SEK ($2.25m).
CDs declined by a mild 5.9%, while music video revenues grew by 14.2%.
---
The results help banish fears that Sweden's streaming growth had hit a saturation point – a worry first raised when Sweden's overall recorded music income dipped by 0.4% in 2014.
Per Sundin, Managing Director Universal Music Sweden / SVP Nordic Region (pictured), said: "Today there is no doubt that the Swedish music industry once again stands on sturdy legs.
"The continued growth of streamed music in Sweden is not only important from a global perspective to demonstrate that the young generation is growing up choosing legal options, but also locally because it creates strong economic conditions for music companies to invest more and wider in new talent."
"It is gratifying and encouraging to see that so many swedes today subscribe to a music service."

Jonas Siljemark, Warner Music
Jonas Siljemark, President, Warner Music Nordic said: "The subscription-driven Swedish market continued to be strong in the first half year of 2016.
"It is gratifying and encouraging to see that so many Swedes today subscribe to a music service.
"At the same time it is important that we continue to work for the value of our artists' music making it possible to increase investment in additional great Swedish artists."
Ludvig Werner, CEO of IFPI Sweden said: "It is very positive that the revenues from streaming music services continues to increase even in Sweden – the country many thought had reached a maximum when it came to streaming income.
"Music Interest obviously remains very high and the market is far from saturated."
Sweden's recorded music industry grew by 4.2% in the first six months of last year.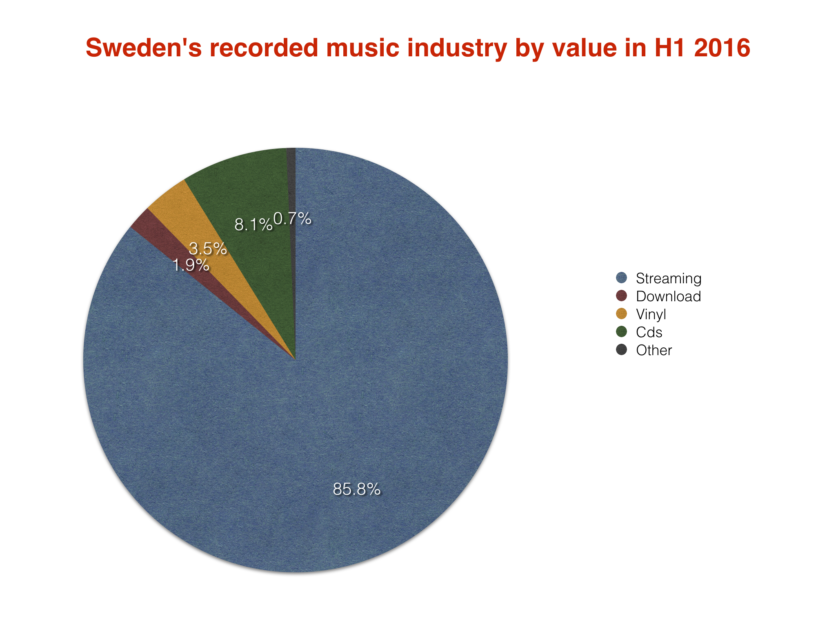 Music Business Worldwide