Ted Cockle was an '80s teenager, a home counties kid, and a huge music fan. Such a combination may conjure a well-worn showreel in your internal idiot-box – that of the insular small town boy, studiously piping The Queen Is Dead into his ears in bedroomdwelling solitude.
The truth, in this case, is the polar opposite. From a young age, Cockle liked going out. Out out. His thirst for spaces where culture meets noise was forged in his hometown of Aylesbury (more accurately, close-by Wendover), where, on the cusp of his teens, his head was turned by the world of breakdancing.
It might seem anomalous in hindsight, but there was a definite period in British culture where, for a few years in the mid-eighties, 'B-Boys' would descend on their local provinces – resplendent in day-glo skiwear, cranking up prototypical hiphop records on ghetto blasters, perhaps even showing off a spot of body-popping.
Speaking to Cockle at his office today – amid his sixth year as President of the UK's No.1 record label, Virgin EMI – it's not always easy to visualise his role in Buckinghamshire's take on the street culture of Brooklyn and the Bronx. But it happened, and he remembers it fondly.
"When I was about 11, in the early eighties, life was all about breakdancing, watching films like Wild Style and Beat Street; it was about dancing, amazing clothes, sportswear – and all the music associated with that," he says. From there, Cockle's love of getting out the house – and closer to the nearest booming speaker – evolved throughout his teenage years just as you might expect.
"There was nothing remotely cerebral to my listening to music," he admits. "It was about being in places where people dressed up, where people were dancing, and where people were having fun and getting messy."
This carefree, follow-his-nose relationship with music led Cockle to plenty of interesting places, not least running the Reaction Club at the Wellhead Arms in Wendover which, for a brief moment in the early nineties, became something of a hotspot in a fast-evolving house scene. Jeff Barrett, glorious indie hellraiser and legendary founder of Heavenly Records, held his 29th birthday at the venue, while the likes of Primal Scream, Paul Oakenfold and Andrew Weatherall all turned in DJ sets under Cockle's watch.
Cockle and Barrett formed a friendship, with the latter welcoming the former at a run of early Heavenly Social club nights at the Albany in Great Portland Street in 1994, where Cockle brushed shoulders with the likes of Paul Weller, Oasis ("Liam wouldn't go downstairs in case he got his trainers dirty"), Tricky, Terry Hall and the Dust Brothers – later renamed as the Chemical Brothers. How did Cockle get from this nineties social circle (developed around people and places who said yes to "football, drugs and house music") to his Presidential status today – on the 7th floor of Universal Music UK's super-sharp Kings Cross HQ?
We'll let him explain in a bit; fair to say, it wasn't meticulously planned. What is better documented is the impressive professional run Cockle's been on ever since he broke into the industry. His first music biz gig was a central sales role at Sony Music, before he was hired by Rob Stringer in marketing at Epic Records UK, where he played a key role in breaking Macy Gray and her smash hit I Try in 1999.
In 2005, Cockle was poached by Universal Music to join Island Records in London, which he would run during a purple patch for the label alongside Darcus Beese, taking the likes of Amy Winehouse, Mumford & Sons, Jessie J and Keane to a million-plus sales each. Cockle was then named President of Virgin EMI in 2013, following UMG's £1.2bn acquisition of EMI Music (and its then-Virgin Records subsidiary).
At Virgin today, Cockle and his team work with international megastars including Taylor Swift, Kanye West, Shawn Mendes and Justin Bieber, as well as UK-signed successes like Bastille, Emeli Sandé, Hardy Caprio and Lewis Capaldi. The latter, inarguably the biggest breakthrough British artist of the year, has now seen his debut LP, Divinely Uninspired To A Hellish Extent, sell over a million equivalent units worldwide; Capaldi's smash single, Someone You Loved, has done over six million.
Here, Cockle explains why he believes Virgin EMI offers more than your typical UK major record company, and expounds his argument on what a label can bring to an artist's career in 2019. But not before he informs us how a breakdancing kid from Wendover climbed to the top of the British record industry, without an ambitious bone in his body…
---
In the early nineties, you became attached to the British 'big beat' scene at the Heavenly Social and other venues. Around the same time you were at University in Bristol, where you put on club nights that helped forge more industry relationships. How did you get from there to major label land?
I started in telesales at Sony. My mum saw an advert in the paper, and I applied for it. And then, how things really started happening for me was that I went to a gig at the St Moritz Club on Wardour Street, where I bumped into [then-Epic Records UK boss] Rob Stringer and we got on. He was talking about records, I was buying the same records; he was talking about club nights, I was going to those club nights; he was talking about DJs and I knew those DJs, socially, just through going out. Rob ended up saying, 'You should come and see me.'
So I went and had a chat with him and thankfully an opening turned up at Epic in marketing. That was '98 or thereabouts. They were having a bit of a moment at that time: George Michael, B*Witched and the Manic Street Preachers had all done a million domestically.
---
What was Epic Records and Sony like back then? And what was Rob like as a boss?
Listen, you can never fault Rob. There's a balance and there's an energy there; I think the main learning [for me] from him is you just felt a part of a team. And when he moved [to the US], people were happy for him and wanted him to do well.
---
What was your career trajectory at Epic?
I was there for a few months and then somebody left, so I took over on the product/artist side. And the first thing I did was look after Macy Gray. America hadn't connected with her, because she had a bit of a hybrid sound. And me and her just got on, partly because she liked a night out; she liked a night out more than anything! We did one song, Do Something, and then we did I Try and it became enormous.
"You get good fortune in this business or you don't, and I was lucky enough to get some at Epic."
From there we sold 1.6 million albums. Then you'd get other international acts, like Jennifer Lopez and Shakira turn up, and they're like, 'Oh, he's alright, he did Macy's first album.' You get good fortune in this business or you don't, and I was lucky enough to get some at Epic. Then Rob became the [Sony Music UK] Chairman and Nick Raphael came in is as the [Epic] MD. Thankfully, I got on just as great with Nick who, as you will obviously be aware, is a high grade lunatic.
---
What was that change in personnel like?
Nick was very different to Rob. 50% of the time I still disagree with Nick to this day. But even when he's wrong, what he prompts you to think about and discuss is always of value, and I love him. Nick's got the biggest heart out there for a very competitive animal. He's happy for other people to be successful; he never tries to stop anybody being successful.
---
How long did that run at Sony last for you?
I was there for 10 years. [Sony] then merged with BMG, who were down in Putney. I liked the West End and Putney wasn't quite where I wanted to be. Then a combination of Lucian [Grainge] and Mr [Nick] Gatfield approached me to come over here [Universal]. I joined Island as General Manager.
Again, it was one of those good fortune things; there was an artist that nobody really knew what to do with, Mika, and I had a little go with one song, Grace Kelly. I pulled Iain Watt in as manager – he's a pal of mine who had been head of press at Epic. And then all of a sudden we did 1.4 million on [Mika's] project. We also had Sugababes, McFly, Busted, etc. And then Amy exploded [with second album, Back To Black].
---
Do you remember how and when Amy Winehouse first came across your radar? And when you first heard the records that would make her a star?
Yeah, Raye [Cosbert, live agent] is an old friend of mine, and he'd invited me to come and see her early. So I'd been to shows through the [first album] Frank days, just as a punter. And then, you just remember these demos arriving. But the thing is, nobody knows. I'm really fed up with hearing people go, 'I just knew [it was a hit], as soon as I heard it.' As a UK MD – and I'm going to sound cocky, but I mean exactly the opposite – I've been around as many things that have gone to a million [sales] as anyone.
That's just factual. And I'm telling you, on every one of those projects, nobody 'knew'. I certainly didn't fucking know. You have a hunch, you have a feeling, but you don't know. And after Frank, it was like, that was quite a lot of money spent, and it did alright, but only alright.
I'm really fed up with hearing people go, 'I just knew [it was a hit], as soon as I heard it.'
And then these [Back To Black] demos are coming in and, like I say, there was just this little feeling. And that's as much as you ever get. When that happens, when there's that first sign of growing confidence, what you do is, you make a few more calls; when somebody says no, you make them say no three or four times before you drop it.
You don't say, 'Are you sure? Because I think this is going to do a million.' You say, 'Listen; I don't know, but I saw the gig the other week, and I've heard Love is a Losing Game… so are you sure you're sure?' And then we were there [Back To Black went on to sell over 12 million units worldwide]. And then Gatfield went and Darcus and I took over Island.
---
Was Nick not there for Back To Black?
He was there at the start, but then it turned into a two and a half year record, and he wasn't there by the end. And then, you know, we had that run: Mika did a million, Florence did a million, Jessie J did a million, Mumford did a million, Keane did a million.
Many labels have particular highs, but – like Polydor had for a period with Lucian and David – we then had a great run with multiple successes; we had quite an amazing run all within our own four walls.
---
Why did your partnership with Darcus work so well?
Our MO was actually diametrically opposed; we are complete opposites. If an email came in, there would never be any confusion about who answered it. Basically, I answered 90% of them and Darcus may or may not have answered the rest [laughs]! And, once again, it's good fortune. [Darcus] didn't like to do any of the shit that I did. And he had an energy and a different thing that I didn't have. It was a thrown together partnership that just worked.
---
What, roughly speaking, was the line of demarcation between you?
I mean, I do a lot of strategic, administrative, organizational stuff, and I'm 100% fine with that. And Darcus likes to be more vocal, visual, front-and-centre. He's that person who injects energy into the room, and I bring the detail of the plan to the project.
It was easy, it wasn't something that needed to be worked out between us, or discussed in any way; it existed already. But I suppose if you wanted to boil it down, when an artist or a manager walked into the room, it would be: 'Oh, okay – there's the dude who brings the vibes, and there's the bloke who fills in the forms.'
---
When you look back on the end of the Amy story, how do you reflect on it? And how do you think the industry should reflect on it?
Amy was a troubled soul in a number of ways: she experienced a range of issues that often made life tough for her. Issues with self esteem, with relationships, with drugs and alcohol. You know, it's incredibly difficult to save people from themselves.
It was such a waste of such a phenomenal talent. We were aware of just how sensitive an individual she was and so we really took the foot off any pressure for her to support her records from 2009, in order that she could focus more on her health.
---
On a less personal and broader business angle, what are some of the key lessons you learned in the Island days about working with artists?
If you're going to challenge an artist, or suggest a change, you have to be 100% sure – otherwise you go with their idea, every time. Interestingly, at the moment, a lot of artists in that British urban lane have been incredibly active and successful at creating and defining themselves. So when they come in [to sign a major record deal], you've just got to go, 'What are you planning to do? Tell us your plan, because we want to amplify and magnify what you do.' Where record companies go wrong sometimes is when they try and create that thing; that doesn't work very well.
---
What do you mean, exactly?
You know, we keep coming back these days to people being critical about labels; 'What the fuck do labels do?' and all that. At a fundamental level: we amplify and magnify the best bits of what artists are already doing. We offer sweat and infrastructure to help them achieve their goals. And – I wish I could find another word for boring here, but it is what it is – we do a lot of the boring stuff.
The magic is with the artists, the magic is with the music, and so much of that comes from the performers and writers themselves. But go through the big acts out there now [and you see a pattern]: Stormzy was doing a load of stuff on his own; Ed Sheeran was doing a load of stuff on his own; Lewis Capaldi was 300 gigs in, and had 500 people coming to his Glasgow [shows].
The skill of the label is to spot that talent as early as possible and provide the framework and support structures that enable it to prosper. The important thing is that [those artists had] defined themselves. If you arrive at a major record company having defined yourself as an artist, then major record companies can be amazing places as they, in the sporting tradition, tone and build the necessary muscles and help provide the laser focus.
---
How did your switch to Virgin EMI come about?
Going back to the Darcus thing, what we were doing [at Island] was working; this world of Jessie J and Ben Howard and Mumford and Amy. People were saying our partnership had run its course – it hadn't! I was very comfortable and very happy there. But I work for a company [Universal Music Group], and that company had bought EMI, and if you've shown you can do something [in one place], then maybe they'd like you to try and do it [in another place].
---
What persuaded you that it was the right move in the end?
[Laughs] It was presented as a fait accompli! Pleasingly, I get on very well with Mr. Joseph, he's very persuasive and very inspirational and so it was never an issue; there was no chucking toys around, but, yes, it was very clear that this would be the right direction of travel for me. The thing is, and this always comes across wrongly, but I don't have ambition, not like some people do. I really just want and need to be amongst stuff that I like in life. I don't mind a pound note, but I'm not obsessed with a pound note, you know?
---
What sort of shape was Virgin EMI / Virgin Records in when you took over?
Emeli Sandé and Bastille were in their prime; both were doing great here and great internationally. And then, six months down the line, we took over the Mercury [label] and merged that [into Virgin EMI], so we had the Grange Hill/Rodney Bennet thing of putting the two [labels] together. I'd seen Sony merge with BMG, and there were a few aspects of that I thought were good, and a few things that were a bit hurried.
The thing is [at a merged companies], nobody likes each other to begin with, but if you let everybody go down the park, let them fight a few battles with each other, you'll be okay. I put a few learnings from Sony/BMG into Mercury/Virgin. And we've had a process whereby, somehow, we've ended up being the [UK's] No.1 company for seven years.
---
Your brief was very clear at the time, wasn't it? Be the No.1 label; stay the No.1 label.
That's right, and in that sense we [as major record label heads] are like football managers: you're given a very small window in which to deliver. And if I look around at the people that have run the competitor companies in the time that I've been doing it, there's quite a list of names, do you know what I mean? The fact that we've survived, and that I've survived, I sort of go, 'Bloody hell, that's alright.'
---
What have been some of the contributing factors to that survival? Hit records and market share, of course, but has anything else played a role?
Hopefully we are a company that recognises the role of the record label. We're about service, energy, activity, sweat and infrastructure. You don't know what's going to sell, no-one does – even those who say they do.
But you know if something has value, and hopefully you have a network of managers [representing acts signed to you] who have some confidence that you are going to do the best for their artists. You know, we live in a world whereby the easiest thing to have a pop at Virgin [EMI] with, and people do, is, 'They're so busy.' However, what I very much hope that you do not hear is: 'I've heard everybody has a really shit time with Virgin.' It's just, 'They're so busy.' If you sign here, I will say, 'You have as much time as you need.'
"Nothing's a bed of roses, there will always be some frustration, but, more often than not, I'd like to think all of our [artists] are given an excellent level of service."
But if you're the only artist on a label [roster], everyone just keeps saying, 'When's your record coming?' That's a shit situation to be in. Lewis was given two and a half years [to deliver an album], because we've got other stuff going on.
Plus, we're a broad-based label, so we're going to be busy anyway. Nothing's a bed of roses, there will always be some frustration, but, more often than not, I'd like to think all of our [artists] are given an excellent level of service. We achieved whatever we did in the singles chart [Virgin recently became the first label to have nine tracks from multiple artists in the Top 20 of the Official Singles Chart at the same time], and then Lewis still manages to come through. That tells you something.
---
Is Lewis Capaldi the ultimate proof of your point about 'nobody really knows'?
There's this Scottish bloke who, by his own admission, doesn't tick every conventional box. We heard the record, and I'd done a number of acts with Daniel Lieberberg [then head of Universal domestic labels in Germany, now with Sony, who'd signed Capaldi to Universal's system] through Germany – that I'd been completely unsuccessful with, unfortunately! And then Daniel said, 'I've got this dude.' Lewis came in, and we were like, 'Right, this is worth some serious time…'
---
It fits into that category you mentioned earlier. Not, 'Here's our next million seller,' but, 'Let's make those extra calls, let's push that bit harder'…
Yeah, there was just this little feeling, y'know? And as you were around him more and more, you learnt he was always fascinating, and always a great conversation.
---
Is this another one of those 'British artists embraced by German media and fans first' stories?
No – this didn't happen in Germany. There was a little bit of personnel change there [as Daniel Lieberberg left UMG] but, thankfully, we [in the UK] just kept pushing.
As an example, I was with another label head, in October [2018], waiting for the BRITs Critics Choice to be announced, and I said, 'I think it should probably be Sam Fender, Freya Ridings and Lewis.' And this person goes, 'What the fuck are you saying it should be Lewis for? You're the only one who thinks it should be Lewis.' Well I did, and I still do!
Aside from a few bits, the album was done, helped by the time [Virgin gave Capaldi to write and record], and that meant we could really plan some steps. It takes a lot to get started, [but once] the energy's there, the excitement's there, if [an artist] is doing the album on the move, with all the expectation around them, things can get a bit shit.
Much better to get the album done, and let them grow. Managers, sometimes, when they turn up [to labels], they're just like, 'I'm gonna take the highest bidder.' And you understand that – 'I'm fucking skint, my partner's shouting at me about the mortgage payments, I can get 125 grand here or 250 grand there.' But, empirically, for the success of an artist, you go where the passion is, and where you know people will give you time. And that's what happened here.
---
What's the plan now with Lewis?
Well, pleasingly, he's got global momentum now. Nobody's getting carried away, but there are the obvious places where you'd like somebody to be successful that seem quite poised and ready for him. I admit I had some concerns [ahead of the US push], in terms of how his vibe might work, a bit of a culture clash. But at the New York Irving Plaza show things were going down very well. And with Lewis, there's always the songs at the heart of it.
---
Can I ask you about Universal's famously intense competition culture. Tom March, for example, worked with you for a long time at Island, and now you fight each other every day. Is there more rivalry with, say, Polydor, than there might be with Atlantic or another label outside the building?
There is, yeah. I've become acclimatised to it. That's the life you're in here.
---
That culture of internal competition, say some, all comes from Sir Lucian Grainge – that it's a deliberate tactic to keep Universal winning.
The greatest attribute about Lucian, that David also fully backs, is that he knows a fair amount of stuff won't work, regardless of best endeavours. So an absence of fear of failure remains the biggest driver at the heart of this company. I've worked for two companies in my career and I can tell you that, here, you are just left to get on with something. People win a deal, and then they are allowed to make a pure record.
Mumford & Sons [at Island] was a very modest deal, and they were allowed to make whatever record they wanted to make. That [process] is not mucked up by a load of other voices, or interrupted by a load of questions. If you had 10 good reasons at the time you signed an artist, Lucian's in. There's never a witch hunt. Plus, it means nobody else has got it – and he likes that!
That said, if I do 10 things completely wrong, in a row, I'm not here anymore. That's super clear. But, so far, [at Virgin EMI] we have an enormous number to hit [and] a certain market share to get, and for some strange reason we've been able to do it; we've been No.1 and the most profitable or whatever for quite some time.
---
Talking of big numbers, are some deals getting a bit silly at a time when UK music, at a blockbuster level, is increasingly struggling to sell globally?
Yeah, but I mean, you know, nothing changes. We've been through dance music taking a million quid for a one-off song, and, thankfully, that's had its moment. Currently the British urban lane is the one where that kind of thing is going on more than in any other [genre]. I could tell you about one £1.6 million deal, or one £700,000 deal – which was for two tracks – which I'm thankful [Virgin wasn't involved in]. But I could also name a few deals I've done that are stupid; it's a fair cop, we can all get caught up in it.
---
How would you describe David Joseph's leadership style here at Universal Music UK?
David is the master of relationship management and has a fantastic intuitive read on people and records. However, alongside that he always has far wider agendas going on. He understands corporate responsibility better than most. His mission is for Universal to be as progressive as we can be, with the greatest amount of corporate responsibility, while embracing every role in the community and wider society that a company should. And he is also very, acutely aware of the cultural value of music.
We [label heads] sink or swim ourselves. I'm sure it will come again, and I'll be an embarrassment at some point, but, after a decade or so of somehow working things out, I think there's trust there [between Joseph and Cockle]. Particularly because [Virgin EMI] has had years when there have been good front of house glories, and other years where we didn't have any front of house glories, but we were business efficient and made it work anyway.
---
Was last year one of those to some extent? Because there was a lot of Queen, there was groundwork for Lewis, but there wasn't much 'front of house'?
Yeah, that was a business efficient year. When you're a non-A&R person running a [record] company, like me, I always say, 'I don't mind getting a bar job to make ends meet.' [This, if it wasn't clear, is an analogy: Cockle is saying he doesn't mind doing the dirty jobs to get his label to hit its numbers.] With A&R people running labels, they feel everything [their label] does is a reflection of themselves and their dynamics, and they won't do that. Whereas I'm like, 'I know what my responsibility is, I'll take the bar job and pay the bills.'
---
How do major labels go about discovering and developing talent these days? And what role do managers – and good relationships with managers – play in that?
For a label of this size, it's the broadest range of criteria: there's somebody [signed after playing] in the corner of a pub; there's somebody on ridiculous streaming metrics; and there's somebody managed by someone that you're doing three other acts with. We use every single device for finding and accessing talent.
---
Going back to that sort of 'label-bashing' that you spoke about earlier, managers now say they do more artist development than ever, and that labels want finished packages…
It's interesting: who does the development in those cases? Do the managers do the development? Do the artists do the development themselves? And, actually, doesn't development then continue over a very long period of time? I'll de-personalise it, but there are plenty of high profile examples out there, where the artist is saying, 'I want to be independent, I want us to do the development, to do everything,' and the manager's going, 'For fuck's sake. I could really do with plugging into a [label] system,' – because they're having to sort out a radio plugger in France today and a press person in Holland tomorrow, with America looming in the background.
Everything in this business happens because of a combination of characters – everything. [John] Lydon and [Malcolm] McClaren are the ultimate example, arguing about who 'created' the Sex Pistols. It's like, don't worry about the percentages, you're always going to disagree on that, but the fact is, you both needed to be in the room; that, no matter what fallout follows, should be remembered. When it comes to success, it's always a combination of people, and a combination of factors.
---
But what about artists doing things independent of a frontline major label, or even secretly partnering with a major label in an arm's length-type deal?
Sometimes it's about the narrative. [Some deals sought by managers] are literally, 'Hang on, you want us to fund everything, you pretend you're doing it yourself, but with no financial responsibility at all?' It's like: 'You want to set up an independent coffee shop that looks really tasteful and distinctive, and which has a sign on the door about supporting local businesses – but you also want to be funded by Starbucks?'
Listen, I'm not being critical, I'm arriving here along the path of, 'We're all insecure [about this trend].' But I just look at the facts; take the biggest examples of [independent artists], and none of [their commercial performance globally], I think, is par excellence.
Plus, never mind record companies, some artists are tied to the most terrible management deals ever. And I go back to it – do you know what dullards like us do? The boring label bit, the sweat and infrastructure: 'Are you alright Spotify?' 'Are you alright HMV?' 'Are you alright Apple?' 'Are you alright Deezer?' 'Are you alright Amazon?' Can we keep you all happy – so that we can not just come to you with an album this year, but we can come back next year, and in five years, and in 10, and you'll still be looking to support us? Excellent, job done; here's another great record for you…
---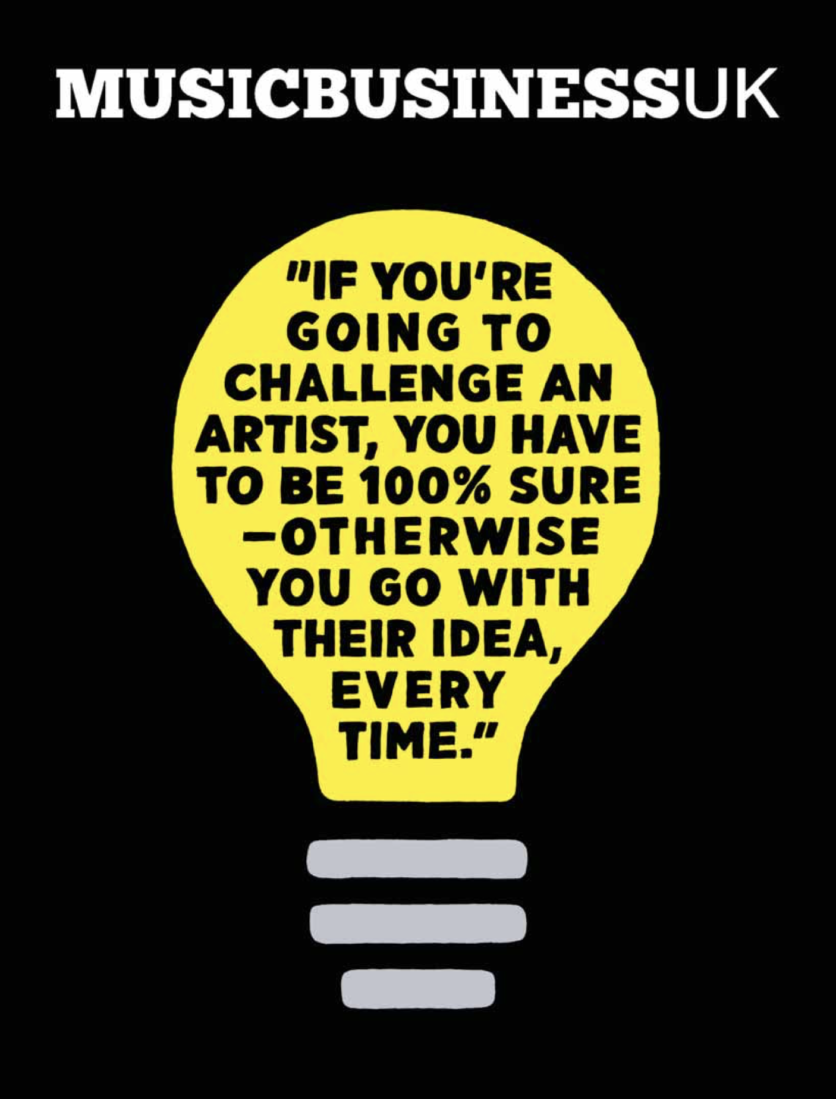 This article originally appeared in the latest (Q3 2019) issue of MBW's premium quarterly publication, Music Business UK (pictured), which is out now.

MBUK is available via an annual subscription through here.
All physical subscribers will receive a complimentary digital edition with each issue.Music Business Worldwide