The MBW Review gives our take on some of the music biz's biggest recent goings-on. This time, we take an dive into new stats provided by the IFPI about record companies' expenditure worldwide in 2015. The MBW Review is supported by FUGA.
---
The global recorded music business spent $2.8bn on A&R in 2015 – its highest figure in more than five years.
The figure comes from a new IFPI report, Investing In Music, co-signed by both the majors and worldwide independent label group WIN.
According to the report, which you can download through here, the labels allocated $300m more on A&R in the year than they did in 2013.
However, expenditure on marketing dropped by approximately $100m in the same period.
Cue a fierce intra-label debate, then: in the age of streaming, what constitutes the better investment?
Labels are evidently struggling to break new artists to an economically sound degree this year, while an ongoing marketing push is key to ensuring lasting popularity on the likes of Spotify.
On the other hand, the more you invest in A&R, the better your (slim) chances of finding that act who changes the entire commercial make-up of the company.
---
The IFPI has previously published two Investing In Music reports, covering 2011 and 2013.
As you can see in MBW's chart below, overall spend on combined artist A&R and marketing last year returned to the same level as 2011 ($4.5bn).
In addition, the A&R spend was higher than that year's equivalent allocation ($2.7bn).
In fact, it matched the A&R spend of the global record business as far back as 2008 ($2.8bn).
However, 2015 represented the first year in half a decade that global label marketing spend dipped under $1.8bn.
Its fall to $1.7bn (technically 'over $1.7bn') represented a 5.6% drop on 2013.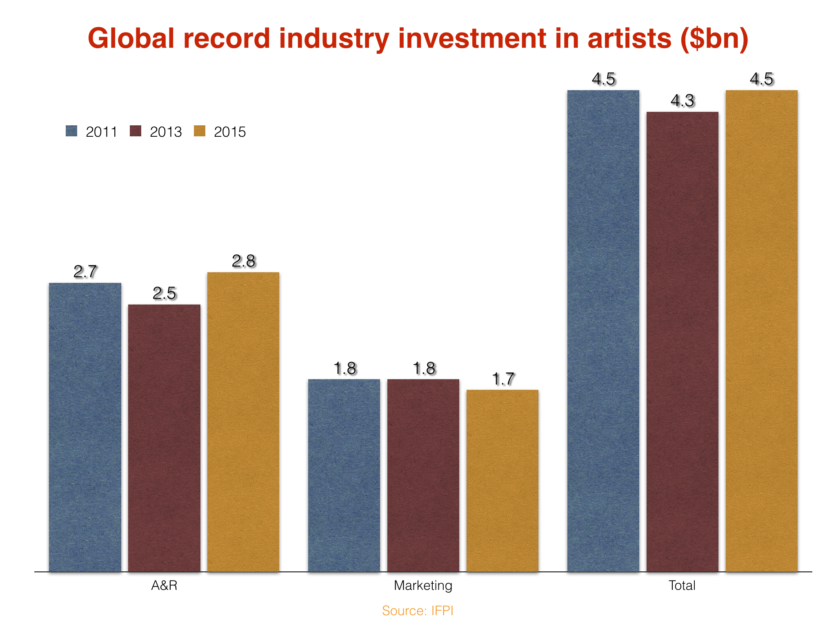 ---
So why, exactly, is A&R investment climbing?
We get a big clue from another bit of anonymised info from IFPI.
According to the Investing In Music report covering 2011, the cost of breaking a major new artist in a major music market cost up to $1.4m.
At least $1.3m of that 2011 average per-artist payout broke down like this:
Advances: $200k
Recording costs: $200k
Video production costs $50k- $300k
Tour support $100k
Marketing and promotional costs $200k – $500k
---
Yet in the 2013 and 2015 reports, this total 'cost of breaking a major new artist' figure had grown.
It now demands, according to IFPI estimates, somewhere between $475,000 and $2m per act.
So what's changed in the past five years to push the top-end sum up by half a million dollars?
Well, the 2015 payout breaks down like this:
Advances: $50k – $350k
Recording costs: $150k – $500k
Video Production: $25k – $300k
Tour Support: $50k – $150k
Marketing & Promotion: 200k – $700k
As you'll noticed, compared to 2011, the premium end of marketing, recording costs and tour support – according to the IFPI – have all grown considerably.
---
As IFPI has pointed out, all of the above should be seen in context of declining record company income over the past two decades.
The trade body says that the $4.5bn investment 2015 figure means that record companies invested 27% of their revenues back into A&R and marketing last year.
It adds that, of that 27%, record companies invested 16.9% of revenues in A&R – a higher proportion than the equivalent research and development (R&D) investment ratio of all the leading sectors included in EU Industrial R&D Investment Scoreboard 2015.
Jointly introducing the report, Frances Moore, Chief Executive of IFPI and Alison Wenham, CEO of WIN, said:  "Investing in Music highlights not just record companies' financial investment in artists, but also the enduring value they bring to artists' careers.
"In the digital world, the nature of their work has evolved, but their core mission remains the same: discovering and breaking new artists, building their careers and bringing the best new music to fans.  These are the defining qualities of record companies' investment in music."
---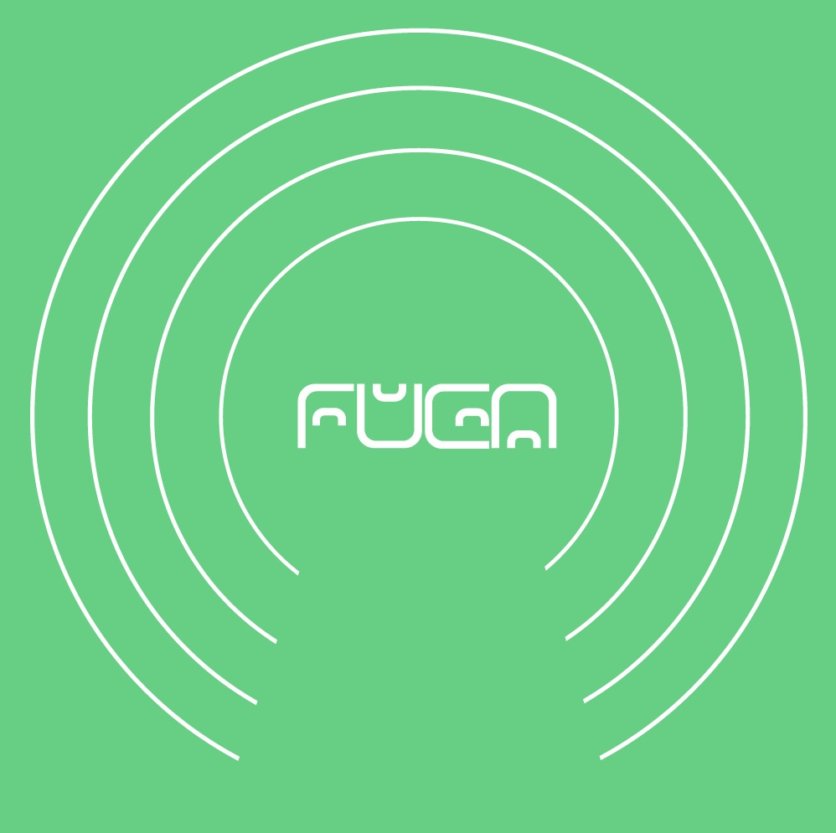 The MBW Review is supported by FUGA, the high-end technology partner for content owners and distributors. FUGA is the number one choice for some of the largest labels, management companies and distributors worldwide. With a broad array of services, its adaptable and flexible platform has been built, in conjunction with leading music partners, to provide seamless integration and meet rapidly evolving industry requirements. Learn more at www.fuga.comMusic Business Worldwide