MBW Explains is a series of analytical features in which we explore the context behind major music industry talking points – and suggest what might happen next.
---
What's happened?
On paper, last week wasn't a bad one for the three major music companies: Universal Music Group, Sony Music Group, and Warner Music Group.
On Tuesday (March 21), global trade body IFPI announced, via its Global Music Report, the official worldwide revenue figures for the recorded music industry in 2022. These reflected double-digit annual growth in two crucial areas: Subscription streaming revenues (+10.3% YoY) and overall streaming revenues (+11.5% YoY).
The following day, more good news: Guggenheim Partners announced it was upgrading its stock ranking for both Warner Music Group (WMG) and Spotify (from 'Neutral' to 'Buy'), and its positive sentiment went far beyond just those two companies.
A research note from Guggenheim's Michael Morris and team stated: "We believe that the global music industry – including labels, platforms and artists – has the potential for market-leading financial growth for an extended period."
Meanwhile, Morgan Wallen, signed to Big Loud but releasing under license to UMG's Mercury/Republic Records, was busy reminding everyone of the power of megastars – and of major label distribution.
Wallen's new album, One Thing At A Time, released March 3, sold 501,000 equivalent copies in the States in its first week (calculated via streaming plus sales), and will blast beyond 'million seller' status in the US by the end of this month (per Billboard/Luminate data).
So: are the heads of the major music companies happy? A little, sure. For now.
But on one particular subject, perhaps more than any other, they remain vocally perturbed: the superabundance of music releases hitting streaming services every 24 hours.
---
What's the context?
Perhaps the most enlightening page in the IFPI Global Music Report this year is the very first one in the book (pictured inset) – carrying succint reactions from the three heads of the majors to the current state of the market.
There's some positivity from Sir Lucian Grainge (Universal Music Group), Rob Stringer (Sony Music Group), and Robert Kyncl (Warner Music Group) in these statements. But there's also a clear call for caution regarding threats to the industry's health.
Some of this caution is directed toward the future potential impact of Artificial Intelligence on music.
But the biggest note of concern – especially from Universal and Sony's corners – is the very-much-already-here impact of the deluge of DIY-distributed releases hitting Spotify and co. today.
In his comments, Universal's Grainge calls for the music industry to focus on building "an environment in which great music is not drowned out by an ocean of noise".
Sony's Stringer, committing to Sony's "high quality" output, encourages his music biz peers to remain "vigilant against any race to the bottom offered up to consumers".
Readers of MBW will know exactly what Stringer means by that.
Last summer, we quoted him explaining to Sony investors that his company was – primarily via its ownership of The Orchard and AWAL – "cast[ing] our nets deeper and deeper" to bring increased volumes of independent music into Sony's distribution system.
Part of the reason Sony's doing this, obviously, is to fight the inevitable market share erosion that all of the majors face from the glut of independent releases now hitting platforms.
Yet Stringer also seemed to suggest to his investors that there was a certain minimum level of quality in music that Sony Music was unwilling to fall beneath, even on a distribution basis – tracks which he memorably termed "flotsam and jetsam… just stuff that's taking up market share because of scale".
---
MBW has reported on the downward market share impact for the majors on services like Spotify from this flood of music before.
But we've never seen solid, verified data pertaining to the precise scale of the problem for the major record companies. Until now.
Last week, MBW ran a popular analysis in which we cited a presentation from SXSW 2023 given by Rob Jonas – CEO of the entertainment data and insights company, Luminate.
The segment of that presentation that we cited referred to the tens of millions of songs currently sitting on music streaming platforms that fail to attract a single play.
But there were a few more knockout stats revealed in Jonas' presentation, not least the one represented by the slide below.
---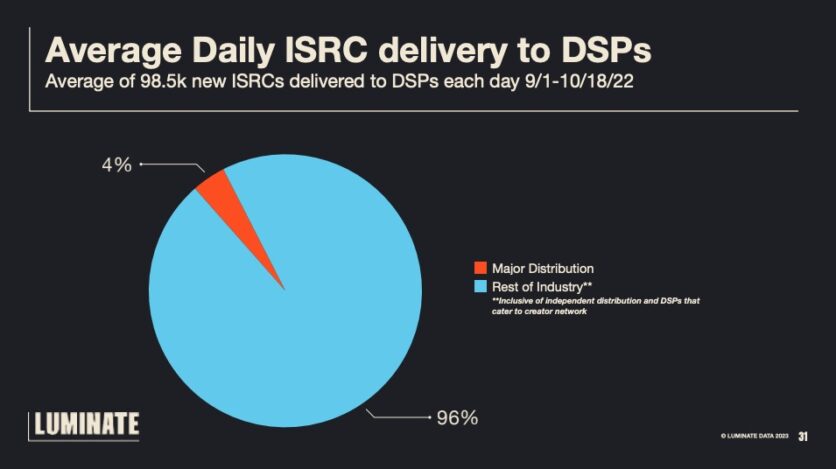 ---
As you can see, an average of 98,500 separate music files (monitored via separate ISRC codes) were distributed daily to audio and/or video streaming services during the period in question (September 1 – October 18, 2022).
This tells us that the ≈100,000-tracks-per-day streaming upload estimate discussed by major music company heads last year was broadly accurate.
But digging deeper into the data presented by Jonas reveals something else, too: the stark numerical scale of the "flotsam and jetsam" issue for the major record companies.
According to Luminate's numbers, just 4% of those 98,500 average daily track uploads were distributed by the three majors and/or their subsidiaries and affiliates.
By contrast, 96% (!) of the 98,500 tracks were distributed by companies outside of 'the big three'.
To put it another way: The major record companies are distributing, on average, 3,940 tracks a day.
That's a drop in the ocean compared to the ≈94,500 tracks being released by 'non-majors' – i.e. independent labels and, mainly, by self-releasing/DIY artists via platforms like DistroKid, TuneCore, CD Baby, and UnitedMasters.
Last twist on these numbers: For every track released via major record company distribution today, another 24 are released outside their walls.
---
What happens now?
We can expect the major record companies to continue to "widen the net", in a bid to curb the market share damage of this trend, and increase the breadth of their independent artist and label distribution businesses:
At Universal Music Group, a new era has begun for Virgin Music Group (housing InGrooves), a united, global artist/label services division that now sits alongside UMG's frontline record groups as an investment priority at the company;
Sony Music Group continues to increase its relationship with indie talent around the world via The Orchard and AWAL, and recently launched another independent distribution option via Santa Anna – a subsidiary of the (Sony-majority-owned) Alamo Records, run by Todd Moscowitz;
And at Warner, some (including this writer) expect to see Robert Kyncl further empower ADA, while building on the long-held potential of Level Music – currently the only 'open to all' self-upload/DIY distribution platform available that's affiliated with a major music company.
In addition, we can expect to see the continuation of a Sir Lucian Grainge-led campaign for the adoption of "artist-centric" royalty models at streaming services, with the aim of financially hampering what Grainge calls "lower-quality functional music".
For now, at least, this crusade is largely limited to targeting "bad actors" on streaming services (fraudulent activity in particular) and raising questions around whether – for example – a track that offers nothing more than the sound of rain falling deserves the same royalty payout as a professional recording of an artist's original composition.
A Final thought…
Before something dramatic changes in the structure of music streaming distribution and royalties, though? This issue is only becoming more of a headache for the majors.
In another slide revealed at SXSW, Luminate's Rob Jonas revealed how the volume of DIY artist releases has exploded in recent years, and shows no signs of slowing down.
Here's the slide in question, referencing how many audio and video music tracks (via ISRCs – International Standard Recording Codes) are sitting on digital services in total, and how many have been created/uploaded in each of the past five years.
---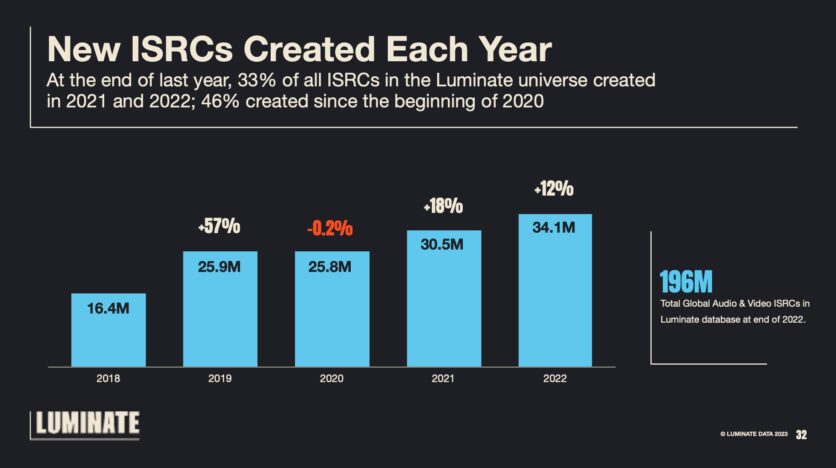 ---
With the exception of the turbulent first pandemic year of 2020, the pattern is clear: More millions of tracks are being recorded and uploaded to streaming services every year that ticks by.
In the past three years alone, more than 90 million separate audio or video recordings have been uploaded to streaming services, with the biggest annual haul (34.1 million) coming in 2022.
In his SXSW presentation (download the full deck here), Rob Jonas suggested that, paradoxically, the influx of tens of millions of new tracks to streaming services may be a factor in the average streaming user's play-count shifting towards catalog, and away from newly released music.
"In short, when there's too much choice, we as consumers can often default to what we know," he said.
"Just under half of all the musical content we're tracking within our system has been created since the beginning of 2020."

Rob Jonas, Luminate
The mic-drop moment, though, came next.
Jonas pointed out that, according to Luminate's data, a third (33%) of the 196 million audio and video music tracks on digital services today were released in either 2021 or 2022.
"And if you add the 26 million tracks created in 2020, it means that just under half of all the musical content we're tracking within our system has been created since the beginning of 2020," he said.
"Thought of another way, almost half of all of the music [available today was released] in the pandemic or post-pandemic era. Which is just a phenomenal, phenomenal stat."
Correct. And it's a phenomenal stat that the major record companies are looking at with fire in their eyes.Music Business Worldwide