We might live in an age of YouTube and Spotify being the go-to music players of teenagers, but radio was still the top method of music discovery in the US last year.
That's according to new Nielsen data that shows 51% of music consumers in the US still use radio to discover new music – more so than any type of digital service.
Nielsen said that radio's 'local nature makes it an integral part of the daily lives of hundreds of millions of consumers in markets large and small'.
The company's research concluded:
59% of music listeners use a combination of over-the-air AM/FM radio and online radio streams to hear music;
243 million U.S. consumers (aged 12 and over) tune in each week to radio – 91.3% of the national population tuning in across more than 250 local markets;
Across the 48 Nielsen portable people meter (PPM) markets, Pop Contemporary Hit Radio (CHR) and Country were the leading music formats amongst all listeners in 2014, followed by Adult Contemporary (AC), Hot AC and Classic Hits;
Country radio grew significantly with 18-to-34-year-old audiences through the first half of the year, peaking in June with its all-time best audience share, before ending the year on a downtrend. For the year, Country ranked second across the Nielsen PPM markets;
'Hot AC' radio increased its share of audience, moving from fifth to third in 2014 among audiences aged 18 to 34. It was the best year ever for the format.
It's interesting to note, however, that the wording in Nielsen's annual report has changed: in 2013, it concluded that 48% of music fans used radio as their primary music discovery medium; this time round, it simply says that 51% of people use radio to discover new music – indicating that they're also using digital platforms, potentially as their primary music discovery source.
The chart below breaks down national listening for the top 10 most popular radio formats of 2014 in the US amongst the 18-34 audience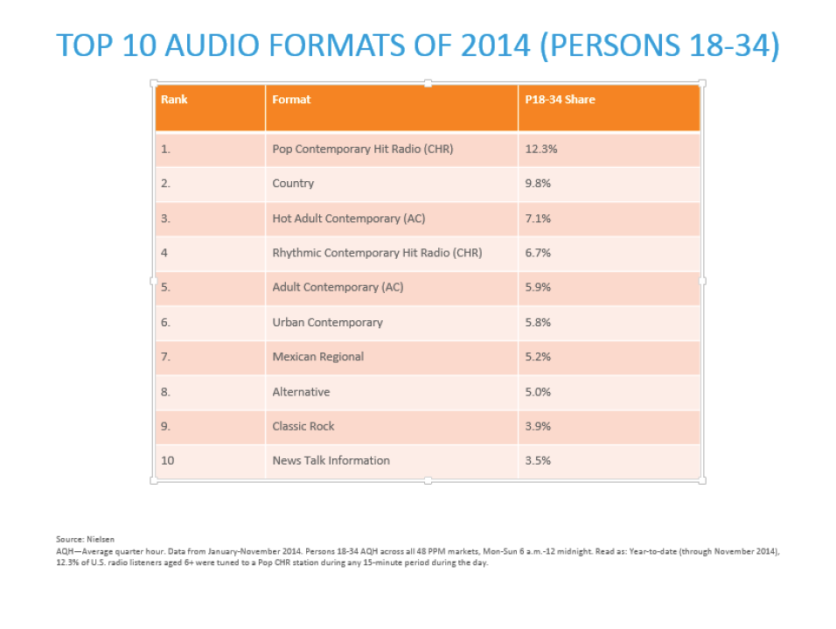 Music Business Worldwide