In October last year, music legend Quincy Jones made a strategic investment in "Emotional" Artificial Intelligence company Musimap, which has developed what it calls a "psycho-emotional profiling engine" called MusiMe.
The company claims to have developed "the largest AI-powered emotion-sensitive music database to date" and using its MusiMe engine, builds emotional profiles for listeners, detailing mood, feelings and values based on their listening history.
Jones, who also acts as a special adviser to Musimap, provided a curated playlist of his career highlights for the company to generate his own emotional profile and today (May 24), MBW can reveal a snapshot of the results from the analysis.
The tracks used to generate Quincy Jones's profile were a playlist of his career highlights including the Ironside theme song, key tracks from The Dude such as Ai No Corrida, and also hits like Soul Bossa Nova, Soul In The City, The Secret Garden (with Barry White), Fly Me To The Moon (with Sinatra) and It's My Party (with Lesley Gore).
It also included key tracks from Back On The Block, Keep Reachin', Give Me The Night (with George Benson), Don't Stop 'Til You Get Enough' and She Is Out Of My Life (with Michael Jackson).
According to Musimap, these songs were first analyzed in "a fraction of a second" by the MusiMe engine, qualifying the repertoire in terms of genres, moods, situation of listening etc.
This, says Musimap, provides an initial "high-level visualization of emotional and stylistic patterns".
Quincy Jones' songs are presented by the engine (see below) as conveying good vibrations, Happiness, Love, Playfulness, Extroversion, Sensibility and Dynamism.
According to the engine, Jazz, Soul Jazz, Disco and Pop are the key genres that influence his music.
---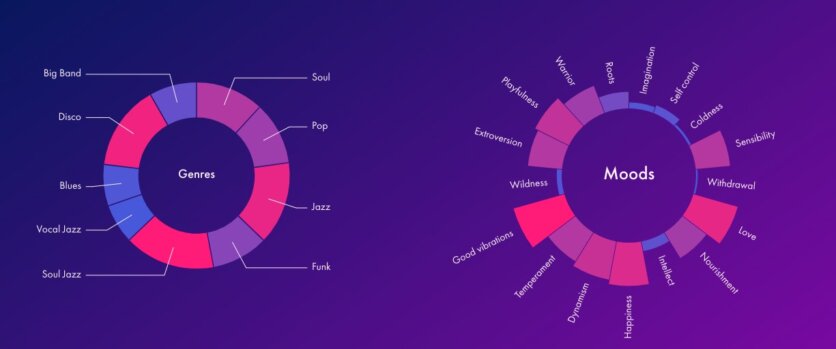 ---
Under the "Ego-Equilibrium" section, MusiMe generated a detailed description of Quincy Jones' "ego and introspective self", with this part of the profile explaining how he perceives and acts towards other people.
Here's a snippet from Jones' Ego-Equilibrium analysis: "You are flexible and empathetic, even when things in your life are out of whack. You seem to be a tough person with a very high social potential and a strong character.
It adds: "You know you have to find the right balance between your fundamental good nature and your tendency to take up a lot of room. You want to be recognized and heard by others. You appreciate cocooning, comfort & tenderness. You are sentimental and romantic. As a hedonist, you enjoy calm and peaceful moments. which revitalize you."
---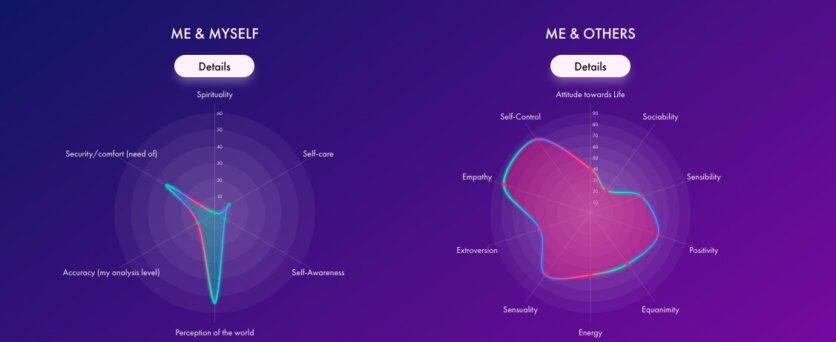 ---
In the MBTI section, based on the  Myers-Briggs Type Indicator test, MusiMe classifies Quincy Jones as an Entertainer and a Performer.
He is of the 'ESFP' type, according to the engine "with a focus on extroversion; sensing, feeling and perceiving the world intensely".
---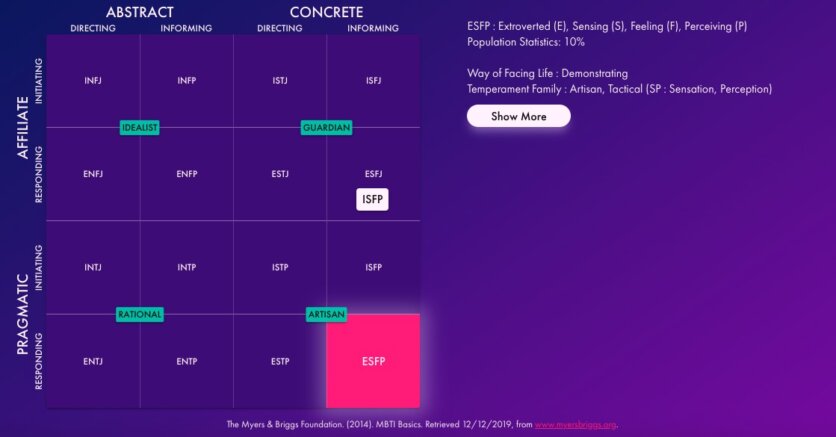 ---
Musimap says that it has analyzed and manually annotated one million songs to develop its recommendation system.
The company claims that its AI technology can automatically generate emotional and contextual metadata, 1:1 personality profiles and emotional states of mind purely based on music consumption.
Musimap also says that the "humanised technology of Musimap embodies the vision" of Belgian sociologist and musicologist Pierre Lebecque.
As Head of Research at the startup, Musimap says that he merged neuroscience, sociology, psychology and music therapy to create an artificial intelligence that "automatically detects the nuanced emotional patterns" in songs, playlists, artists' repertoires, users playlists and listening history.
You can view full details of Quincy Jones's psycho profile here and anyone can upload their favorite playlists and test out the profiling engine for themselves.
"I'm incredibly impressed by Musimap's technology and it makes my soul smile to be able to support their efforts."

Quincy Jones
Quincy Jones said: "I'm incredibly impressed by Musimap's technology and it makes my soul smile to be able to support their efforts.
"It's apparent that the product has a tremendous amount of potential to change the way we consume music, and from the looks of my personality profile, as provided by MusiMe, I can already tell this machine has sharpened its left brain!
"Big-time props to the team and I look forward to continuing the exploration of music through emotions together."
---
Jones's investment in Musimap wasn't the first time that MBW had written about the analysis of personality traits based on music consumption.
In October last year, we broke the news that Spotify was granted a US patent for "Methods and systems for personalizing user experience based on [user] personality traits."
A scientific article published in July this year entitled, "Just the Way You Are": Linking Music Listening on Spotify and Personality,  details a research project in which the authors analysed 17.6 million songs and over 662,000 hours of music listened to by 5,808 Spotify users in the United States over a three-month period.Music Business Worldwide