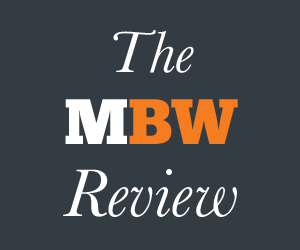 The MBW Review offers our take on some of the music biz's biggest recent goings-on. This time, we listen through Spotify's most recent earnings call with investors, and dig out what we think the biggest headlines were. The MBW Review is supported by Instrumental.
---
Spotify might have posted its first ever net profit in Q3 – but its co-founder, Daniel Ek, faced a barrage of tough questions from analysts in the earnings call which followed.
The answers given by Ek alongside Spotify CFO Barry McCarthy last Thursday (November 1) revealed a fair bit about the streaming firm's future strategy, as well as its core priorities.
See below for what MBW considered to be the most interesting tidbits.
---

---
1) Spotify's confirmed it: it's going to charge labels and artists for tools
Every since Spotify started talking about a 'two-sided marketplace' at its New York Investor Day in March, the labels have known this was coming. But last week, for the first time, Spotify openly confirmed it.
"Our strategy [with] our marketplace side of the business is the same as the rest of Spotify… it's a freemium business, meaning there will be a certain amount of products which artists and labels can get for free, and there are others which we will charge money for," said Ek.
In other words, Spotify is going to provide tools to artists and labels which benefit their chances of succeeding on the platform – just as it currently does in the Spotify For Artists platform – but it's going to ask them to pay up in order to use some of them.
"There will be a certain amount of products which artists and labels can get for free, and there are others which we will charge money for."

Daniel Ek, Spotify
One major label exec told MBW in response: "Spotify selling tools to artists who are desperate for any exposure reminds me of those motivational gurus who sell out arenas: Daniel's going into the business of selling hope to the hopeless."
Ek was very clear that "data, specifically, is very unlikely to be one of those things that we'll charge for".
This sentence would have been music to the ears of those companies who harvest Spotify data for their own purposes – including those AI-driven A&R tools which are getting so much press at the moment.
Ek added that he expected the majority of Spotify's future gross margin improvements wouldn't come from subscribers or advertising, but from this "marketplace strategy" – which includes the firm's recent move to directly distribute independent artists.
Ek said that Spotify expected to move from a handful of licensing deals with large players to "lots and lots of deals that will happen [with] individuals as artists and labels are purchasing more services".
---
2) Spotify doesn't feel its product is getting better, fast enough.
As we covered last week, Spotify wasn't particularly happy about the fact that it posted a net profit – or that its operating losses significantly narrowed – in the three months to end of September.
The main reason for its general grumpiness was simple: Ek and co wanted to hire a bunch of gifted R&D staff in the past six months, but wasn't able to land the talent required.
"The pace of product innovation is slower than we anticipated."

Barry McCarthy, Spotify
During SPOT's Q3 call, Barry McCarthy admitted that, as a direct result of Spotify's inability to deploy these R&D investments, "the pace of product innovation is slower than we anticipated".
McCarthy warned investors to expect losses to grow once Spotify is able to "reverse course and accelerate the pace of investment".
Ek said: "Overall, it's not a big surprise to know that when you look at engineering, machine learning, big-scale engineering, those are all skills that are widely demanded in the marketplace. For us, it's not really about volume [of hiring], it's about finding the right quality, and that's not something that [differentiates] Spotify [from] any other technology company in the world."
---
3) Now we know why Spotify loves podcasts
Spotify's recent efforts to ramp up its market position in the world of podcasts haven't gone unnoticed – especially to those labels getting concerned that 'casts are going to start eating into their revenue share on the platform.
Speaking to investors, Daniel Ek and Barry McCarthy made very clear why this market is quite so appealing to Spotify.
Ek said that Spotify was experimenting with both fixed and variable deals when it came to podcasters – ie. both paying people based on their popularity on the platform each month, like Spotify does with music, but also paying one-off fees for the perpetual right to host major league 'casts.
 "right now, we're experimenting with different deal types [in podcasting], both fixed and variable."

Daniel Ek, Spotify
"When you think about something like radio, the truth is that the vast majority of the minutes that are being spent on radio today haven't yet moved online," said Ek. "Our opportunity really is gigantic when you look at that, and there aren't too many companies in the world that are focused on that opportunity of bringing audio online."
It's no secret that, should Spotify increase the presence of podcasts on its platform, the amount of royalties paid out to record companies – as a percentage of overall revenue – would naturally come down.
Said McCarthy: "Over time, let's say podcasts become a significant component of [our] business, [with their] own margin structure separate from music biz and a revenue stream different from the music biz.
"Today, we observe
advertisements on subscription as well as ad-supported [platforms], and we expect that to also be true on our platform as well."
---
4) ARPU remains a problem area for Spotify – but it says the decline will slow
We've written many times about concerns in the music business about Spotify's fast-declining Average Revenue Per User (ARPU).
In Q3, the firm's premium ARPU fell to an all-time low of €4.73 a month. This was down 6% year-on-year – but that in itself was a less severe drop than the 12% YoY decline seen in Q2.
Spotify admitted in a note to investors and media: "Family and Student plan growth has caused a reduction in ARPU. The marginal downward pressure on ARPU has moderated as the installed base of Family and Student plan subscribers has grown. However, subscriber growth in low ARPU regions like Latin America, Southeast Asia, and other newly launched markets could add incremental downward pressure on ARPU."
Barry McCarthy followed up on the earnings call: "The biggest driver [in ARPU decline] will be growth in Student and Family plan – bigger [in terms of its impact] than geographic expansion.
"[But] the rate of decline will continue to decelerate, and I think that's all we're going to say about ARPU at the moment."
---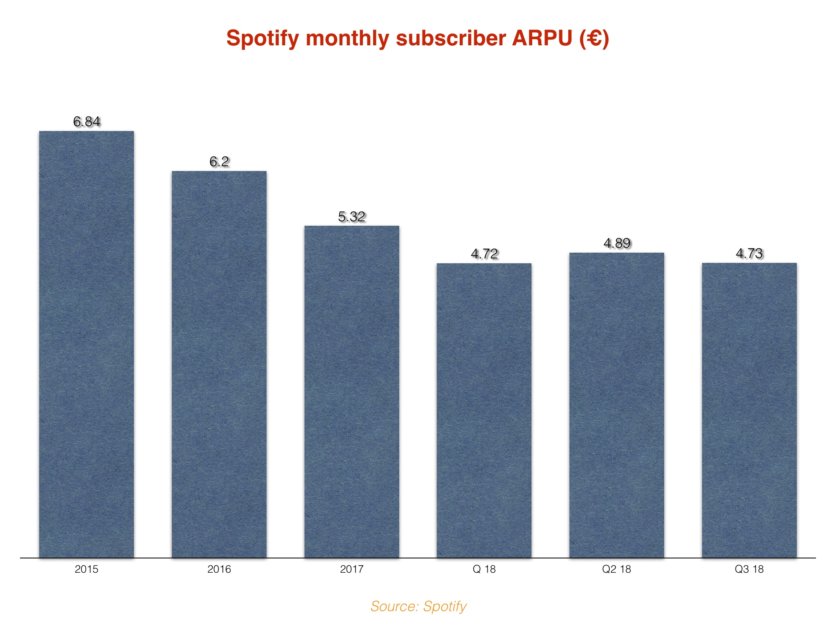 ---
5) Could Spotify make an unlikely bid for Universal Music Group?
Back in July, Vivendi shocked the music business by revealing that it was planning to sell up to 50% of Universal Music Group to a strategically beneficial buyer. (Or, indeed, a number of strategically beneficial buyers).
Could Spotify be amongst those in the running to acquire a slice of the world's biggest music rights company? An analyst put the question to Daniel Ek – and his reply will get tongues wagging.
"I really can't make any comments on any deal negotiations at this point," he said.
Hmm.
"Netflix on the surface is a very similar business to [Spotify], but underneath that surface, it's very different."

Daniel Ek
As for the idea that Spotify could one day directly rival Universal by participating in copyright ownership, Ek was more forthcoming.
Spotify's strategy is to license and/or distribute material from a variety of partners, he explained – but not, at this stage, to create and own its first-party music content.
"We don't view this as Spotify has to win, labels lose, but instead as a win-win," said Ek of Spotify's content strategy.
He added: "Everyone looks at what has previously happened in the industry and [cites] Netflix being the prime example here… Netflix on the surface is a very similar business to ours, but underneath that surface, it's very different – in [terms] of our marketplace strategy and their original content strategy."
---

The MBW Review is supported by Instrumental, which powers online scouting for A&R and talent teams within the music industry. Their leading scouting platform applies AI processes to Spotify and social data to unearth the fastest growing artists and tracks each day. Get in touch with the Instrumental team to find out how they can help power your scouting efforts.Music Business Worldwide