PPL, the UK's recorded music licensing and collection society, spent slightly more in 2015 than it did the year before – but paid out slightly more to members too.
According to a new filing on Companies House, the PRO collected £196.98m across the year, 5.3% up on the £187.08m collected in 2014 – a £9.9m increase.
From this pot of cash, PPL spent £27.99m on operating costs, up 6% – or £1.6m – on the £26.41m spent in 2014.
Disregarding other expenses, that resulted in a pure cost-to-income ratio of 14.2% last year, which was slightly less efficient than the 14.1% rate the year before.
---
The total amount paid out to members by PPL in 2015 hit £166.73m, up 6.8% (£10.6m) on the £156.13m distributed in 2014.
One reason PPL was able to keep its cost-to-income figure almost level was because, for the first time in recent memory, the amount of money it gave to the BPI and others in 'anti-piracy' funding went down.
In fact, its net 'loss' to anti-piracy causes fell considerably – down 37.4% from £4.83m to £3.02m.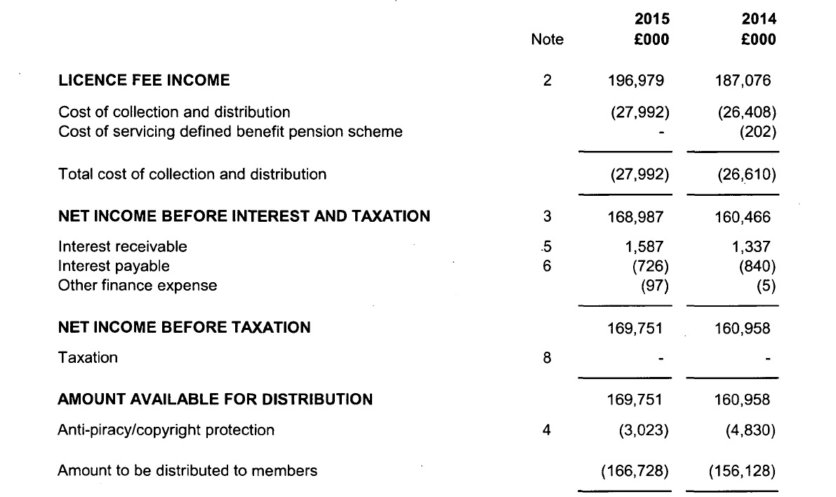 ---
PPL's direct anti-piracy contributions to the BPI reduced by 33% – or more than a million pounds – in 2015, down from £3.32m to £2.23m.
In addition, PPL's members benefited from £402,000 in legal anti-piracy recoveries in the year.
In terms of other trade body contributions, the IFPI received slightly less from PPL in 2015, with contributions down to £611,000 from £621,000 the year before.
UK Music saw its annual PPL contribution slashed by 37% – down from £824,000 in 2014 to £520,000 in 2015.
Independent label body IMPALA received a slight rise in contributions, up to £66,000.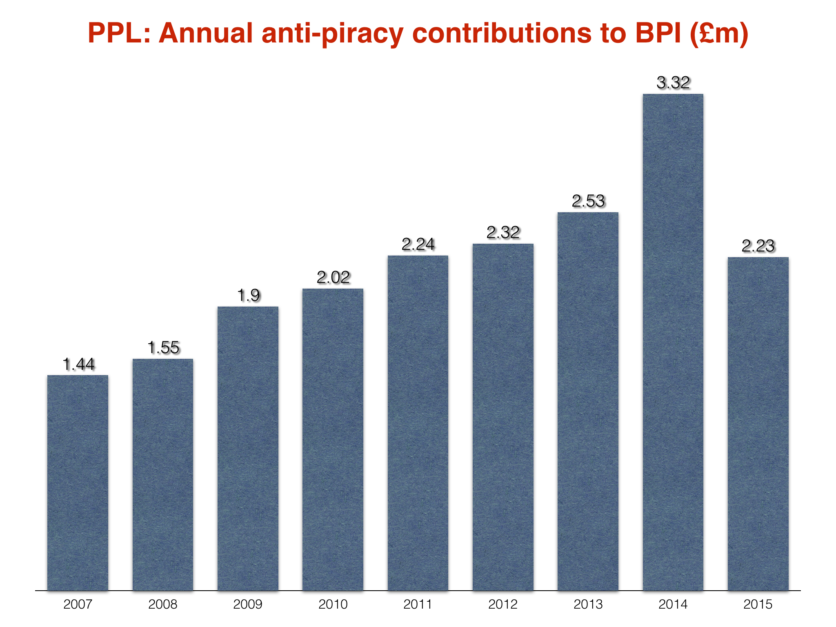 ---
Digging further into the PPL figures shows where the company's expenditure and income grew.
First, let's examine that 6% growth in operating costs.
The biggest drain on PPL's income was, unsurprisingly, its staff costs.
The company's headcount grew from 288 to 292 people in 2015, with a total staff cost – including pension and social security expenses – of £15.74m, up 9.4% on £14.38m in 2014.
The average annual wage across these 292 staff was £46,877.
The aggregate emoluments for directors grew to £961,000 – including costs on non-execs.
CEO Peter Leathem took home £690,000 in 2015, up by £100,000 on the £590,000 received in 2014.

---
In terms of income, PPL had most success collecting from 'public performance and dubbing' useage, which brought in £84.4m, compared to £76.7m in 2014.
Broadcasting and online licensing income also increased to a lesser extent, up to £75.9m from £74m.
And international collection also grew slightly, up £300,000 from £36.4m to £36.7m.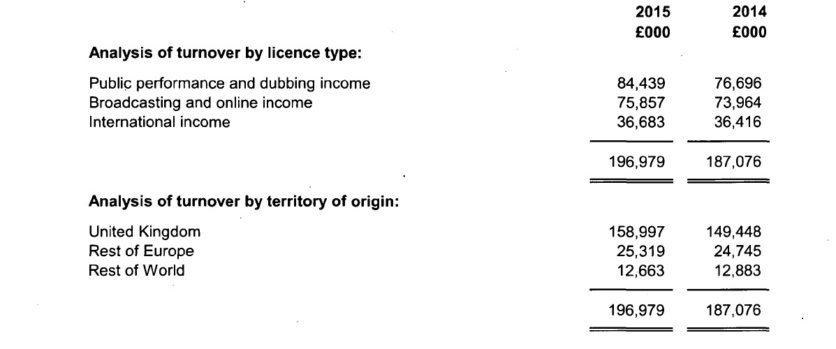 Music Business Worldwide