You can listen to the latest MBW podcast above, or on Apple Podcasts, Google Podcasts, Spotify, Stitcher, iHeart etc. via this link.
---
Welcome to the latest episode of Talking Trends, the weekly podcast from Music Business Worldwide (MBW) – where we go deep behind the headlines of news stories affecting the entertainment industry. Talking Trends is supported by Voly Music.
On this episode, MBW founder Tim Ingham analyzes the news that Netflix's global subscriber base fell quarter-on-quarter in Q1 2022 – and ponders whether leading music streaming services like Spotify will soon face similar headwinds.
Netflix lost 200,000 subscribers in Q1, meaning that more people unsubscribed from the platform in the quarter than actually subscribed to it.
(As a result today, April 20, Netflix's stock fell by no less than 36% at time of publication. Spotify didn't come away unscathed, either: its stock fell 10%.)
Ingham sifts through Netflix's new letter to shareholders, in which the video streamer explains why it thinks these subscribers left its platform.
You can read an edited transcript of this episode of Talking Trends, complete with illustrative charts, below.
Cast your mind back to spring 2020, when the uncertainty around the pandemic was at its height, when the stock markets had started to tumble, and when the future looked pretty bleak – to put it mildly.
At that time, I received a couple of phone calls from senior people at major music companies in the United States. On both of those calls, these people explained that their previous very healthy projections for the growth of their annual recorded music businesses in 2020 had, understandably, gone out of the window.
Forecasts of double digit growth were suddenly put on pause. And a dash of panic was starting to set in, because the majors knew millions of consumers were bound to tighten their belts in preparation for the unknown. The worry was that music streaming subscriptions would be the first thing people would cancel.
---
In the end, despite a wobbly quarter or two for the majors, this doomsday situation didn't actually play out.
If we just focus on the US for a second, recorded music industry revenues grew 9.2% in the States in 2020, according to the RIAA, and last year – in 2021 – they shot up by a whopping 23%.
Everything looked very much back on course for what Goldman Sachs told us was going to happen after the pandemic: in April last year, Goldman Sachs' Music In The Air report forecast that by the end of 2021, there would be 527 million paying subscribers to music streaming services globally. And that was roughly accurate.
But Goldman also forecast that this figure would grow by another 170 million new subscribers by the end of 2023. And would actually more than double to over a billion music subscribers by 2030.
Now, however, a new threat is emerging to cast that kind of optimistic forecast for music streaming into doubt.
---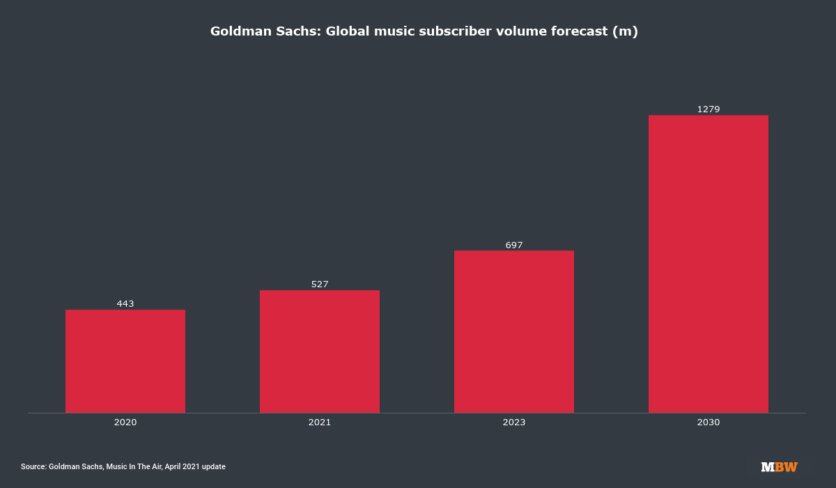 ---
Yesterday, April 19, Netflix released its latest global subscriber number for Q1 2022. That number was down by 200,000 subscribers quarter-on-quarter (see above).
In other words, more people unsubscribed from Netflix in the three months to end of March than actually subscribed to Netflix in that period.
In a surprisingly upfront letter to its shareholders, Netflix admitted that it had previously underestimated how much its growth was going to slow.
In the shareholders' letter, which it issued yesterday alongside its results, Netflix highlighted four key factors that it said were dragging its business down.
To summarize, those four factors included a couple of things very unique to the streaming film and TV market, namely the adoption of connected TVs in certain territories, and the growing competition that Netflix faces from the likes of Disney+, Amazon Prime, Hulu and other rival TV streaming platforms.
But there were two other factors highlighted by Netflix that are definitely applicable to the music market.
---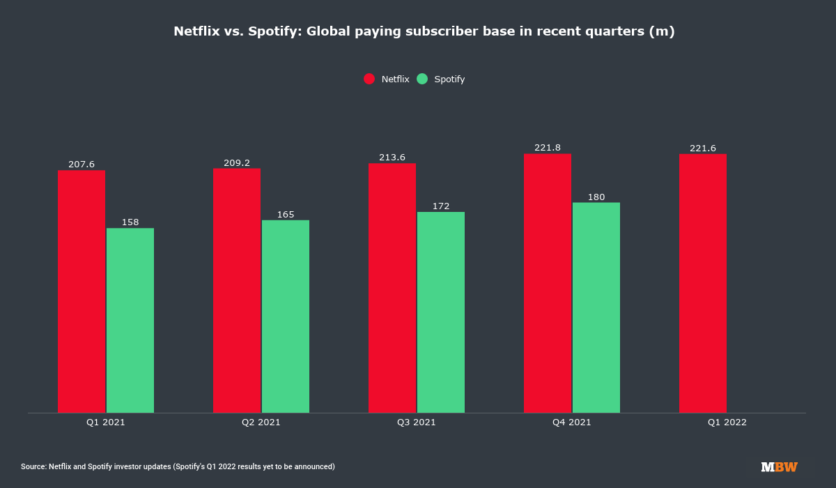 ---
The first of these factors – and I'm quoting here from Netflix's shareholder letter – regarded the number of accounts being shared by Netflix customers, so that's one person paying for a subscription and their friends or family dipping in and using that account rather than paying for their own access.
Netflix has just suggested that in addition to 222 million paying households that it reaches globally, there are also over 100 million additional households who are using accounts paid for by someone else.
Netflix says this means it's "harder to grow membership in many markets", and it's hinted that it will clamp down on the problem. For now, Netflix's solution is a positive one: It's launching a "paying to share" feature in Chile, Costa Rica and Peru, under which those paying users who are sharing accounts outside their households will be encouraged to pay just a little extra on their tariff to cover their account-sharing friends and families.
This account sharing issue is a problem with direct parallels in the music industry. But the likes of Spotify and Apple Music have arguably done a better job than Netflix in terms of pushing paid multi-user subscription plans, especially discounted family plans.
---
But it's Netflix's fourth problem that's a much bigger issue for everyone in the commercial sector, including music's biggest streaming services, and the major record companies.
Netflix calls this fourth problem, a collection of "macro factors" including "sluggish economic growth, increasing inflation, geopolitical events, such as Russia's invasion of Ukraine, and some continued disruption from COVID".
If you ask me, this is all rather being glossed over by Netflix, which seems to want to spend more time in the shareholder letter dealing with obstacles that are in its control, rather than these so called "macro factors".
One very convincing take on Netflix's poor Q1 results is that the "sluggish economic growth" and "increasing inflation" are actually the only factors that really matter here.
Inflation in the US, for one thing, hit a very scary 8.5% In March, according to the Consumer Price Index. That 8.5% was the highest US inflation rate we've seen since 1981. That's over 40 years ago!
This is once in a generation stuff. So it's no great shock that people are starting to worry very seriously about their cost of living versus the salary they have dropping into their bank account every fortnight or month.
And they're making sensible cutbacks of goods and services they can ultimately live without.
---
Adding credence to the idea that it's actually these economic concerns driving Netflix's subscriber decline is a new survey that came out of the UK this week from Kantar Worldpanel.
In that study, Kantar quizzed UK households on their video streaming habits. They found that an estimated 1.51 million video service subscriptions were cancelled in Q1 this year in the UK.
That 1.51 million figure was up from around 1 million in the prior quarter and from around 1.2 million in the prior year quarter.
But here's the important bit: around a third of those 1.51 million subscription cancellations – over half a million – were motivated by money saving.
All of this poses a serious danger not only to Netflix, but also to music streaming's future growth too: at what point are household economics going to bite severely enough for folks to begin canceling Spotify subscriptions or Apple Music subscriptions en masse?
---
Now, there are a couple of strong counter-arguments as to why music may be more protected from consumer cuts than Netflix or its streaming video rivals.
One argument that I read from Darren Hemmings in the excellent Motive Unknown newsletter this week: consumers might be more willing to cancel a subscription to Netflix than to Spotify or other music streaming services, because in the film and TV world, there is far more exclusivity of content on each platform.
This means that fans could have been paying for multiple services in order to get a satisfactory range of content. And now looking at their outgoings and pinching their pennies, they're starting to cancel the services whose programming they feel they need the least. Enter Netflix.
In music, things are different – because 99.9% of all music ever made is available on all of the [streaming] services.
This lack of differentiation [on music streaming services] is something that's been ripe for criticism in the past, but [now] might actually be something of a bulwark against a consumer exodus from services like Spotify.
In other words, consumers may see a Spotify subscription as much more essential to their lives than a Netflix subscription – because Spotify offers access to pretty much the entirety of recorded music history, as opposed to just a segment.
---
There's also the argument that for a long time, services like Spotify have been harangued by major music rights holders for not upping the consumer price of subscriptions far above that classic $9.99 per month price tag.
Netflix, on the other hand, has famously raised its prices multiple times – with a standard Netflix subscription in the US now costing $15.99 per month.
With consumers clearly feeling far more price sensitive than they were even a year ago, it could actually work to music's advantage that its leading streamers have kept their prices low… despite that rampaging inflation rate meaning that $9.99 is going to be worth significantly less in real terms even by the end of this year than it was in January.
---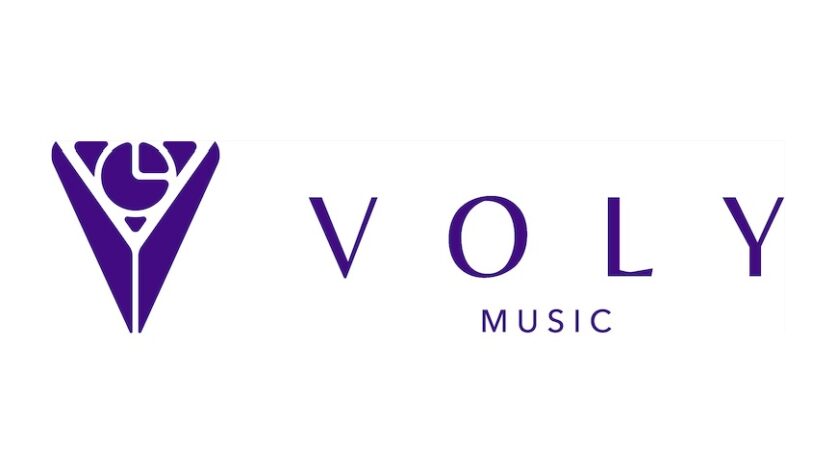 MBW's podcasts are supported by Voly Music. Voly's platform enables music industry professionals from all sectors to manage a tour's budgets, forecasts, track expenses, approve invoices and make payments 24/7, 365 days a year. For more information and to sign up to a free trial of the platform, visit VolyMusic.com.