You can listen to the latest MBW podcast above, or on Apple Podcasts, Google Podcasts, Spotify, Stitcher, iHeart etc. via this link.
---
Welcome to the latest episode of Talking Trends from Music Business Worldwide (MBW) – where we go deep behind the headlines of news stories affecting the entertainment industry. Talking Trends is supported by Voly Music.
---
Sony Music Group. Warner Music Group. BMG. Hipgnosis. Concord. Primary Wave.
They've all been tipped to be at the negotiating table to acquire a career-spanning catalog from legendary British band Pink Floyd.
On this episode of the Talking Trends podcast, Music Business Worldwide founder, Tim Ingham, reveals what his sources are telling him about the process.
Ingham's industry whisperers are suggesting that Floyd's camp are looking for GBP £420 million-plus for the catalog, which includes recorded music rights but NOT music publishing rights.
He also explains why exchange rates could play a major role in who ends up landing the rights. (Clue: The British pound is currently at its weakest vs. the US dollar since 1985.)
Also discussed:
* Why some sources think Concord may end up as the victor in the race, while others  think the smart money's on Sony;
* Why tax implications linked to the locations of the band's members might play an impact on who signs on the dotted line;
* How a handful of the companies in the race to buy Floyd's catalog already have a working relationship with the band
You can read an abridged transcript of this episode of MBW's Talking Trends below, and/or listen through here:
---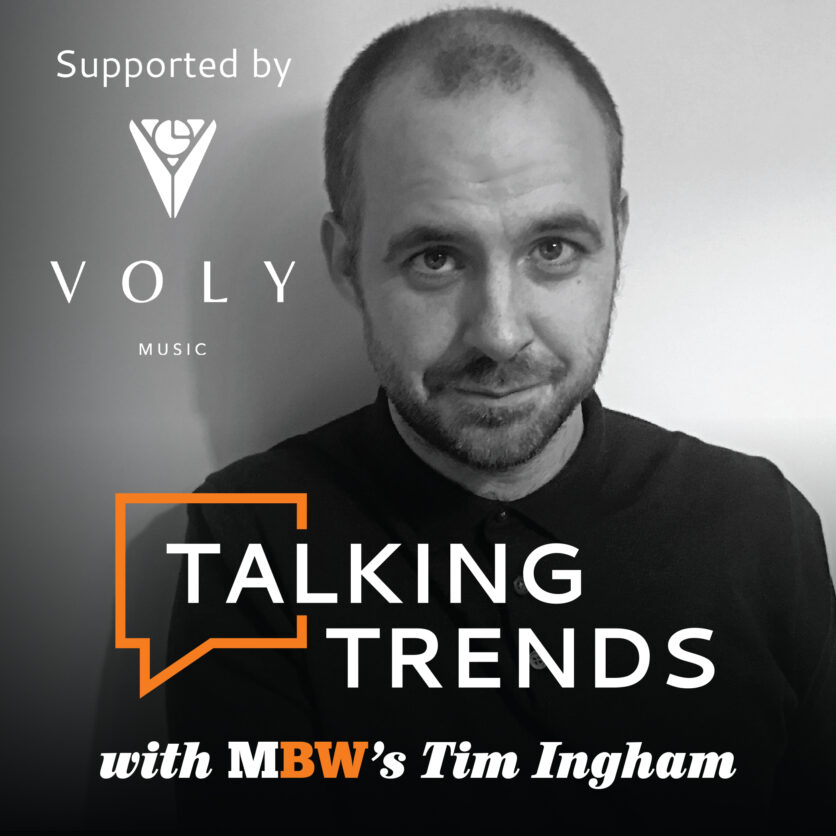 After a relatively quiet summer of music business commercial activity, one story looks likely to dominate the headlines in the month or two ahead.
That story is the well-reported sell-off of Pink Floyd's catalog. But when we say 'catalog' we should get much more specific, because this career-spanning catalog, according to multiple MBW sources does NOT include Pink Floyd's publishing rights.
Instead, I hear from a few people in the know, it includes recorded music rights, plus neighbouring rights – that's broadcast and public performance income from abroad – as well as name & likeness rights (so if you wanted to make the definitive Pink Floyd biopic, for example, you'd have to pay to license the names of the band, the iconography of the band etc.).
The most talked about point here, of course, is the price of this set of rights and income streams.
And what I'm hearing is that Pink Floyd's representatives are seeking at least GBP £420 million for the catalog bundle.
Before I get into the importance of pounds rather than dollars here, let me also tell you this: Two sources close to the discussions with Floyd's camp tell me that the band's recorded music rights currently generate around GBP £21 million a year.
That would make a GBP £420 million price-tag equivalent to a 20-times multiple.
---
Before we talk about who's in for this Pink Floyd catalog – and who I suspect might end up getting it – it's worth explaining why pricing Floyd's catalog in pounds, rather than US dollars, may end up being significant.
Right now, as I record this, the pound has just fallen to its lowest level against the dollar since 1985 – nearly 40 years ago.
---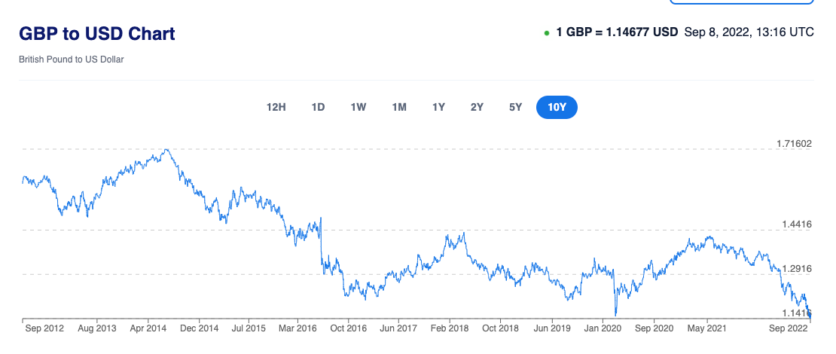 ---
What that means, in Floyd terms, is that the mooted £420 million price-tag for this catalog is currently worth around USD $485 million.
Had the deal been closed, for argument's sake, last July, that US dollar pricetag, again for the equivalent of GBP £420 million, would have been USD $575 million.
In other words, if you're a US company working in US dollars, the Pink Floyd catalog is currently around USD $90 million cheaper than it was around this time last year – simply because of currency exchange.
---
Now, let's look at the runners and riders.
The Financial Times reported the other week that there were a number of companies still in for the Floyd catalog, and still in discussions with the band's representatives.
Those companies were: Sony Music Group, Warner Music Group, BMG, Primary Wave, and a Blackstone-backed fund from Hipgnosis.
The first three of these companies have an existing business relationship with Pink Floyd: Sony distributes the Floyd catalog in the US; Warner, through Parlophone, does so in Europe and other territories; and BMG is the publisher of Roger Waters.
Subsequent to the Financial Times article, Music Business Worldwide discovered that Concord – the independent US-based independent – was also at the bidding table, and in advanced discussions with Floyd.
Concord spent $400 million on Downtown's music rights catalog last year and has done other nine-figure deals in recent times, including the acquisition of an Imagine Dragons publishing catalog, so they should be taken seriously as a candidate here.
Concord ALSO has a business relationship with Floyd; it administers the publishing rights for the members of the group who are NOT Roger Waters.
---
And here's where things get unpredictable. Allow me to welcome you into a few discussions I've had this past fortnight with various people who are connected to the Floyd sale process:
The first person told me, outright, that he believed Concord wasn't just a candidate for the Floyd deal – but that it had actually already WON the deal;
That claim has subsequently been disputed by two more sources, who say that although Concord is legitimately a front-runner in the race, the process is ongoing
One of these sources, who isn't connected to Sony, tells me that their impression was that Sony was the most likely to emerge as the acquirer;
But I've also heard one additional quirky detail that may weigh in the favour of Concord or Primary Wave, for example: One source told me that there would be major tax implications for any music company of a certain size, and I think we're talking about major music companies generating more than USD $1 billion a year, due to the fact that one of Floyd's members is domiciled in the United States, and the other members are domiciled elsewhere.
---
Anyway, the saga rumbles on, and we'll soon find out who is the victor, and the new owner of the Floyd recorded music catalog.
Once it's sold, expect much examination and discussion around the strategy of buying so-called 'evergreen' catalogs versus more modern music catalogs. Especially when the vast majority of 'catalog' music being played on streaming services is of music released in the past 10 or 20 years.
For example, Pink Floyd are legitimately a very popular streaming artist: On Spotify currently they have just over 15 million monthly listeners.
But the other month, Hipgnosis and Blackstone closed the acquisition of Justin Timberlake's publishing catalog for somewhere around $100 million dollars, which is around a fifth of what we expect Floyd's recorded music catalog to fetch.
Justin Timberlake currently has 33 million monthly listeners on Spotify – more than double that of Pink Floyd.
---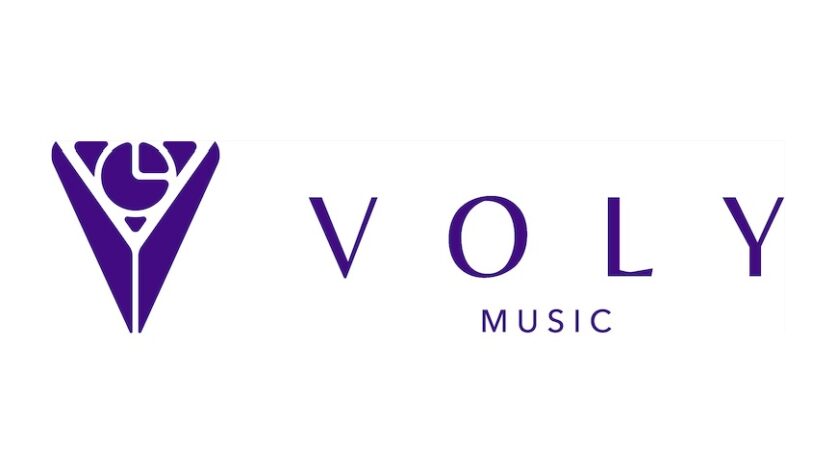 MBW's podcasts are supported by Voly Music. Voly's platform enables music industry professionals from all sectors to manage a tour's budgets, forecasts, track expenses, approve invoices and make payments 24/7, 365 days a year. For more information and to sign up to a free trial of the platform, visit VolyMusic.com.