For more than a decade, Spain's recorded music industry has looked unsalvageable from the effects of piracy: 2013's annual revenues amounted to a shocking €502m less than those seen in 2001.
But in 2014, this trend changed dramatically: Spain's music market grew 21.2% last year, driven by strong growth from streaming services and, unusually, a big uptick in CD sales.
According to new data from local trade body Promusicae analysed by MBW, streaming accounted for 32% of 2014's total haul of €149.9m.
Across subscriptions and ad-supported tiers, streaming services – including Spotify, YouTube, Vevo, Deezer and Xbox Music – provided €47.25m over the year, up 36.3% on their performance in 2013.
Meanwhile, CD album sales rose 22% in unit terms, up to 11.6m from 9.5m in 2013. They claimed 93% of income from physical music sales in 2014, which soared by 20.2% to €87m.
Promusicae said that CD's outstanding performance was essentially down to blockbuster releases from artists such as Pablo Alboran (pictured).
"This market improvement shows that the great effort of format diversification is beginning to bear fruit – even though the serious problem of piracy is still far from resolved."

Antonio Guisasola, Promusicae
The only music categories to fall significantly in the year was downloads, which were down 2% in value to €14.3m, and ringtones, which fell 20.5% to €1.4m.
Vinyl sales leapt up 85% in unit terms, but still only amounted to 260,000 sales in total.
Although a jump of 22.1% in value for Spain's record market is obviously positive news, it should still be seen in the context of a territory that's been savaged by piracy since the turn of the Millenium.
2014 might represent the first year that Spain has shown annual growth in the 21st century, but its €149.9 tally still shows a 76% fall on the €626.1m haul achieved in 2001.
The Spanish market "remains obviously very delicate, after a crash 80% in recent years, "according to president of Promusicae, Antonio Guisasola. He added: "The good performance of the new models of digital consumer now augurs well despite being modest."
This "timid improvement", in his view, "shows that the great effort of diversification in the sector is beginning to bear fruit, even in such difficult economic circumstances and the serious problem of piracy still far from resolved."
According to the IFPI, Spain was the 13th biggest recorded music territory in the world in 2013. However, if you go back to 2001, it was the 7th.
In January this year, a new anti-piracy law known as the LPI took effect. It permits sanctions of up to €600,000 for anyone linking to pirated content online.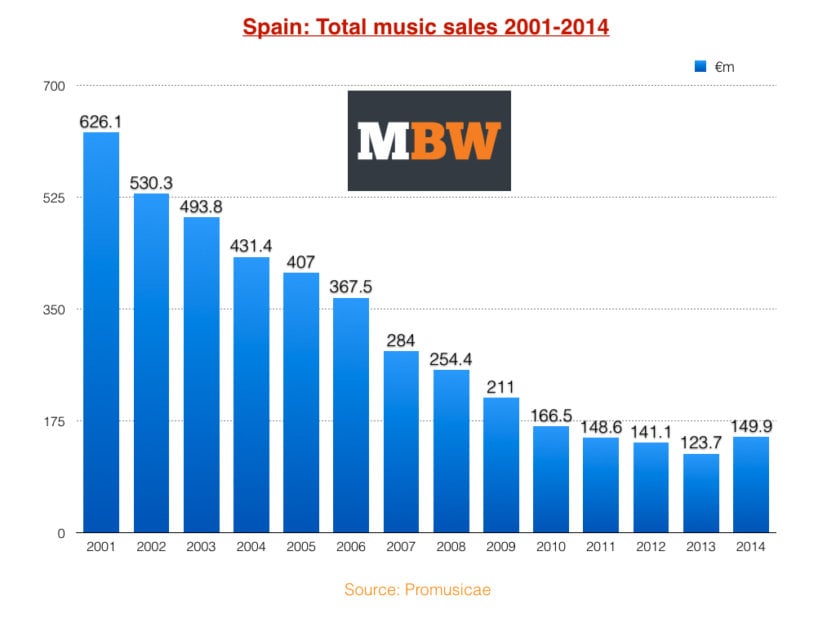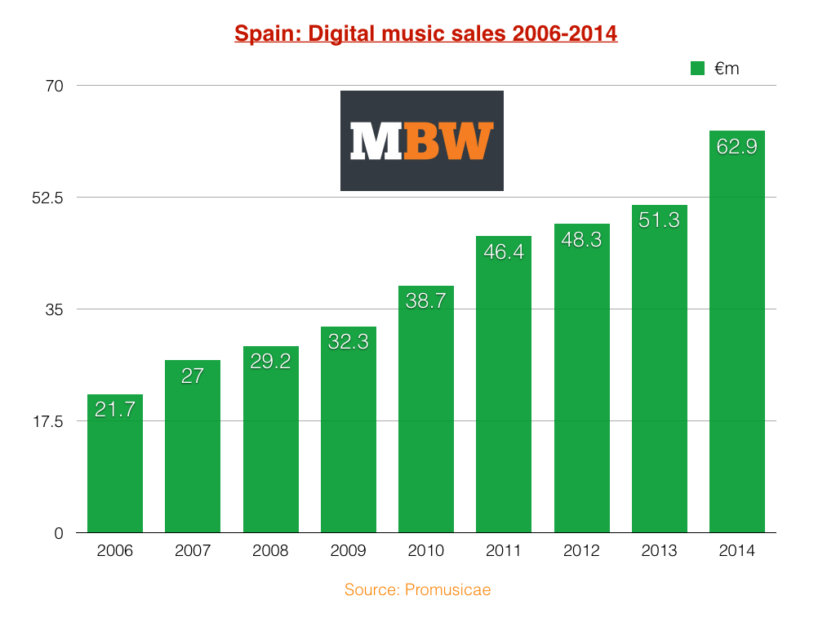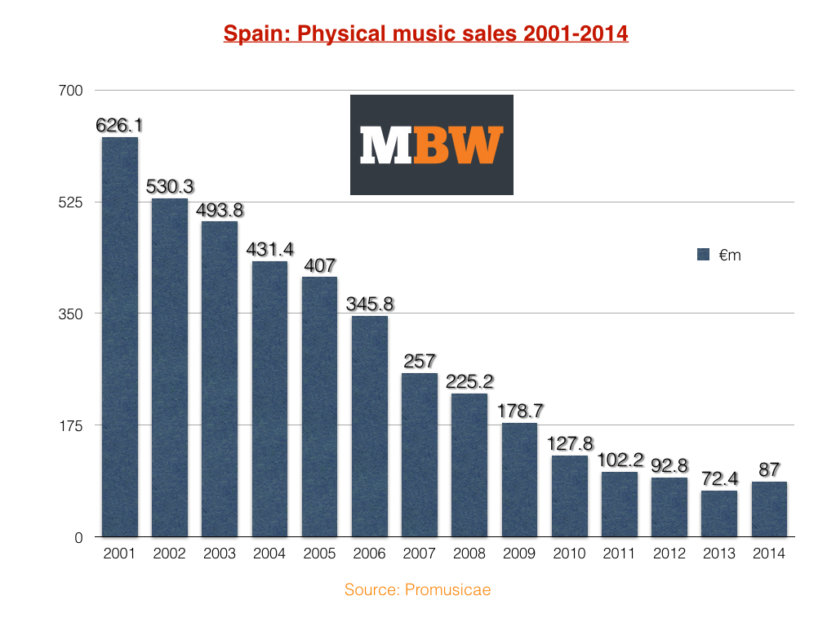 [Pictured: Pablo Alboran, whose LP Terral was the biggest-selling album of 2014 in Spain. Despite only being released in November, it sold 157,000 copies in the year]Music Business Worldwide