Pink Floyd are considering the sale of the rights to their recorded music catalog.
That's according to Bloomberg, which cites sources suggesting the band's representatives recently reached out to potential acquirers in the music business.
Unsurprisingly, the Floyd catalog is expected to fetch a nine-figure sum (i.e. hundreds of millions of dollars) if it's ultimately sold.
Bloomberg reports that the band has only begun talks with potential acquirers in recent days.
It's an interesting exercise, therefore, to take a peek at the ownership structure of Floyd's recorded music on streaming services.
According to Spotify's typically-reliable credits, for example, recorded (phonographic) rights to the classic album Wish You Were Here (1975) are owned by Pink Floyd Music Ltd., with no noted recorded music partner (see below).
(It's often the case that a superstar catalog will be owned by Superstar Name Ltd/Inc under exclusive license to Universal/Sony/Warner etc.)
---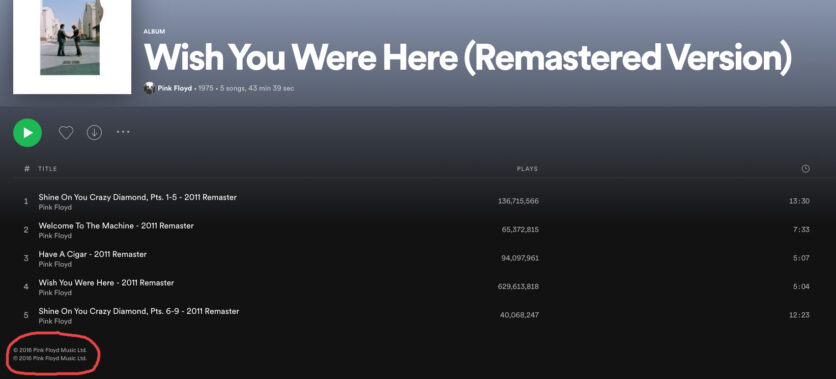 ---
Recorded music rights to other classic Floyd albums – including Dark Side Of The Moon (1973), The Wall (1979), and The Division Bell (1994) – are listed one of two ways on Spotify:
(P) Pink Floyd Music Ltd, marketed and distributed by Parlophone Records Ltd, a Warner Music Group Company;
(P) Pink Floyd (1987) Ltd, marketed distributed by Parlophone Records Ltd, a Warner Music Group Company
Such phrasing suggests that Floyd likely have more control over their catalog than other artists who remain under lock-and-key licensing deals with major record companies.
---

---
Interesting bit of context: Warner Music Group acquired control of the Pink Floyd catalog via its GBP $487 million acquisition of Parlophone Label Group from Universal Music Group in 2013.
Another lucrative recorded music catalog that Warner took control of via that deal – David Guetta's – ended up back in the hands of the artist last year, presumably after his exclusive licensing agreement with WMG expired.
Guetta subsequently sold full ownership of his masters catalog to Warner in a $100 million-plus deal, announced last summer.
Could Pink Floyd's masters catalog be destined for a similar fate?
Will interest rate rises scupper Warner – or another potential buyer's – ability to raise the debt necessary to pull off the deal?
Will Pink Floyd shun all offers and hold on to their catalog, in the hope that music's revenues (and valuations) just keep on going up and up?
All possibilities. Interesting times.
---
Another bit of background: Pink Floyd isn't the only major band/artist to see control of their historic recording rights revert back to them in recent times.
Last August, Aerosmith announced a multi-pronged deal with Universal Music Group that included the band moving its classic Sony Music recordings (examples: 1974's Get Your Wings, 1975's Toys in the Attic) into a distribution pact with UMG covering their entire career's worth of music.
The following month, the David Bowie estate announced that it was moving the great artist's entire recordings catalog inside a distribution deal with Warner Music Group.
This means that classic recordings previously licensed to Sony – such as 2016's Blackstar – will be controlled by WMG from 2023.
Bob Dylan, having already sold his music publishing rights to Universal for over $300 million in 2020, last year also sold his recorded music rights to Sony Music / Columbia, in a deal believed to be worth around $150 million.
And towards the end of 2021, Bruce Springsteen sold a combination of both his publishing rights and his recorded music catalog to Sony Music Group for a price in the region of $550 million.
On the publishing side of the Springsteen deal, Sony agreed a co-funding/ownership pact with Eldridge Industries.Music Business Worldwide