MBW's Stat Of The Week is a series in which we highlight a single data point that deserves the attention of the global music industry. Stat Of the Week is supported by Cinq Music Group, a technology-driven record label, distribution, and rights management company.
---
There can be no doubting the financial boost that the digital fitness industry has brought to music rightsholders over the past two years.
In May 2021, Sony Music Group boss, Rob Stringer, noted that the recorded music side of his company had generated nearly $400 million from social, gaming, and fitness platforms in its prior fiscal year, noting that he expected these income streams to "become an even more material part of our revenue base" in future.
That $400 million would have comprised around 7.5% of Sony Music's total recorded music revenue in its last FY (to end of March 2021), according to MBW's estimates.
If that percentage carries across the entire global record business – not including publishing – these so-called "alternative" revenue streams could already be worth over $1.7 billion per year for labels and artists (based on Goldman Sachs' forecasts for 2021 global trade turnover).
---
When it comes to the fitness side of this explosion in new revenue, one company has arguably gone out of its way to woo the music business more than any other: Peloton.
In the past two months alone, the home fitness giant has announced separate new partnerships with Queen, Taylor Swift and the David Bowie estate. They follow a wide-ranging deal signed with Beyoncé in 2020, which has since led to collaborative Peloton apparel drops carrying the star's Ivy Park brand.
Peloton has even employed in-house DJs, John Michael and DJ Skribble, who have recently remixed tracks for the likes of Demi Lovato and Debbie Gibson to optimize them for user workouts.
Yet not everything is pointing in the right direction for Peloton, which is facing a slowdown in consumer interest in its products… and a share price in free fall.
Now some are rumoring that the company could find itself the target of a takeover by $2.65 trillion-valued Apple, the owner of Peloton rival Apple Fitness+.
Having already reduced its annual FY 2022 revenue forecast in November, Peloton last week (Jan 20) issued a deflating interim update on its Q2 2022 results (for the three months to end of December).
During the three months in question, Peloton missed its guidance for "ending connected subscriptions": it forecast it would add over 2.8 million, but actually added 2.77 million.
Peloton also missed its guidance for adjusted EBITDA in the Holiday quarter: Peloton says this figure was between $260 million and $270 million in fiscal Q2; its guidance said $325 million to $350 million.
Peloton chief exec John Foley tried to reassure his shareholders that Peloton is now making "significant corrective actions to improve our profitability outlook and optimize our costs across the company".
Yet according to CNBC, which has seen internal Peloton documents, this process is getting ugly: It reports that Peloton is temporarily halting production of its bikes and treadmills, as "consumer demand wanes and the company looks to control costs".
---
MBW's Stat Of The Week:

Peloton has lost over 80% of its market cap value in the past year. It's currently worth less than $9 billion.
---
CNBC further reports that, in a confidential internal presentation delivered on January 10, Peloton admitted that demand for its connected fitness equipment was facing a "significant reduction" globally, partly due to price sensitivity, and partly due to increased competition.
The day the CNBC report hit, last Thursday (Jan 20), Peloton saw its share price tumble by a scary 23.9%.
Peloton's John Foley consequently published a blog post in which he confirmed that Peloton must now "evaluate our organization structure and size of our team". Widespread layoffs appear inevitable.
Perhaps the starkest indication of Peloton's troubles: On Friday (January 21), Peloton saw out the trading week with a market cap valuation worth $8.94 billion, according to YCharts.
That market cap figure had fallen by nearly $40 billion on the $47.01 billion valuation Peloton closed with a year before, in January 2021 – when the firm had been riding a wave of pandemic lockdown popularity.
---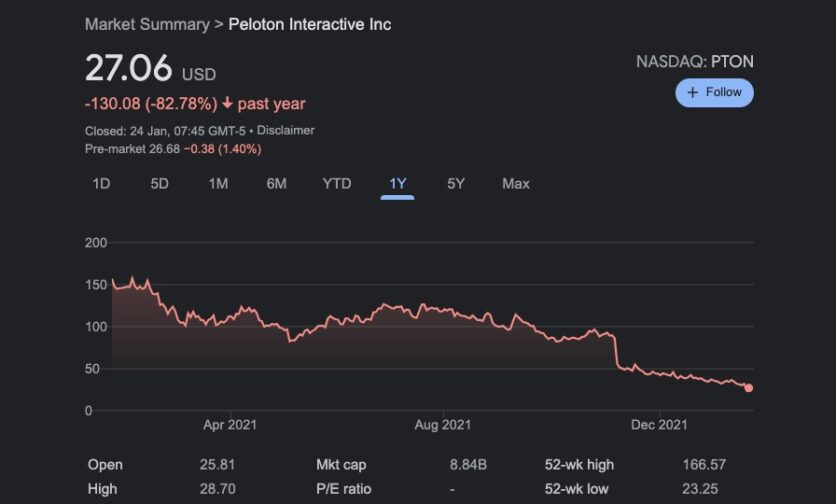 ---
Considering Peloton's value has fallen by over 80% in a year, corporate predators may now be lurking.
Analysts are beginning to wonder if Peloton's sub-$9 billion market cap is going to spur a competitor – most likely Apple, but possibly Nike – to make a cut-price takeover bid.
Roundhill Investments' Brian Lichtor theorized: "At an enterprise value of under $10 billion, Peloton could make for an attractive acquisition target given their strong brand loyalty and valuable intellectual property.
"In my opinion, it would make a ton of sense for a company like Apple to acquire Peloton, integrating Peloton into [Apple's] Health app."
"In my opinion, it would make a ton of sense for a company like Apple to acquire Peloton."

Brian Lichtor, Roundhill Investment
Roundhill Investments knows all about public companies being acquired by tech giants during troubled times: It runs an exchange-traded fund (ETF) with a significant holding in gaming giant Activision Blizzard.
In late 2021, as damaging revelations about company culture were reported in the Wall Street Journal, Activision Blizzard's stock plummeted: Its market cap tumbled from $80.4 billion in February 2021 down to $44.6 billion in early December.
The WSJ now reports that this sinking company value – and those damaging revelations – triggered Microsoft to make a now-accepted takeover bid for Activision, last week revealed to be worth $68.7 billion. 
---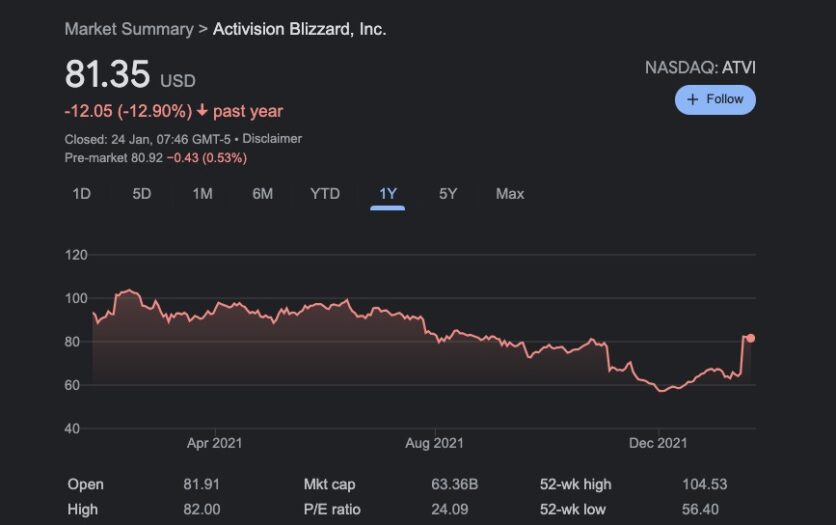 ---
Peloton's market value has been eroded for very different reasons, but could a similar fate (i.e. being swallowed up by a tech titan) await it?
How might an Apple-owned Peloton affect the music business's flourishing relationship with the latter company, and the home fitness industry in general?
Especially considering that the recorded music and publishing industries already have multi-year licensing deals in place with Apple's streaming music service, Apple Music?
---

Cinq Music Group's repertoire has won Grammy awards, dozens of Gold and Platinum RIAA certifications, and numerous No.1 chart positions on a variety of Billboard charts. Its repertoire includes heavyweights such as Bad Bunny, Janet Jackson, Daddy Yankee, T.I., Sean Kingston, Anuel, and hundreds more.Music Business Worldwide