The following MBW blog comes from David Porter, the President of artist marketing platform Feature.fm and CEO and founder of crowd curated internet radio service 8tracks. Until 2006, he helped lead Live365, the pioneer of user curated internet radio, achieving profitability in 2005. He is also readying the launch of NextUp, a productivity-and-mindfulness tool.
---
Payola rightfully has a bad rap. In its dodgy, opaque incarnation of the 1950s — let's call it Payola 1.0—listeners had no way of distinguishing music organically selected by DJs from music "underwritten" by labels (in cash or in kind) to ensure radio airplay. Given limited stations on the dial, a listener had few alternatives if playlist quality was sacrificed in the process.
But the internet is a medium with limitless choice, and there's now a playbook for the transparent presentation of paid content alongside programmed content. That's Payola 2.0. But more on all of that in a second, after a bit of context.
In August last year, I joined Feature.fm, a company that offers a one-stop marketing suite for artists and those who represent artists (e.g. managers, distributors, labels). 8tracks had been the rollout partner for the first of Feature.fm's products— called sponsored songs —whereby an artist or label pays a fee for a track to be played for listeners after a song or playlist of similar style.
Based in NYC and backed by the founders of WeWork, Feature.fm has a mission that's not unlike that of 8tracks: to "matchmake" between creator and consumer, in effect, but with a focus on how the former can best engage the latter. (At 8tracks, we reverse this flow, focusing on how we can best guide listeners to artists they'll enjoy.)
"Payola on terrestrial radio was rightfully illegal. Adding songs into rotation based on payment to the DJ or radio station, without specific disclosure of the practice to listeners, was deceptive."
To my mind, a promoted song that's targeted by taste and context within a lean-back listening experience is the native ad model for music. Given Feature.fm's progress and 8tracks' plans, we're excited about the opportunity ahead to drive meaningful growth in the sponsored song model.
Some, however, might view sponsored songs as a form of payola. While there's clearly some similarity to Payola 1.0, the sponsored song model is actually good for artists, music streaming services and listeners.
Payola on terrestrial radio was rightfully illegal. Adding songs into rotation based on payment to the DJ or radio station, without specific disclosure of the practice to listeners, was deceptive. Moreover, under US law, broadcasters are required to operate the airwaves in the public interest.
This makes good sense, since radio spectrum is scarce, and a listener can only "turn the dial" so much to avoid playlists programmed based on cash or other in-kind benefits instead of likely or observed appeal.
Interesting sidebar: some claim the real reason payola was legally scrutinized had more to do with the encroachment of Top 40 radio and cheap, collectible 45 rpm singles on the music industry's traditional revenue streams. These "new media" forms threatened, for example, song pluggers, who were paid serious cash by music publishers to find an audience.
Meanwhile, as dramatic works shifted to TV, radio became increasingly music focused, cannibalizing the primary sales channel for records — the jukebox.
---
In 1960, after an investigation of Dick Clark, Alan Freed and 100s of other radio DJs by the US House Oversight Committee, payola was outlawed.
This practice, Payola 1.0, was bad for listeners (and ultimately illegal) for two reasons:
 There were few alternatives on the radio dial
It wasn't possible to distinguish advertising from content
Payola 2.0, however, takes place on music streaming platforms— the "infinite dial" of the internet. This is a very different scenario.
If I don't like what I hear on any streaming service, based on algorithm, curation or payment, I can simply "change the channel," pretty much indefinitely. There's no shortage of listening options, and if a station or playlist were to favor paid tracks at the expense of quality (broadly) or relevancy (for that listener), it would lose audience to better alternatives. DJs and playlists that value direct payment over subjective taste will, over time, kill the golden goose.
Moreover, native advertising offers a playback for the sponsored song model.
---
In the same way that long tail advertisers can pay for AdWords spots that are positioned next to related Google search results or for sponsored posts that appear in your Facebook feed based on interests, people or companies who stand to benefit from long tail music advertising — artists, managers, labels, distributors — should have a way to run ads organically in the flow of music consumption. Because native ads are highly targeted and of the same form as the content they help underwrite, these ads are optimized for click-through and listener acquisition.
But to prevent consumers from being misled, native ads (of whatever sort) also need to be explicitly called out as such. For example, Google distinctly presents paid ads alongside search results, with a "Sponsored" heading. While this requirement clearly isn't met if curators on a streaming service take under-the-table payments for playlist inclusion, it is met through clear visual and aural demarcation in an organized promotional program.
Here's an example of a sponsored song on Deezer, which is marked as such both visually (note the large 'SPONSORED' label within the image) and audibly:
---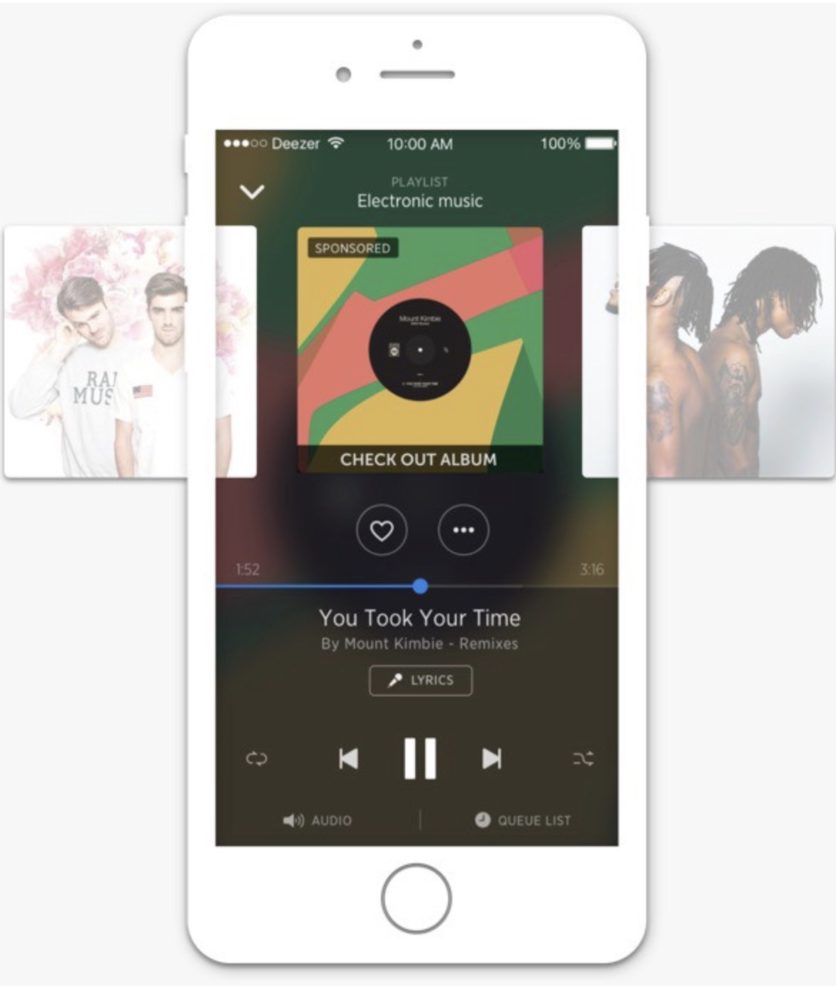 ---
In its 2.0 incarnation, payola is the fundamental native ad unit for music, delivering benefit to all participants in the ecosystem: consumers, music streaming services and creators.
First, consumers. Listeners on 8tracks have experienced sponsored songs for several years now, so we have a particularly informed perspective on their perception of these ads. Unsurprisingly, our surveys have consistently shown that listeners prefer a full song "advertisement" over a traditional radio ad that disrupts the flow of music (as you might hear today on 8tracks, Spotify or Pandora) by a large margin.
Moreover, this preference will only be heightened through refined targeting of sponsored songs to achieve greater relevancy; the key to targeting, in turn, is to increase the scale of demand (artists, labels, distributors) and supply (streaming services).
At a certain point, sponsored songs cease feel like "ads" altogether in the mind of the listener, affording unique monetization through an effectively ad-free offering. The streaming platform and rightsholders get paid with little perceived "cost" to a listener.
---
Next, streaming services. Those services that offer ad-based, lean-back listening benefit on both key performance indicators: streaming hours and revenue per 1,000 hours. Since a listener would rather consume a sponsored song than a traditional radio ad, she will listen longer and come back more often, driving streaming hours. Moreover, the CPM (price per 1,000 impressions) of a sponsored song is $20-30 on average, 2-4X the magnitude of traditional radio ads.
Finally, creators. The ultimate beneficiary of the native, highly relevant, incrementally profitable, transparent payola 2.0 ad unit — sponsored songs — is the artist.
This is particularly true for artists who are not in the Top 40, whose music is further "down the tail" and who, as a result, have to make the most of their marketing dollar. This segment of the music ecosystem is where the proverbial puck is headed: a greater proportion of listener attention (relative track plays) is coming from so-called "middle class" artists than ever before. I believe the sponsored song will become the promotional weapon of choice for this growing middle class.
"I believe the sponsored song will become the promotional weapon of choice for this growing middle class."
Artists are clearly going to spend money to market their music somewhere. Currently, a lot of cash is being funneled "off-platform" — not through a streaming service, but through a derivative channel like Google AdWords, Facebook, Instagram or Twitter. While granular targeting of ads to listeners is possible through these platforms, they are unlikely to be as targeted as when streamed to a particular listener (whose taste is known) within a particular program of music (to match the context and flow).
And more to the point, the plays from a sponsored song are direct, not derivative. Unlike search and social ads, which often seek to drive traffic into a streaming service (in an inefficient and thus expensive way), sponsored songs "start from the play" — there's no need for someone to click on an ad to go to another page that then (typically) requires a second click to play. Sponsored songs reduce the distance between an $X marketing spend and a listener's beginning to develop preference for a song.
---
There are knock-on benefits in running a sponsored song. An artist can include information to help target song placement — similar artists, genres and other freeform tags like activity and mood. It's in an artist's best interest to accurately portray the style of a track in order to find an appreciative audience, and this information in turn serves to feed both editorial consideration (for curated playlists) and machine learning (for algorithmic recommendations).
Finally, sponsored songs help an artist kick off a virtuous cycle — each additional play, like and addition to a playlist increase the likelihood the track will be picked up editorially or algorithmically.
The TL;DR on Payola 2.0 is this:
Payment for song placement is BAD when the practice isn't disclosed and listeners don't have an alternative (Payola 1.0)
Payment for song placement is GOOD when a transparent promotional program allows artists to spend their hard-earned cash wisely (Payola 2.0)
The benefits from Payola 2.0 flow to listeners (who get better ads), music services (who get better CPMs) and artists (who get better value)
Music Business Worldwide