Pandora's annual net losses jumped by 102% last year – widening from $169.7m to $343m – as its total revenues grew much more slowly, increasing 19% year-on-year to $1.39bn.
The figures mean that Pandora has racked up cumulative net losses of over half a billion dollars in the past two years alone.
Active monthly listeners on the platform in the final quarter of 2016 stood at 81.0m, according to its latest fiscal results – down very slightly on the 81.1m recorded in the prior year's quarter.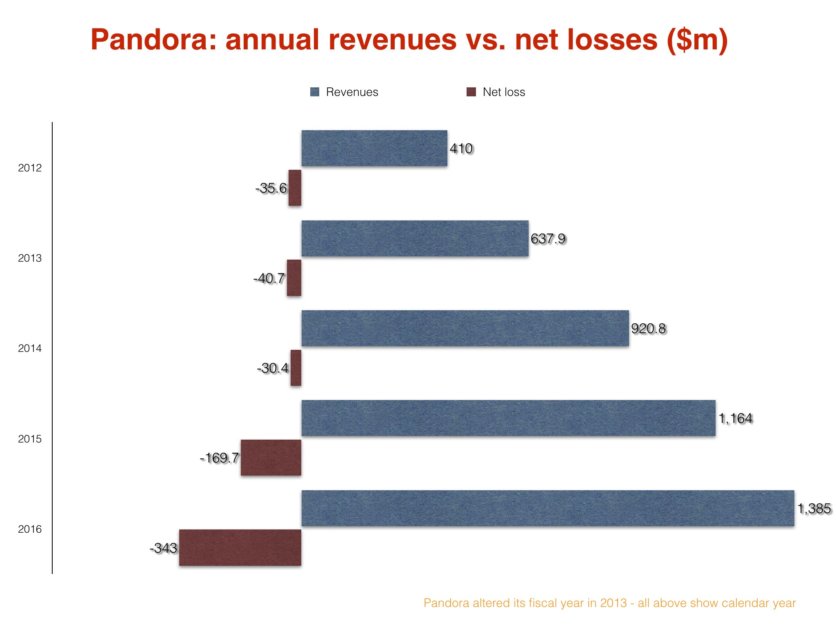 ---
Pandora's annual revenue figure for 2016 is significantly smaller than that Spotify posted for 2015 ($2.07bn at current conversion) -while Daniel Ek's company also recorded a smaller net loss ($184m) in the same period.
Talking of Spotify… Pandora is getting ready to take the company on at its own game.
Tim Westergren, Pandora CEO, told investors in the past few hours that his company is targeting the addition of between 6m and 9m paying subscribers by the end of 2017, across both its already-launched $4.99-a-month Pandora Plus tier and its soon-to-launch $9.99-a-month on-demand product.
Why, questioned one analyst, does Pandora think these subs will flock their way when there's already so much choice amongst all-you-can-eat music services?
"We really don't think there is a true premium product on the market yet."

Tim Westergren, Pandora
Westergren didn't flinch in his condemnation of music streaming's current golden gods.
"Ultimately, it's about the quality of the product," he said. "I think the reason that you're not seeing the kind of growth that some people anticipated [from current streaming leaders] is that the products are very hard to use.
"We really don't think there is a true premium product on the market yet. We think Pandora will be the first premium product."
Strong words… but even if Pandora does reach 9m subscribers by the end of this year, it won't be leading the industry.
In 2016, Apple Music added approximately 11m subs to its audience (10m – 21m), as Spotify added 15m (28m – 43m).
If this performance is repeated, Apple Music will finish 2017 with somewhere close to 35m subs while Spotify will be nudging 60m.
---
Delving deeper into Pandora's sizeable annual losses, the firm's results show its cost of content acquisition (ie. paying music rightsholders) jumped to $734.4m in 2016 – making up a 53% proportion of total revenue.
In 2015, Pandora spent $610.4m on content acquisition – claiming 52.4% of its overall revenue in the year.
Outside of content costs, total operating expenditure rose 27% last year to $808.7m. Within this, sales and marketing costs rose 23% to $491.5m.
Total stock compensation jumped up by more than $25m to $138.5m.
Ad-funded sales contributed over $1bn to Pandora's business for the first time in the year, while subscription income rose just 2.4% to $225.8m.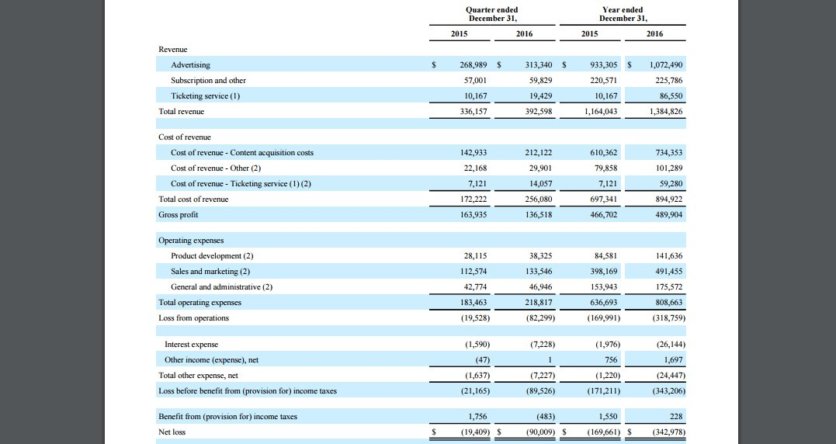 Music Business Worldwide