Pandora's share price has crashed by 5% so far today – with under an hour to go until the New York Stock Exchange closes.
Why?
Because tomorrow (June 8) is the deadline for Pandora to sell itself under a 30-day agreement with KKR.
Should Pandora fail to sell by the deadline, it would be forced to take on new financial support from KKR to the tune of $150m.
This would afford KKR some significant control of the business: for one thing, Richard Sarnoff, KKR's Head of Media & Communications Private Equity investing in the Americas, is set to Pandora's Board of Directors.
There were heavy rumors just two weeks ago that SiriusXM was once again interested in picking up Pandora.
Don't forget that, last summer, SiriusXM was rumored to have put in a $15-per-share bid for Pandora – worth around $3.4bn in total – which was rejected by Tim Westergren's streaming company.
Or that Sirius Chairman Greg Maffei has previously said he thinks Pandora is worth $10 per share.
Yesterday (June 5) Pandora's share price fell 7.7% – down from $9.48 to $8.75.
As we publish this story, Pandora's share price has fallen a further 5% to $8.32 – resulting in a total market cap of $2bn.
That's a long way off what Maffei's team reportedly offered less than a year ago.
Ouch.
According to SEC documents analyzed by MBW, Pandora's total active user count in the 30 days to end of March this year stood at 76.7m. Compared to the previous year, that figure had shrunk by 2.7m people.
In the three months to end of March this year, Pandora posted revenues of $316m, up 6.3% YoY. However, quarterly net losses hit $132m, widening 15% on the equivalent period of 2016.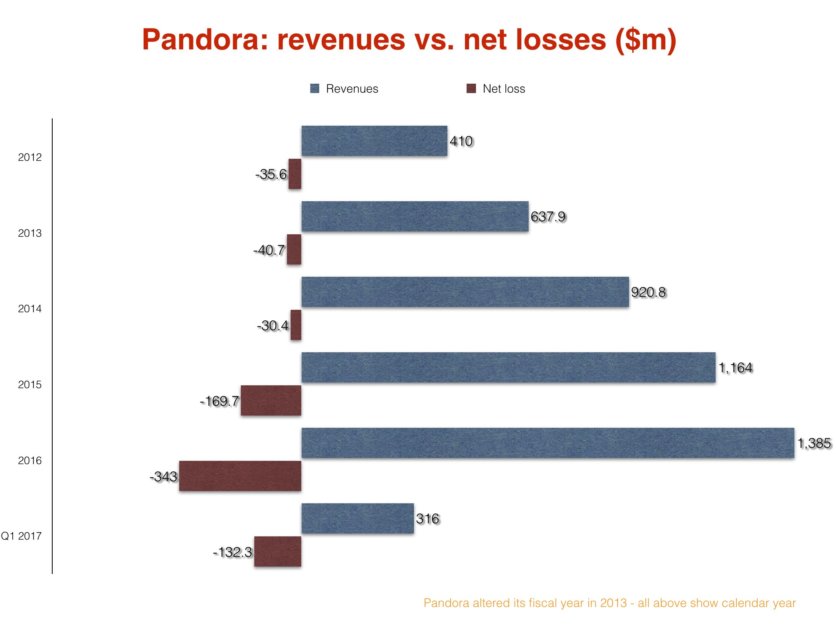 Music Business Worldwide