US streaming radio giant Pandora has launched three new charts based on data analysis from music intelligence division NextBigSound – 'Pandora Trendsetters', 'Pandora Predictions' and 'Pandora Top Spins'.
Two of these charts in particular will be of interest to labels who have seen singles charts around the world slow down after the introduction of streaming.
One of these is the Pandora Trendsetters chart, which presents the 20 artists that Pandora listeners have been using to create the highest number of new stations over the past week.
Pandora says this list reflects 'which up-and-coming artists are currently trending on the platform'.
The current 'Trendsetters' No.1 is Illinois-native Kiiara, followed by Famous Dex at No.2 and D.R.A.M at No.3.
---
The Pandora Predictions chart, meanwhile, uses Pandora data to predict tomorrow's stars.
'The NextBigSound data science team has built a patented algorithm that aims to predict which artists are most likely to hit the Billboard 200 chart for the first time within a year,' explains the Pandora Predictions chart bumf.
The current No.1 on the Predictions chart is French act Christine & The Queens (pictured) – signed to Because Music via Warner Music Group.
The current No.2 is another Warner act – British artist Dua Lipa – with Swedish rapper YUNG LEAN at No.3.
"Our charts are the visualization of fan activity."

Sara Clemens, Pandora
Artists are eliminated from the Predictions list once they hit mainstream success in the form of reaching any major Billboard chart, such as the Billboard Hot 100, Artist 100, Social 50 or any genre-specific charts such as Pop or R&B/Hip Hop.
Sara Clemens, Chief Operating Officer of Pandora, said: "Pandora has 100 million listeners visit every three months, and they are deeply engaged, listening 24 hours each month – over two and half times greater than any other service.
"This generates hundreds of thousands of data points every day that help us map and predict a song's trajectory.
"Our charts are the visualization of this fan activity, and are an easy to use tool that gives artists and their teams vital information to help them make decisions and grow their careers."
---
The third chart launched by Pandora and NextBigSound today is a basic popularity list.
The "Pandora Top Spins" Chart features the 100 songs spun the most on Pandora over the past week, with spin counts ranging between 1.5 to 10 million plays per week.
The current No.1 on this list is This Is What You Came For by Calvin Harris ft. Rihanna.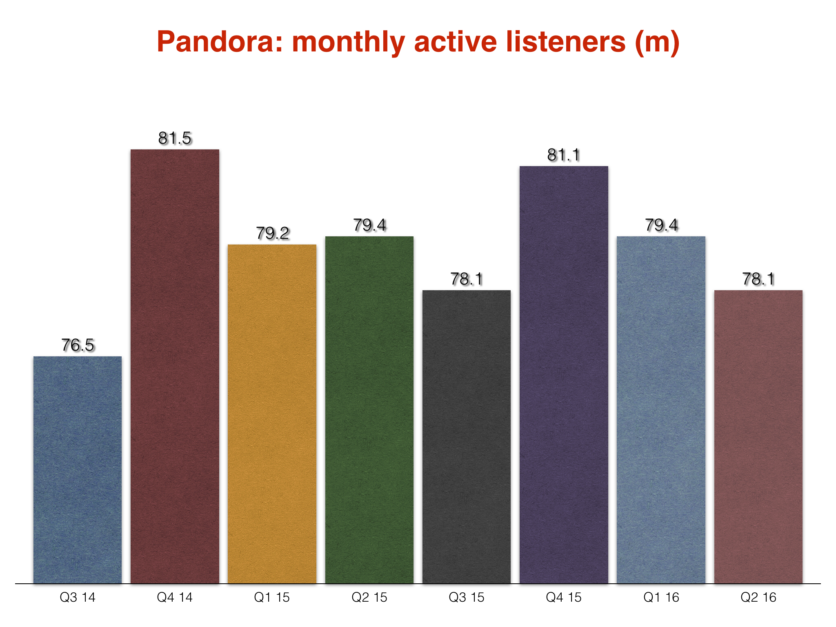 Pandora's active listener figure slipped by 1.3m users year-on-year to hit 78.1m in the three months to the end of June.
Pandora acquired NextBigSound for an undisclosed fee in March last year.
Each week, tens of millions of Pandora listeners create over 30,000 stations based on artists or songs.Music Business Worldwide